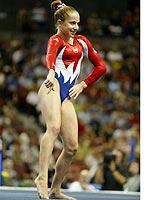 Do you remember what song accompanied Mohini Bhardwaj's floor routine Monday night? Of course not, says Barry Nease —this year's crop of floor exercise tunes was repetitive, dreary, and downright dull. Since 1979, when fully orchestrated music was first allowed in gymnastics floor routines, Nease has been the undisputed king of floor-exercise music. But this year, the man responsible for some of the most inspired song selections in Olympic gymnastics history—Dominique Moceanu's "The Devil Went Down to Georgia" and Kim Zmeskal's "Hooked on Swing," for example—has been shut out of the Olympics.
While seven athletes at this year's U.S. Olympic Trials used Nease's tunes, none ended up making the team. Nease, in a phone interview from a McDonald's on South Padre Island, Texas, where he's on vacation, says he's extremely disappointed with the low-grade tunes he's heard the last two weeks. He claims that most of it was mixed by coaches, not professionals, and "is not entertaining, not charming, [and] has no impact."
Before 1979, most nations' gymnastics federations had piano players on staff. Then Nease came along and changed the sport forever. He describes the floor-exercise sound engineer's main task as creating a constant stream of "big moments" for the routine's choreographer to work with. Some coaches approach Nease with a specific song in mind; others have nothing more than a feeling they would like to capture. Once he decides which song fits the bill, Nease completely rerecords it, synthesizing as many as 140 different instruments and trimming to between 60 and 90 seconds. "You could say I do a great service to the composer," he says, "because I remove all his redundancies."
The perfect gymnastics song is high-energy, instantly recognizable, and never eases up, Nease says in a high-pitched voice that makes him sound like one of his famous clients. "The athlete can't take steroids, but the music can," he explains, describing his tunes as "hugely off the ground!" and "gangbusters, go for it, hit it!" The recent trend toward non-steroidal, generic-sounding movie scores has left Nease depressed about the state of gymnastics song-craft. "Esoteric or vague music," he says, "lends itself to esoteric and vague gymnastics. There's no room for ambiguity in a floor exercise. Is that a landing or isn't it? When my athletes hit a landing, it's like a sledgehammer!"
While Nease loves creating knock-'em-dead tunes for elite gymnasts, he acknowledges that "you make more money cranking out the lower-level stuff." His wife's company, Floor Express Music, sells thousands of gymnastified one-minute-plus musical snippets. Selections range from the innocuous ("It Had to Be You"), to the inauspicious ("Wipeout"), to the just plain inappropriate ("My Sharona")—all completely rearranged and rerecorded by Barry Nease.
Olympic success usually translates to CD sales for Floor Express: After the 1996 Olympics, they moved hundreds of copies of Nease's cut of "The Devil Went Down to Georgia." But this year, Nease says the lack of Nease-produced music has left the American people uninspired by American women's gymnastics. So far, he says, only Carly Patterson's performance to "Mr. Pinstripe Suit" by Big Bad Voodoo Daddy had suburban moms calling Floor Express looking for CDs—"and she won the gold!"
---