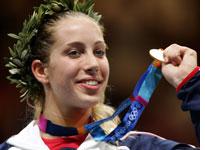 Yesterday, I wrote about how the sabre is the most entertaining event in the Summer Games. I should've known that NBC would find a way to screw it up.
First, CNBC botched the ending of the thrilling final bout in the men's sabre by failing to show a replay of the decisive final touch. Yesterday, the peacock screwed up its coverage of the women's gold-medal match even more royally. The original plan was to have complete coverage of the four final women's matches on the cable channel Bravo. But, presumably when the NBC brass learned that surprising American Mariel Zagunis won the gold medal, the match was shifted away from the cable ghetto to prime-time coverage on the network.
That would have been fine, except fencing had to be crammed in next to old standbys swimming and gymnastics. As such, NBC condensed the thrilling gold-medal match, in which an American won a fencing gold medal for the first time in 100 years. A bout that would have taken a mere 10 or 15 minutes to show from start to finish was instead compressed into about five points. Of course, the weepy medal ceremony was shown in its entirety.
Had the American lost, the gold-medal match would have been shown in full on Bravo as scheduled. In fact, American Sada Jacobson's triumph in the bronze-medal match was shown in its entirety on Bravo. So NBC, in attempting to spotlight an American gold medal, instead ensured that no one would get to see Zagunis' historic win in its entirety, alienating both hard-core fans looking forward to unadulterated sabre coverage and plain old Olympics fans who would have been swept up by the competition. I guess sometimes all those sports just get in the way of the medal ceremonies.
---