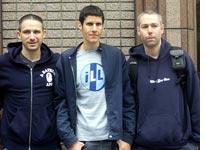 The Beastie Boys took their time making To the 5 Boroughs, while their hair turned gray and their brows grew furrows. In six years, all we got was a best-of set and In a World Gone Mad, which it's best to forget—a well-intentioned piece of Iraq invective with lame beats, weak rhymes, and confused perspective. For a decade, they'd been a youth-culture bellwether; keeping that up forever would be tougher than leather. But now they abdicate, like King Edward VIII, and surprisingly enough, the album's first-rate.
Their core competency's the dumb party rhyme. They're back trading zingers (and it's about time)—doing the "Good Times" scratch and the "Rock Box" pogo in a wraparound cover with an FBI logo. (There's some political stuff here, but not too much—you know, Bush, Kyoto, and oil, and such.) They rock their advanced years like Dorothy Zbornak, and they haven't brought the live funk or the hardcore back, since they've given up the hope of getting Kennedy Center honors. Now their beats are All-One, like a bottle of Dr. Bronner's: a little 808, some Mix Master Mike scratching, and a DJ staple as the central attraction. This is not a complaint, and it's not a slight, but samples don't come more obvious than "Rapper's Delight." Even so, when they break out that beat for "Triple Trouble," it's rougher than a week of three-day stubble. They make the old grooves open up and say, "Aaah," and Mike D. delivers his coup de grâce—"Known for my spieeeel! Like wheelie one wheeeel! This is like having a delicious—MEEEEL!"
Theirs isn't the hip-hop of modern-day listeners: It's "old school," and they're the last active practitioners. (If you'd said in the era of Licensed to Ill that one group of rappers from that year would still be worldwide celebrities in the '04—the Beastie Boys—you'd have been laughed out the door.) They've been tied to that school since the school was new, and they cling to it for its symbolic value: pride for the boroughs, pride in their past, pride in the tropes that are built to last. They go on and on like the Dionne Quintuplets, locked into the cadence of their famous rhymed couplets: Never at a loss! Never enjambed! Accented as necessary, scansion be damned! C.D., L.P., pirated MP3—nothing on the album hints at rap's evolution past early EPMD.
You can't accuse them of backtracking—that's the idea. It's the first outright retro move of their career. They can't keep up now, and they don't have to, so they've had enough of beats that they can drink decaf to. MCA's voice is wrecked like the old Palladium, but they've got more glow than a bag full of radium. Who knows if their usual fan-base approves? It's a fast, rough and playful dance record. It moves. It doesn't take long for them to say what they mean (under three minutes on 12 of 15). And at a time when battle rhymes can lead to real battles, too, it's kind of nice to have a dis track like "Hey Fuck You." (It's got no target more specific than "sucker MCs," and an old-school sample gets a sweet reprise: Big Daddy Kane declares "so put a quarter in your ass 'cause you played yourself.")
When they declaim, en masse, the list of boroughs they adore, and swallow the Ts in "Manha'an" and "Sta'en," it's like a cool breeze. They're not confrontational; not too durational; a little bit preachy, but mostly celebrational—3 MCs (and one DJ) with the pow-pow boogie and a great cliché.
---