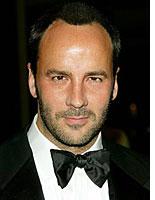 Conventional wisdom has it that the end of Tom Ford's reign as creative director of the Gucci Group means nothing but doom and gloom for the fashion world. Time asked, "Is this the end of fashion?"W called the news a "devastating shake-up." One observer told the Financial Times that "it really feels as if the foundations have been shaken." And yet the conventional wisdom may be dead wrong.
Tom Ford's final bow—taken last week in Paris—may prove to be the best thing that could happen to fashion. The superstar designer's sly, hedonistic look of slickly tapered suits, slinky dresses, and logo-covered accessories defined style in the status-crazed last decade. The huge void in the fashion world created by Ford's departure, announced after a dispute with Gucci's parent group, Pinault-Printemps-Redoute, offers two corrective opportunities to an industry warped by corporate bloat and a cynical view of what makes for great design. Designers may once again be judged by their distinct mastery of cut and proportion rather than by the big-business marketing skills and movie star good looks that made Ford famous. The post-Tom Ford vogue among stylish consumers will be for fashion from smaller designers, and, while it is difficult for high fashion retailers like Saks Fifth Avenue and Neiman Marcus to profit from these designers, they will nevertheless need to re-evaluate the way they do business. Might the next decade of fashion be defined by heartfelt creativity among designers and innovative merchandising by the major retailers?
Like any hugely successful designer, Ford harnessed the prevailing mood of his times and then distilled it on the runway with such authority that the look of the day seemed to have sprung from his mind alone. In a world obsessed with celebrity and status, the essential message of Ford's work was "Wear Gucci and Be a Star." This was made plain in his preference for attention-grabbing, slashed necklines, outrageous furs, and glamorous sunglasses and handbags decorated with the Gucci logo. But Ford's dominance reached beyond aesthetics, and his effect on the business of fashion was greater than any designer to come before him. Not even Ralph Lauren—the only comparable master marketer of fashion dreams—has had Ford's reach. Ford's brilliant re-vamping of Gucci—where, with business partner Domenico De Sole, he catapulted the foundering leather goods house with only $200 million in revenue into a $3 billion global fashion empire—set the standard for successful brand-building. Tacky licensed products like flashy Gucci key chains were discontinued from duty-free shops; sleekly designed clothes and accessories offering a hard-to-resist total look, and glossy ad campaigns—ubiquitous reminders of the new Gucci chic—took their place.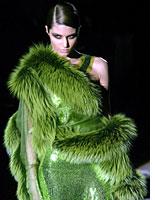 But Ford's influence was felt far beyond Gucci; his visible role as a fashion tycoon changed the game of the fashion business. The ongoing battle for global fashion dominance between Ford's Gucci Group (Ford had been directly responsible for design at Gucci and Yves Saint Laurent; he was the corporate creative leader of the group's other labels, including Balenciaga, Alexander McQueen, and Stella McCartney) and its competitors, LVMH (owners of Louis Vuitton, Christian Dior, and Givenchy) and Prada Group (Prada, Fendi and Helmut Lang), had the effect of putting aging but legendary houses, such as Yves Saint Laurent and Dior, back in the spotlight. Competition between these powerful companies gave rise to the careers of a new generation of influential designers, like Nicolas Ghesquière at Balenciaga and Marc Jacobs at Louis Vuitton, as relatively unknown designers were given the chance to revitalize many of fashion's great names.
All this considered, does Ford's departure mean that fashion is dead? Just the opposite, in fact. Tom Ford's exit actually signals fashion's new beginning. We have come to understand fashion purely à la Ford—megamarketing campaigns pushing status symbols to consumers eager for inclusion in a seemingly knowing group, and designers expected to be as photogenic as the celebrities they dress. But the innovative quality of the clothes themselves—their design, and not just the hype around them—should count for something. While Ford created an easily recognizable look that brilliantly offered an illusion of the high life, it rarely had the substance of high design. Great fashion is not only about great marketing. Today's emerging talent—Junya Watanabe, Alber Elbaz, and Olivier Theyskens among them—cut clothes with a kind of passion and inspiration that Ford's clothes rarely displayed. The growing popularity of their work is welcome news for the craft of fashion. Such vigorously creative designers bring an ironically egalitarian ethos to fashion that seems suddenly stylish: Admittance to the exclusive circle is granted to all women who have a passion for fashion; status is no longer instantly conferred by a logo.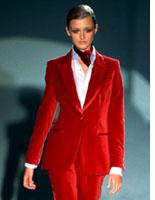 Even the retailers who have grown dependent on Gucci-generated profits are echoing this sentiment, recognizing that consumers yearn for a pre-megabrand, pre-status-label (read: pre-'80s, pre-Giorgio Armani, pre-Calvin Klein) era of creativity. When a powerful retail fashion director says the next wave of fashion will be defined by "eclecticism and individualism"—the very opposite of the head-to-toe trendy uniform and seasonal "it bags" that Ford has successfully sold for 10 years—it's obvious that change is in the air. "My sense is that consumers want to be under the radar," predicts a tony Fifth Avenue merchant, indicating a shifting interest from the well-known status brands to less easily identifiable creations.
Yet while fashion makers (retailers, magazine editors, stylists, and designers) are touting a more personalized look as the next big thing, the realities of bringing innovative design—especially from less-established houses—to market are complicated. Corporate retailers like Saks Fifth Avenue and Neiman Marcus face serious obstacles when doing business with small labels, even if that's what they say their consumers are looking for. Unknown talent may take more creative risks than big houses that have expensive images to protect (and thus are more likely to produce predictable designs), but fostering that talent is no easy task.
Take, for instance, a fledgling line like Proenza Schouler—the critically acclaimed New York house and a source of innovative design. In business for only a few years, they are not likely to have the deep pockets, range of merchandise, or manufacturing muscle required for any broad presence in national chains like Saks Fifth Avenue, which has more than 50 stores nationwide. While showcasing such innovative labels—even in a small way—increases the fashion profile of big-city department stores, these labels cannot fill precious retail space in branch stores sprawling across the country and thus have little or no impact on profits. And, more relevantly to a retailer's bottom line, they are not in the highly profitable accessory business, currently dominated by Gucci, Prada, and other major labels. Nor are they likely to branch into this investment-heavy category for years to come. To make matters even more complex, small houses cannot afford the profit guarantees, contributions toward sales-staff salaries, and boutique décor that most major brands offer big retailers in order to do large-scale business in their stores.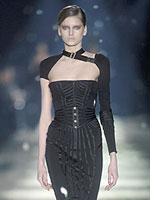 Hyperbole aside, it is not far-fetched to say that both retail—the business of marketing and selling clothes—and fashion design—the creation of clothes—will shift dramatically post-Tom Ford. These are sure bets: Retailers will have to find less prohibitive structures to foster new talent; fashionable consumers will demand change, and stores will not survive without promoting it; large numbers of unprofitable department stores will be shuttered; demand for merchandise from the big fashion groups will fade with fashion's natural ebb and flow, and those groups will sell off the weak brands in their stables; new ideals of femininity will emerge; and new voices will be heard. Ford's absence may not be the only cause of these changes, but it does signal the dropping of the first domino.
What makes this moment especially shocking—even touching—to fashion insiders is that, with his formidable marketing machine now firmly established, Ford was just hitting his stride as a designer's designer. One could see a finer hand at work in his final collections for Gucci, where he recycled and then perfected his greatest hits of the past 10 years, and especially at Yves Saint Laurent. In this farewell collection, Ford seemed newly free of Saint Laurent's masterful legacy. His take on China—a favorite Saint Laurent theme—showed Ford working as though he had nothing to lose. Ironically, that kind of creative freedom is available only to iconic designers like Tom Ford and the still-unknown names that may eventually know his kind of fame.
Fashion will indeed change in the absence of Tom Ford. Hopefully, design that reaches beyond styling will triumph over marketing that makes every pantsuit seem innovative. Maybe sincerity will once again become the precious commodity that cynicism is today. Naive wishes? Most likely. But lovely, nonetheless.
---