Click  here  to see a slide show from fashion week.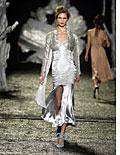 "Chic" is the hardest word to define in the fashion vocabulary. "Modern" usually refers to whatever seems new—John Galliano's Google-quick mélange of cross-referenced imagery, say—and "edgy" means anything with a dark mood. Is it confidence? Only in part. Being relaxed? Nothing is less chic than a woman ill-at-ease in her clothes. Fashionable, perhaps? Not necessarily. Being chic has nothing to do with being trendy. True chic—that of the calibrated proportion, exceptional use of color and detail, perhaps even unexpected humor—demonstrates discipline and study. So are the new kids in the tent, who range in age from 23 (Zac Posen) to 35 (Jeffrey Chow), up to the task?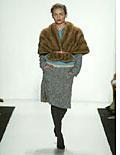 Peter Som is 33; a graduate of Parsons School of Design, he has had brief stints assisting at Michael Kors and Bill Blass. His program notes promised a "reckless glamour"—a fantastic definition of chic, actually—but he failed to deliver. Using the wardrobes from two films—Elizabeth Taylor's prim tailoring from the classic Suddenly Last Summer and the WASPy déshabillées of campy Grey Gardens as inspiration—Som tried to have a good time. But the reckless glamour of chic requires that he pull out sophisticated moves and not just stylistic clichés: the V-neck sweater worn backward—a signature of the late master of off-hand chic, Bill Blass—and tossing a cardigan over the shoulders don't cut it. Reckless glamour surely must have something to do with fearlessness, and the clothes, while often damn pretty, were hardly bold. There is nothing reckless about a strapless cocktail dress worn with a fur stole, or a cardigan paired with a pencil skirt. They are old, reliable looks.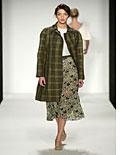 Benhaz Sarafpour is 33, a former assistant of Isaac Mizrahi's who designed Barneys' in-house label before starting her own. She also had chic of the WASPy variety on her mind, sometimes with lovely results. A severe black dress with a scooped-out back and full pleated skirt was particularly well-done, striking the right balance of opulence and severity. The fringed fox collar on a charcoal wool jacket had an understated luxury that defines chic in places like Greenwich, Conn., as did a well-cut balmacaan coat in tony green plaid. But then what? A wan-looking gray dance dress with a matching beaded scarf lassoed around the neck? Bias slip dresses with meager spaghetti straps? A beaded camisole worn with daytime pants? Old reliables, again. Reaching for chic can't simply mean reaching for the classics. Chic should arrest the eye.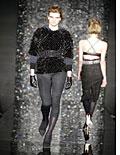 Lazaro Hernandez and Jack McCullough, the designers for the highly acclaimed two-year-old label Proenza Schouler, have a different notion of chic, and it works. These two young men have nothing campy or suburban on their minds; they are thinking about what might look chic to a city girl right now. That means beautiful wool bolero jackets in deep tones of rust or burgundy, sometimes with hoods or collars flaring around the face, and black knickers recalling the athletic force of a baseball player up to bat. A jacket pavéd with sequins cut from mink might well define chic for a new generation; it had both ironic humor and grace.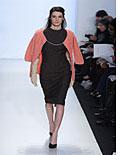 There is not much to say about the chicness of Jeffrey Chow, showing for the second time, or Zac Posen, fashion's current it boy. Posen, whose Barbies-in-Space collection was called "Blixen," knows something about theatrics. But chic? That's a tall order for a guy trotting tarty, skin-tight ruched dresses on a runway sprouting tinfoil trees. As for Jeffrey Chow's collection of suits and cocktail clothes—well, it wouldn't be chic to say.
---