Click here to see a slide show from fashion week.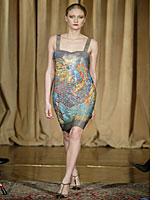 Who needs more clothes? Who needs one of Tuleh's little powder puffs of a fur jacket in zebra print? Who needs one of the overpriced black sweaters shown at Imitation of Christ? Or one of Derek Lam's sparkling gowns? No one, except a woman who wants to be noticed for her own oddball style. Here, of course, is the point. For nearly a decade, the New York collections have been mired in the business of big labels: overproduced shows and underproduced ideas; established brand names mimicking the spontaneity of their salad days; a notable lack of humor or risk-taking. But today fashion is experiencing one of the mammoth—and rare—shifts that make observing it delicious sport. Tom Ford's decision to step down from his post as creative director of Gucci this April brings to an end an era in which fashion was defined by status rather than personal style. In the Ford years, fashionable women all carried the same must-have Gucci handbag or wore the same Helmut Lang coat. But that is no longer the case. Head-to-toe allegiance to a single designer's look is a thing of the past.
And so this weekend new signs of life appeared on the runways at the shows opening New York's fashion week like spikes on a heart-monitor screen of a patient who had flat-lined.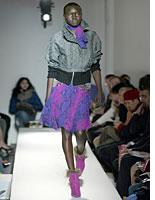 Forget the big labels. It was the smaller houses here—such as Diane von Furstenberg and Tuleh, each of which showed their new collections Sunday—that proved themselves to be dedicated to dressing the kind of idiosyncratic woman who will define the next few years in fashion: She is pleased with her own style and disdainful of status acquired with a handbag. And newer houses like Derek Lam, Behnaz Sarafpour, Proenza Schouler, and Peter Som have taken steps toward resuscitating the exuberance that has been lacking in this city's fashion scene since Isaac Mizrahi closed his house nearly 10 years ago.
Fashion's new message is in the mix. Simply put, that means a combustion of pattern and texture, precious with plain, clothes for day and night. But it also means a look devoid of controlled polish, a movement away from all things Tom Ford. Ford's sleek, jet-setting glamour—sharply tailored by day with a louche hedonism by night—has been replaced by a spontaneous, personal touch, even that which borders on the zany.
That meant different things for the different designers showing Sunday.
For Diane von Furstenberg it meant all things DvF: lavish prints, color used with abandon, and a free hand with silhouette that would bury designers of lesser style. In recent years von Furstenberg has moved away from the working-girl glamour of the famed wrap dress that made her a star. Today she prefers to play broadly with historic references, free of any constraint save the reaches of her imagination. Were her dramatic sleeves and tabards inspired by the medieval pageantry of Robin Hood's merry band of thieves? Were the hooded, billowy gowns memories of nights over Egypt? Hard to say; this designer is fast and free with her allusions. Sure, an Alexander McQueen-like skirt might sashay by. A cut nicked from John Galliano's runway appears in a dress or two. But von Furstenberg has the style to make the whole mad party all her own.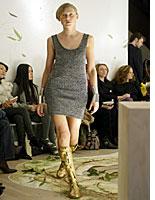 The only thing that distinguished the black sweaters Tara Subkoff showed for Imitation of Christ, the arty house that reworks vintage pieces, from those shown by former department store designer Adrienne Vittadini was Subkoff's feminist slant. Here were variations on what Vittadini might have simply called "knit-dressing": a turtleneck, a halter-back dress, a tank top. Not much in the way of invention. But Subkoff's models—wearing not much more than a sweater, Amazonian gold wrist cuffs, and golden boots made by Puma—were suggestive of the female independence celebrated in the early collections of Donna Karan. The effort was not entirely successful, but Subkoff's show had value in this individualistic season. She was trying to say the strongest women go their own way: In a season of wacky mood mixes she showed solid black.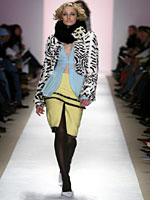 Tuleh's Bryan Bradley has always been a mix-master (Full disclosure: I was a founding partner at the house, which I left in 2002.) He plays soft colors off shocking brights with deceptive ease. He confidently juxtaposes languid fabrics with lofty tweeds, showing off the best qualities of each. He marries finely tailored pieces and frothy confections, the tasteful with the near-tasteless, logo-printed T-shirts with cocktail dresses and makes the whole thing look easy.
Alice Roi, a downtown favorite, in an admirable move away from the girly clothes that have made her name, was less successful. She was right to pair tailored jackets and crisp pants with the wispy ruffles she so loves. She was right to keep a controlled palette of ivory, cream, and beige; it enhanced her more grown-up message. The offhand pairing of classics and decorative blouses was perfect for the moment. But mixing it up is a tricky game; when a model paraded by in a blazer shown with track pants and heels, someone from the front row was overheard saying, "Where do you think she's going in that?"
---