Click here  to see a slide show from fashion week.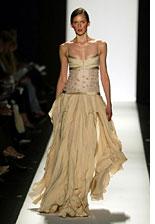 To be a male fashion journalist is a strange thing. You might think you know something about cut and color, about fabric. You might think you know something about history, about style. But can you ever really know women? And since you're not a woman, how do you judge whether women will actually wear the clothes on view at Fashion Week? The easiest way to assess the success of a fashion show, for a man, is to consider whether the clothes on view are particularly photogenic and can be easily pictured in Vogue. You just look for emerging trends, and you quickly fill up the pages of the fall fashion issues. This fall there will be the photographs recalling the '50s style of Todd Haynes'Far From Heaven and Mike Newell's Mona Lisa Smile. Eccentric mixes of fabrics will appear in stories dubbed "The Rise of Personal Style." But beautiful magazine pictures alone can't be the benchmark of a strong season—and sometimes they have nothing to do with what women actually want to wear. After all, clothes that make for great-looking pictures don't always make for great-looking women. So, the question remains: What will women wear?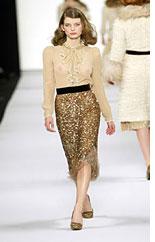 It's the vital question to ask as Fashion Week continues in New York. Three collections shown on Tuesday presented dramatically different answers. The best way to judge these designers' work is to consider the collections in relation to women you actually know—who might wear what, and why? Marc Jacobs believes that women have many moods—call them fresh, theatrical, nostalgic—and designs clothes for practically all of them. Narciso Rodriguez dresses a woman of such singular taste that it's hard to imagine her leaving her own small orbit. And Roberto Menichetti, debuting his new label, is dedicated to a woman of a masculine bent.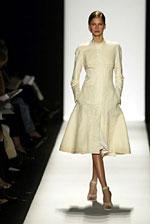 Rodriguez knows his way around the curves of a woman's body; he has been tracing their lines with jigsaw-puzzle seams for seasons. He faces the challenging perimeters of minimalist design—plain fabrics treated without concealing adornment, architectural lines, a severity of mood—with a focus that might give Jacobs the jitters. It is amazing how many variations this designer can play on one theme. Coats and dresses all hug the body—one style was called a "scuba dress"; the pants are always pencil-thin, and the colors never stray far from black and cream. Rodriguez's command of his craft can be breathtaking. But can this guy—and more important, the woman he's dressing—relax? The models seemed taut as cats ready to pounce. It was only with a magnificent nude-colored coat, its skirt swaying with the model's stride, that a happy air filled the black tent. Can a woman—even the most cerebrally inclined—live without a little laughter?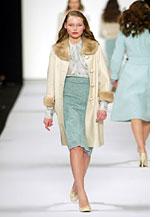 Few designers, and certainly none in New York, have a more able sense of their clients' desires than Jacobs. He dresses the kind of woman who looks as if she has stepped from a magazine picture. She is young, deservedly vain (read: pretty), and trendy. This woman can't keep her hands off the new hot thing. But with his fractured fall collection it was difficult to tell whether Jacobs was cleverly trying to please a woman with a short attention span, or burdened by his own. What in the end was the collection about? Here were prim suits cut from the era of secretarial pools and steno pads, silk chemise dresses from model Lauren Hutton's '70s-era heyday, and dowdy cloth-with-fur-collar coats that put this viewer in mind of the ones Lucy and Ethel might have worn while out shopping for hats they had been forbidden to buy. Then there were the evening gowns—stunningly draped columns of boldly color-blocked jersey—like the ones starlets wore before there were talkies. What gave authority to the collection was Jacobs' beautiful way with color—his favored dusty lilacs and greens, or the shock of magenta played against aqua—and the world's top models working for the cameras. Do contemporary women really want to look like Marc Jacobs' '50s debutantes? Hard to say for sure.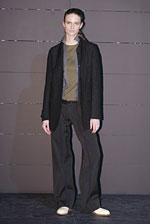 Menichetti has a different idea of what women want. This designer, formerly of Burberry and Jil Sander, dresses a woman who has no time for monkey business. She is practical; the clothes are plain. She appreciates fine quality; the make is beautiful. She won't be jerked around by the latest trend; the silhouettes are classic. Menichetti has done what sportswear designers ought to do: make the familiar perfect. His collection is made of separate pieces in basic shapes that can be thrown together quickly and to great effect. The jackets are cut for varying body types—for the long or short-waisted, the wide-hipped, the rail thin—and pants and skirts follow different lines. Sweaters are knitted in lush yarns that remind one why "Made in Italy" means something special. The limited palette of navy, gray, and ivory is soothing. And the collection is clever; shapes are repeated in basic, high-tech, and luxury fabrics to be sold at varying prices. But a great jacket is still a great jacket, no matter what the cost. Menichetti is making clothes for what is known in heady fashion circles as "real life." Some women prefer not to look like dreamers.
Why do women choose the clothes they wear? Surely the answer has something to with the way each thinks about physical attraction. For the related question—why do men choose the women choosing certain clothes?—can't be far from a woman's mind when she reaches for her credit card. It is hard to think about clothes without thinking about attraction. After all, the clothes we wear are as much about other people as they are about ourselves. We use them to draw people in. One surefire question to ask when a model steps onto the runway: Is this a woman I want to know?
---