Click here to see a slide show from fashion week.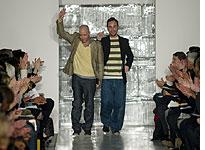 Not a lot of interesting menswear marches down the runways during New York's fashion week. Ralph Lauren shows his men's collection in Milan. Sean Combs' ghetto-fabulous Sean John collection skipped the season, reportedly to focus on retail expansion. DKNY, Nautica, and Tommy Hilfiger show the all-American sportswear familiar to any department-store shopper, while John Varvatos gives his collection a more deluxe feeling. And so it falls upon Duckie Brown, the quirky, gender-bending label by Steven Cox and Daniel Silver, to forecast what the film guy, the PR guy, the gallery guy might be wearing a year from now. Let's just say that Duckie Brown has a very particular vision.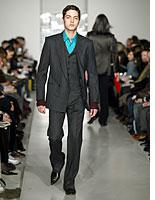 Men looking for a handmade kilt cummerbund or a black shiny silk trouser with detachable bunny tail need look no further than the fall 2004 collection the label presented last night. Interested parties might also stop by Barneys New York or United Arrows in Tokyo to inquire about favorite looks from the runway, like the heather gray panties with cherry cock and crown on the bum cheek or the one-button jacket with something called a "jam sandwich hem," which will be stocked in the stores by July. The more sartorially inclined might inquire about a gray pinstripe three-piece suit, worn with eggplant wankers. Don't know what those are? Wankers are fingerless gloves meant to provide easy access to shaking something other than a hand in cold weather. That kind of randy British humor is typical in the world of Duckie Brown.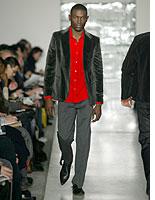 "It's about a little bit of cock and a little bit of pussy," Silver said by way of explaining the duo's masculine/feminine aesthetic, which includes mini-kilts worn over pants, fur boas, and pocketbooks for him. "We are so conscious about not being label conscious. It's not about gay or straight or man or woman," he says emphatically. "Duckie Brown is for people."
Since founding their label in 2001, Cox and Silver have infused New York's limp menswear scene with equal doses of potty-mouthed humor, sartorial skill, and AC/DC silhouettes such as snugly fitting jackets and blousy shirts that sell to both men and women. The formula appears to be working. Retail accounts have grown from one to five, and revenue has increased from $3,000 in their first season to six figures today. Jay Bell, a men's designer buyer at Barneys, counts Duckie Brown among his best performing lines, saying it often "sells to the piece."
Minutes after taking their runway bow last night, the two Duckies—they call each other Duckie, using the common English endearment—were doing the soup-to-nuts things designers do in a label's early days. Cox, a 36-year-old Englishman dressed in classic navy blazer, banana cut jeans, a Charlie Brown striped T-shirt, and a white cummerbund, was collecting garbage from the floor backstage. Silver, a 42-year-old, his plaids piled on top of each other, was pitching a retailer. "Our collection is inspired by us," he said to a powerful fashion director. "It's what makes us laugh."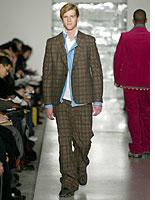 The clothes certainly are funny. How can you not laugh when a handsome guy walks buy in a classic black suit, fluffy bunny tail wagging from the seat of his pants? What kind of goofy style is it when the crotch on another guy's pants swings down to his knees? Street style, actually. The ultra baggy pants of a classic tartan suit are in fact an interpretation of the hip-hop style seen on city streets, made in fabrics finer than denim. Surprisingly, it's the traditional tailoring sensibility that gives these wacky clothes their cachet. If you look beyond all the runway accessories—the fuzzy, neck-warming dickies, the gray clutch wallet, the feather pompom hat—you'll find serious clothes with an eccentric bent. (One shirt even comes with an un-scratched lottery ticket stitched inside the pocket.)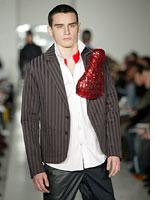 True enough, other designers have played in this sandbox before. Jean Paul Gaultier has long dabbled in drag on his men's runways. Sir Paul Smith built a small empire trading on quirky British humor. We could call Duckie Brown's a quirky look, and make no apologies for finding quirky clothes annoying. But we can't just leave it there. There is something strangely compelling about Duckie Brown. Perhaps because it's hard to offer a reason why a guy would want to wear a big, red-sequined, stuffed English cartoon character named "Barbapapa" on his hand-tailored jacket's lapel. Yet who are we to say he shouldn't?
---