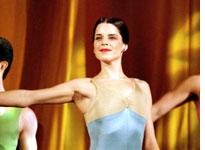 Robert Altman's lissome ballet drama The Company (Sony Pictures Classics) begins with a shot of a stage and an announcement to a theater audience over the public-address system: Taking photographs is "strictly prohibited and hazardous to the performers." It's a disquieting note on which to open a movie—which is, after all, a series of moving photographs. But it's the "hazardous to the performers" part that really gives you pause. These are dancers, after all, not trapeze artists. It's not as if they're in harm's way, right?
Uh, wrong. From its first, deceptively offhand announcement to its final dance sequence, a writhing tribal-sacrifice number in which a snake-line of dancers is gobbled up by a giant stone head (while two performers who've been injured in the course of the film watch from the wings), The Company is a gently sardonic reminder that these terpsichorean foot soldiers are constantly at risk. Their bodies—which do things that human bodies are not particularly well designed to do—will fail them eventually, and even their triumphs are fraught, pregnant with potential disaster. The life of a dancer at this stratospheric level will always be scarily flux.
It should quickly be said that the paragraphs above evoke the themes of The Company with too broad a brush: The film itself is so subtle and the drama so buried that it often plays like a Fred Wiseman documentary. It's certainly on the documentary border of fiction: With the exception of Neve Campbell, a dancer before her Party of Five and Scream days, the Joffrey Ballet dancers are played by Joffrey Ballet dancers, and the choreographers Lar Lubovitch and Robert Desrosiers are played—not always attractively—by Lar Lubovitch and Robert Desrosiers.
It was Campbell who initiated the project and devised the (loose) script with Barbara Turner, but I can't imagine what this thing looked like on paper. On screen, it's Altman at his most fleetingly suggestive. The Company moves with seeming randomness from the stage to the rehearsal room to the offices of the flamboyant director, Alberto Antonelli (Malcolm McDowell in a hilarious homage to Gerald Arpino), then back to the stage. From time to time, there's a scene someplace else: a group flat in which the more impoverished dancers crash in sleeping bags on the floor (or with one another); and the apartment of Ry (Campbell), who relaxes into a hard-earned bath and cuddles with her new boyfriend, Josh (James Franco), a chef instead of the usual company dancer. But what we see of the dancers' lives outside the company are fragments. Altman and Turner seem to have snipped out the conventionally dramatic moments, leaving viewers to fill in the blanks.
Altman doesn't linger, for example, on the dancer whom Ry replaces in an erotic Lubovich-choreographed pas de deux set to "My Funny Valentine"—which is heard throughout the movie in sultry versions by the Kronos Quartet, Elvis Costello, Chet Baker, and others. One moment Lubovich notices that the woman is "working injured" (although she minimizes the problem as a neck spasm), the next Ry (a more junior member of the company who'd been "marking" the lead dancer) is running through the routine. A short time later, Ry is in costume and performing while the other dancer watches from the wings. It's a momentous occasion—an outdoor benefit in which an ominous thunderstorm swirls the leaves around Ry and her partner, Domingo Rubio. Later, at the company Christmas pageant, two dancers, one of them Ry's bitter ex-boyfriend, enact a parody of Ry's big debut, exaggerating the drama with buckets of snow. Altman doesn't linger on that, either: The expressionless Ry "remembers" something she has to do in another room, and the moment passes. You'd miss it if you weren't paying close attention.
These dancers are not actors, and the scenes aren't structured for them to open themselves up. Altman and his cinematographer Andrew Dunn shoot them all (including Campbell) like the athletes they are, never pushing them toward histrionics. There's a sphere of privacy here that would be maddening in a more conventional film, but I came to love Altman's respectful distance. He's one of the least banal directors alive. In one sequence, after Ry's thunderstorm triumph, the exhausted dancer comes home to her apartment, slowly removes her boots and massages her feet, then slips, wearily, into a marble bath. We have seen her rehearse, dance, and work as a cocktail waitress (in a Louise Brooks wig) in a smoky, high-tech nightclub. Now, as she seizes her one moment of rest, Altman cuts to the guy who would have done the number if his partner hadn't been injured, alone at night in a semi-lit dance studio, going through a routine again and again, unable to give up. There's no underlining the message here—the cross-cutting is unforced. But we're left to wonder if Ry is prepared to give up her life (and perhaps her sanity) for this pitiless art. We've seen her pressured by her ambitious, alcoholic mother (Marilyn Dodds Frank) to force the company director, Antonelli, to treat her as a star, but we sense that she's not quite that driven.
McDowell's Antonelli is a capricious god in long scarves. He calls his dancers "babies," and, when they have his attention, prizes them. But that attention is hard-won. At times, he's weirdly indulgent and nonconfrontational, opting to let his subordinates clean up the mess. At others, he's imperious, casually shooing people away and lecturing his "babies" on the horror of dancing that's too "pretty." He raises the money the company needs and keeps assistants and producers and choreographers revolving around him like moons, reflecting his light. But he can also seem disturbingly indifferent to the risks that they take. In one scene he directs a dancer to show off her jetés, and she leaps, astoundingly light, again and again, until she comes down one time too many and snaps her Achilles tendon. The second time I saw the movie, I closed my eyes and plugged my ears at that moment. It's not graphic, but it doesn't need to be. Even more nightmarish is Antonelli's reaction: peeps of concern, then the prompt and businesslike selection of another dancer. You wonder if that big stone head in the tribal sacrifice number is meant to be his.
For many people, the drama here will be secondary to the dance numbers, among them classics by Arpino ("Trinity") and Alwin Nikolais (the opening "Tensile Involvement") as well as Lubovitch and Desrosiers. And these are some of the most gorgeously fluid ballet sequences ever committed to film. Altman is often thought of as having a loose, scruffy frame, but he proves in The Company that his looseness is deceptive—the work of an artist who conceals his art. Somehow his camera is always in the right place, and he isolates parts of the dancers' bodies only after establishing their overall silhouette—and then only briefly. Neve Campbell got back in shape after 10 years "off pointe" for this movie. She's not quite as ethereal as some of the other dancers, but she has such a long, shapely limbs and such a beautiful face that it doesn't matter. More important, she shows here what she loves, and why she had to leave it. This is an absolutely miraculous movie.
P.S.: Great news for Altman lovers and fans of brainy movies about the political process! (There are at least one or two of them.)  Beginning Feb. 3, the Sundance Channel will air all 11 episodes of the superb and influential Altman-Garry Trudeau collaboration Tanner '88, which revolves around a fictitious Democratic candidate for the presidential nomination. (Too bad he lost to Dukakis.) Each episode of the original HBO series will be preceded by new "Fireside Chats" created by Altman and Trudeau and featuring Michael Murphy, Cynthia Nixon, and Pamela Reed. I wrote briefly about Tanner '88—and at length about American political movies—in Slate during the convention season of 2000.
---