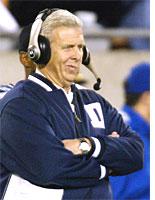 "Sell the team," God told Jerry Jones, the owner of the Dallas Cowboys. "Sell it now, while the selling's good."
The time was August, and the Cowboys had just turned in a dismal preseason effort against the Arizona Cardinals. Playing the part of the Almighty was Bill Parcells, the team's new head coach, who had just patrolled the sidelines for the first time in Dallas. Parcells wasn't kidding. He was wondering if taking this Cowboys job was the worst career move he'd made since he quit coaching in college to peddle real estate.
The Cowboys' dream season, which ended with a 29-10 shellacking Saturday night against Carolina, had the air of a religious revival. Quincy Carter, who devoted his rookie campaign in 2001 to learning how to throw a spiral, started at quarterback. He managed to lead the team to its first playoff berth since 1999. Carter, who hand-letters Bible passages onto the back of his undershirts, does not hesitate to identify the source of his salvation. "Parcells is the closest thing to God I have ever seen," he said. "Everything he says comes true. It's uncanny."
Hanging around the Cowboys this season, I watched God's coach work in mysterious ways. Parcells had surveyed his linebacker corps and compared the group to circus midgets. Guard Larry Allen, the pachyderm, was spending so much time off the practice field and on the exercise bike that Parcells presented him with a yellow jersey, à la Lance Armstrong. Parcells' best hope at defensive tackle was a gentleman whose most notable professional accomplishment, to that point, happened when he crapped in his pants during practice one year previous. Pass rush? That left town sometime during Bill Clinton's second term and moved in with Don Meredith out in Santa Fe.
The more Parcells evaluated his squad, the more he wondered if the 2003 Cowboys might win even a single game. He termed the Cowboys' preseason showing in Arizona "a dog's lunch … it was simply a mess." "This," Parcells told the assembled media in a masterpiece of understatement, "is going to be a struggle." The Cowboys went on to go 10-6.
"No, this isn't my best coaching job ever," Parcells keeps saying. "That happened with the Jets in '99. We started 1-and-6 and finished 8-and-8. Lemme tell ya, there's nothing good about 1-and-6. Nothing good at all. Then we came back and beat Miami on the road in a Monday night game, and beat Seattle in the last game that kept them, I believe, out of the playoffs."
That's nice, Bill. But you weren't living in Dallas the previous few years and watching this proud franchise unravel and eventually dissolve under the leadership of Jones and his amusing hand puppet, Dave Campo. The entire 2002 season had been arranged not around winning games, but rather focused on Emmitt Smith's insane pursuit of Walter Payton's career rushing record. An entire year was wasted for some ultimately inconsequential stat, and in the end, Smith was the only person in town who gave a damn.        
So, the task that faced Parcells when he arrived in Dallas just over a year ago, the challenge of reassembling 53 damaged parts into something resembling an NFL team, was beyond staggering. Parcells' primary initiative, from day one, was to demand of his new Cowboys players that they elevate their expectations. The press, too. At his twice-weekly news conferences, Tuna presents himself as the benign old college prof. The media learn more, much more, than the current condition of the tight end's sore hamstring. We get history. We get philosophy. We, in turn, sit wide-eyed, eager to learn, and scared shitless that we might ask a question that Tuna deems dumb.
After the Cowboys had shocked themselves by opening the season at 5-1, Tuna did something strange: He got angry. He cited the penalties, turnovers, botched assignments, and all of the other low crimes and misdemeanors that make his coronary arteries constrict. "We're flying on a burning plane," Parcells told his team. "Somewhere down the road, we're going to get beat 41-10, and after that, we'll learn some more about who we really are."
For the first time all season, Tuna's clairvoyance would betray him. The final score of his predicted nightmare game wasn't 41-10. It was actually 36-10, in Week 14 at Philadelphia. Dallas responded to the crisis with back-to-back wins and grabbed an entry visa to the postseason. Yeah, everybody knows that Parcells gravitates to the playoffs the same way most NFL players like to do brunch in strip bars. With this team, though? Bill Parcells isn't Coach of the Year. At this point, he's the Coach of the New Millennium. Here's somebody who fashioned the top-ranked defense in the entire league with a 5-foot-9 middle linebacker. Thanks to Tuna, Dat Nguyen became a Pro Bowl-quality football player, and that's where he is destined to land, once the voters learn how to say his name.
Under Parcells, Quincy Carter at times has performed a passable impersonation of Brett Favre.  Oh, sure, his act really can use a lot more polish, but for a quarterback that most scouts deemed Arena League material, the transformation has been impressive. The quarterback who plays for God is not the happiest man in Dallas, though. No, that would be the man who hired God, Jerry Jones. He has finally attained atonement for that regrettable night almost 10 years ago, when Jones had drinks with sportswriters in a hotel bar in Orlando and decided to fire Jimmy Johnson. Jones has said that during the past three pre-Tuna seasons, his friends and associates would avoid the topic of football altogether, simply out of politeness.
Bill Parcells might actually believe his best coaching work happened with the '99 Jets. Jones, though, can be content with the knowledge that this has been the best job of owning that this owner has ever done. And despite the Tuna's recommendation from last August, he's by-God not about to sell this team.
---