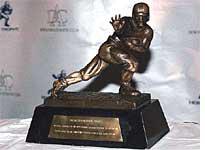 Miami Hurricanes tight end Kellen Winslow was so thrilled to win the John Mackey Award that he didn't "quite know what to say." Oklahoma tackle Tommie Harris was reported to be "speechless" when he was named the winner of the Lombardi Award. It's fortunate for both players that they had little to say, because there was scarcely anyone there from the sports media to hear them. The media focus, as usual, is lasered in on the Heisman Trophy, presented Saturday night.
The Mackey, the Lombardi, the Outland, the Biletnikoff—there are more than a dozen college football awards, and all of them taken together don't generate one-tenth of the ink given to the Heisman Trophy. Why, exactly? What is particularly puzzling is that the Walter Camp Award, presented to the "nation's top player" by the Walter Camp Foundation, has never caught on, considering that it is named for the father of football, the man without whom none of the other awards would exist. But then, the Walter Camp Foundation is in New Haven, Conn., and the Heisman Trophy is presented by the Downtown Athletic Club in New York. Which, come to think of it, probably answers the question right there.
That and the fact that the guidelines for the Heisman Trophy are so remarkably vague—it is simply presented to the "outstanding college football player of the United States" with no criteria as to whether outstanding means "the best," "most sensational" (as in headline-grabbing), or "biggest winner." Every year Heisman voters (who include 870 writers and media people and 51 previous winners) are free to apply their own standards or not to vote at all, if that is their inclination.
How can anyone continue to pretend that in the age of football specialization the Heisman Trophy represents, even in theory, the outstanding college football player in the country? Everyone knows the award is almost certainly going to go to a quarterback or running back—49 of the last 53 have been won by players at those two positions—from a major college power. What's funny is that even if we charge Heisman voters with that narrow mission—select the best high-profile runner or passer—they still often get it wrong, with the worst selections coming in the era of two-platoon football that began in college in the mid-'60s. (Before then, at least, a player had to have a solid reputation on offense and defense to win the award; no one who was afraid to tackle could ever have been a serious Heisman candidate.)
The 1964 award, which went to Notre Dame's John Huarte, is now the stuff of legend, with football historians quick to point out that nearly everyone was in agreement that year that the outstanding football player (well, at least, the outstanding quarterback) in the country was Alabama's Joe Namath. That's easy to say now, but in fact, back in 1964, Heisman voters not only didn't vote Namath No. 1 or No. 2, they didn't even see fit to place him in the top 10. 
Huarte's selection was by no means the worst. In the last 40 years, the award has gone to such duds as Gary Beban (1967), Archie Griffin (1974 and '75, who, in the words of the late Jim Murray, "won the thing twice when he shouldn't have won it once"), Andre Ware (1989), Ty Detmer (1990), Gino Torretta (1992), Danny Wuerffel (1996), Ron Dayne (1999), Chris Weinke (2000), and Eric Crouch (2001).
You almost never hear anyone ask what you think would be common-sense questions such as, "Is the player the best man in college football at his position?" or "Is the player the principal reason for his team's success, or is he merely the beneficiary of it?" Or, perhaps the most sensible question of all, "Did his statistics actually mean something? Were they compiled against worthy opposition or were they just piled on against weaklings to impress voters?"
If, for instance, one tried to apply those standards to some of this year's finalists, one might ask if Michigan running back Chris Perry, who failed to gain more than 95 yards in four of his team's biggest games and was held to just 26 yards in a loss to Oregon, is really as impressive as his 1,589 rushing yards would indicate.
You could also ask whether Pittsburgh wide receiver Larry Fitzgerald—a terrific player and a great pro prospect, no question—had statistics which benefited greatly from having an outstanding quarterback such as Rod Rutherford (who had an 8.9 yards-per-pass average) throwing to him. And, while we're on the subject, Fitzgerald padded his statistics by piling it on five dogs—Kent State, Ball State, Texas A&M, Rutgers, and Temple—against whom Fitzgerald caught 35 passes for 691 yards and 12 of his 22 touchdowns.
All of this is probably academic, since the Heisman is almost certainly going to go to Oklahoma's Jason White, who garnered the most press because his team was No. 1 almost all season long. No question, White was a terrific passer. He averaged nine yards a throw and had a touchdown-to-interception rate of 5-to-1 (40 TDs to eight INTs). But did he really need to run up his numbers against Iowa State, Texas A&M, and Baylor, three teams the Sooners beat by an aggregate total of 161 points? Was it really necessary for White to throw for 954 yards and 14 touchdowns against those three teams? Mightn't, say, 300 or 400 yards and five or six touchdowns been more than adequate? Ah, but the voters wouldn't have been as impressed if Oklahoma had simply run the clock out in those games.
If the Heisman voters had tried, they might have found a few players whose records were as outstanding as Jason White's. For instance, let me suggest North Carolina State's Philip Rivers, whose team was just 7-5 but probably wouldn't have won even two or three games if not for his amazing season. Rivers passed for 4,016 yards with 29 touchdowns against just seven interceptions. In two of his biggest games, Rivers threw four touchdowns against Ohio State and another four against Florida State, only to see his team lose because of the Wolfpack's wretched defense.
Rivers' numbers actually meant something. Surrounded by talent far less impressive than Oklahoma's, he was able to put up a 9.2 yards-per-throw average, a number more impressive than White's or any other Heisman candidate's. He also scored three running touchdowns. But Philip Rivers wasn't invited to New York this Saturday. In addition to some blockers and a defense, he could have benefited mightily from a solid PR department.
And, by the way, why not present the Heisman sometime in mid-January, after the bowl games have been played? Why continue the pretense that the bowls aren't part of the "season"? Since the bowl games determine the national championship and final rankings, why do the various groups and foundations that give out trophies pretend that the biggest games these kids will play don't matter?
Every year, sportswriters wail and wail for a Heisman overhaul, and still nothing changes. So here's a more feasible remedy. College football would gain some credibility by simply acknowledging that modern football is a division of labor among specialists. Gather up all the various year-end awards, including the Heisman, rent a ballroom, and present them all on the same night. If we can't get the best players checked off on the Heisman ballot, maybe we can at least get them all in the same room.
---