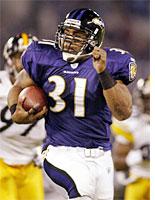 A lousy fourth quarter—just 2 yards on six carries—kept the Baltimore Ravens' Jamal Lewis from setting the NFL single-season rushing record Sunday night. (Eric Dickerson owns it with 2,105 yards in 1984; Lewis finished with 2,066.) How good was Lewis' season? His 5.3 yards per carry average was 1.1 yards per rush better than the NFL average. (Half a yard better than the league average is considered impressive.) I'd argue that Barry Sanders in 1997 and Jim Brown in 1963 had more glorious seasons, but Lewis still racked up an amazing 129.1 rushing yards per game. Wow.
Looking back on the year, though, it seems inevitable that another back was going to crack 2,000 yards. The barrier has been topped three times in the last seven seasons. This year, six NFL runners topped 1,500 yards, four of them averaging better than five yards a carry and all of them averaging at least 4.6 yards per shot. The 1,000-yard barrier, which used to mean something, was exceeded by a whopping 18 backs this season, including such luminaries as Kevan Barlowand Domanick Davis. Why are NFL running backs posting such gaudy numbers?
For one thing, there's a push in the NFL to get more out of a running back over a short period of time. NFL backs typically have the life spans of mayflies: A recent study by the players union reveals that the career of the average back is less than 2.6 years. Lewis, of course, is not average, but he's now in his fourth season, and he has already had both knees surgically reconstructed. If you're the Ravens, why not ride him for all he's worth?

"It's amazing to me how the game has changed in this respect," Don Shula told me in an interview five years ago. "With the Dolphins in the early '70s, we had not just two great running backs but three. Everyone remembers Larry Csonka and Jim Kiick, but Mercury Morris also carried the ball a lot for us that period." Shula went on to explain that before free agency, a team controlled a running back for his entire career and thus tried to ensure that he could produce for several seasons. "But today, with free agency," he said, "a team may just have a guy for a couple of years, so they want to get as much use out of him in as short a time as they possibly can." That, in turn, inflates a back's rushing totals.

Bill Walsh offers yet another reason why backs are posting huge numbers: "Players naturally want the big contracts, and to get those you've got to have the big yardage totals. Hardly anyone thinks ahead about how three or four consecutive seasons of 250 or 300 carries can take its toll." And though no coach is willing to put it in quite these terms, the truth is that runners who are willing to carry the ball so often save money for their teams. Years ago, when the number of carries was divided more evenly among two or even three backs, a greater number of roster spots went to backs. Now, a blocking back or two and a single good backup at tailback is all most good teams require.
Tailbacks also pad their stats due to the NFL's push toward specialization. The old designations of halfback (the guy who usually went to the outside) and fullback (the inside man), with both splitting carries, have almost disappeared from the game. The halfback became a "tailback" or "running back" and the fullback a "blocker," with all the carries going to the former. The Ravens' designated battering ram, Alan Ricard, had just 19 tries this season, compared to Lewis'$2 387.

The strange thing is, as the great backs post these ostentatious stats, they seem to have less and less impact on the game. Lewis' Ravens are in the playoffs, but no one expects them to go very far, largely because of a truly dismal passing game that has produced just 16 touchdown passes and 19 interceptions. For all the talk of how running sets up the pass in pro football, Lewis' running seems to have had little positive effect on the Baltimore passing attack. The conference's top-seeded team, the New England Patriots, has a mediocre—no, make that poor—running game, producing just 1,607 rushing yards, nearly 400 fewer than Lewis alone. Yet the Patriots are nearly everyone's pick to represent the AFC in the Super Bowl. The Philadelphia Eagles, the NFC's top seed, don't have a top-30 rusher.

Such a thing would have been unheard of before the rule changes of 1978, which opened up the passing games and made nearly every coach since a disciple of Bill Walsh. Before then, nearly every successful team required not just one but often two or three good backs. The Johnny Unitas Colts, who won back-to-back championships in '58 and '59, had Lenny Moore at halfback and Alan "The Horse" Ameche at fullback; Vince Lombardi's Green Bay Packers won championships in '61, '62, and '65 with Jim Taylor at fullback and Paul Hornung at halfback; Don Shula has already told us about the Dolphins, who went to the Super Bowl for three straight seasons, from the '71 season through '73; and the Pittsburgh Steelers, who dominated the mid- and late-'70s, were built on offense around the combination of Franco Harris and Rocky Bleier.

After 1978, the extra roster spots that once went to runners went to receivers, and the game of football became a game of passing and pass defense. You can practically count the Super Bowl rings won by the great backs of the post-'78 era on one hand, with most of them going to Emmitt Smith, who was lucky enough to play on a team with a great offensive line, a great defense, and a great passing game. Of the rest, Walter Payton won just a single ring during his entire career, while Earl Campbell, Herschel Walker, Eric Dickerson, and Barry Sanders went barehanded. (Yes, a Marshall Faulk or Terrell Davis might pick up an occasional trophy, but he'd better be teamed with a Kurt Warner or John Elway.)

The achievements of truly great runners are more and more relegated to the margins. It seems the reliable workhorses, like Jamal Lewis, seldom get to be the show horses.
---