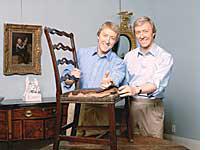 Never before in our history have Americans been so interested in one another's stuff. MTV's Cribs, niche shelter shows, and an entire cable network devoted to home design have made it so that you can scarcely flip on the television anymore without seeing somebody invert someone else's punch bowl, looking for the ceramicist's mark. Maybe the boom in look-at-my stuff shows can be attributed to the fact that, in the post-privacy age of reality television, pawing through someone's belongings really is the last frontier of pornography.
The oddball new PBS series Find!, which premiered in October and is just drawing to the end of its first season, takes belongings-pawing to previously unknown heights. It combines the treasures-in-the-attic wish fulfillment of Antiques Roadshow, the you-call-that-taste? schadenfreude of Trading Spaces and the down-home, Mr.-Fix-It aesthetic of Queer Eye for the Straight Guy. But Find! has one thing that these shows haven't got, or rather, two things: the Keno twins.
Leigh and Leslie Keno, 46, are tall, blond, engagingly hyperactive WASPs from upstate New York who have been collecting and dealing antiques together since childhood. In fact, the boys were antiques prodigies, as stressed by this factoid in their press bio: "At the age of twelve, twin brothers Leigh and Leslie Keno declared in their personal diary: 'We are antiques dealers.' " For me, the first thought occasioned by this revelation is not, "What precocious animation and drive!" but, "What kind of preteen boys keep a shared diary?"
The twins' very twinness is a kind of novelty act, the show's ace in the hole, and they love to milk the brother angle for all it's worth. They speak almost exclusively in the first person plural, with occasional disturbing references to "our kids" (as in, "our kids would love this shagreen footrest") that can't help but call up images of a joint household swarming with test-tube Keno clones. When Leigh and Leslie come across any two identical objects (say, a vintage toy in which two Popeye figures race down a ladder), they like to take sides as to which represents whom. The Keno brothers also touch one another with a frequency that is somewhat unusual in our culture, with its stuffy personal-space rules and prudish incest taboos. My friends and I have invented a drinking game: Every time there's a fraternal shoulder stroke or knee pat (not to mention the disturbing arm fondle in episode No. 106), the person who spots it gets to make the others do a shot. Let's just say that at the end of last week's half-hour show, a brand-new bottle of Stoli was almost gone.
The Find! episodes are frenzied. Generally, each begins with a house call, as the boys scope out the home of some private citizen who has written the program requesting a visit. Sometimes these are snooty scions of Mayflower families, well aware of the value of their heirlooms and seeking little more than an appraisal for insurance purposes. Other guests include inveterate collectors of unusual objects—carnival knock-down figures, 19th-century playing marbles—who want to show off their collections and to get a price estimate on an individual piece.
Finally—the best-case scenario for Leigh and Leslie—some of these people simply have no idea what their things are worth, like the no-nonsense Boston-area housewife they visit in the breath-baiting Episode No. 110, due to air sometime in late December or early January. (Check your local PBS listings.) This refreshingly taciturn lady—who, unlike most Find! subjects, is neither too rich nor too thin—stands by in bemusement as a virtual blond tornado descends upon her house, upending vases, exclaiming over fire buckets, crawling beneath tables, and finally digging through her jam-packed attic in search of an abandoned painting that turns out to be a previously unknown masterwork by the major American painter Martin Johnson Heade. The painting is evaluated by a Heade specialist—visits to art conservators and scholars being another important element in Find!—and deemed authentic. In the money shot that ends this episode, the Kenos break it to the Massachusetts housewife (and to us) that the unassuming landscape she's had in storage for decades is worth something like a quarter of a million dollars. (As it turns out, the painting sold at auction this week for over $1 million, an event that will be broadcast in an upcoming Find! episode.)
Like Queer Eye's Fab Five, the Kenos descend on their unsuspecting prey in a sleek black SUV, all but racing up the steps to get to the spoils. But unlike Bravo's gay taste mavens, our sexually ambiguous towheads are unfailingly gushing, no matter how execrable the interiors they encounter. The catty back-stabbing that is no doubt endemic to the high-end antiques trade (and that is essential to reality TV) is nowhere in sight. Of course, the backsides of the elite must be osculated to keep furniture flying in and out of showrooms, but compulsively watchable as it is, Find! could benefit from a little more of what my therapist calls emotional honesty. If Leigh and Les are horrified by the juxtaposition of reproduction Queen Anne and authentic Federal transferware, let's hear them bitch about it! The muttering of a sotto voce wisecrack never hurt anybody (or their Renaissance Revival sideboard). For myself, I also wish the show were an hour long, rather than a half-hour, so I could learn more about the actual art of appraising antiques, rather than just admire how well (and how quickly) the Kenos do it. But I'm probably looking for an excuse to paw through even more people's stuff.
---