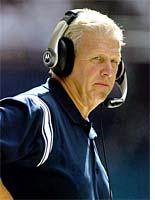 Following the Washington Redskins' Nov. 2 loss to the Dallas Cowboys, 'Skins defensive end Bruce Smith asked publicly why he had been relegated to the role of substitute. Head coach Steve Spurrier let the question go unanswered. If he doesn't mind, I'd like to take a crack at it: Bruce, you're 40 years old.
Bruce Smith isn't the biggest problem with the Washington Redskins, but he symbolizes it. In their arrogance, the Redskins thought that they could buy themselves a winner by pursuing expensive free agents, some of them past their peak, and putting them all under the command of a high-priced college coach.
Steve Spurrier is merely the latest high-profile college coach to flop in the National Football League, where you can't simply recruit your way to a championship. At Florida, Spurrier was able to lure better passers, receivers, and offensive linemen than virtually all of his rivals, and then could easily discard or ignore players he couldn't communicate with.
The head coach of the Redskins' bitter rival, the Dallas Cowboys, took his philosophy from an earlier era. It was said of Bear Bryant that "he could take his'n and beat yours'n, and then take yours'n and beat his'n." That's exactly what Bill Parcells is doing for his fourth team in the two decades. When Parcells took over a Cowboys team that finished 5-11 in its three previous seasons, some skeptics predicted that Parcells would win six games. So far, they're on the mark—the bad news for the rest of the NFC is that Dallas still has eight more games to play.
Like Bryant and Vince Lombardi, Bill Parcells doesn't start with X's and O's but with basics. His first two rules are "No penalties" and "No sacks." After eight weeks into the season, Steve Spurrier's Redskins are third in the league in sacks allowed and are on pace to set an all-time record for penalties.
In 1984 Parcells took over the New York Giants and transformed them into a 9-7 playoff team. By his fourth season, the Giants were Super Bowl winners. In his second incarnation, he took control of a New England Patriots team that had gone 2-14 and within two years turned them into a 10-6 playoff team. Two seasons later, they improved to 11-5 and beat the spread in the Super Bowl against a Green Bay team that should have blown them off the field. * His best performance, though, was probably with the New York Jets, where he took a team that had won four games in its previous two seasons, improved them to 9-7 in his first year, and then went 12-4, losing to eventual Super Bowl champion Denver on their home field in the AFC championship game.
Parcells' two Super Bowl victories with the Giants gave him a reputation as a crude, run-happy fundamentalist that he has never been entirely able to shake. But the Jets won with a combination of passing, running, and defense; the Patriots won mostly by passing. For that matter, the Giants weren't all that crude, almost always fielding a passing attack that was more efficient in terms of yards per throw and interception rate than their opposition.
The common thread in all four of Parcells' makeovers has been his ability to size up the available talent and structure his game plan around it, rather than trying to impose a preconceived strategy on a team, as some coaches do. (Somehow, the phrase "Fun 'n' Gun" leaps to mind.)
A case in point is Parcells' progress with third-year quarterback Quincy Carter. On the surface, Carter's numbers don't seem to have gotten much better from last year to this. His 57.7 percent pass completion percentage is barely higher than last year's, and the same goes for his passer rating. But Parcells knows (even if the NFL still doesn't) that the most important stat for measuring a QB is yards per throw, and Carter's has shot up from 6.6 last year to 7.3 this year. The result is an offense that does a better job of spreading opposing defenses and opening up running lanes.
How did Parcells accomplish this? Partly by stealing wide receiver Terry Glenn from Green Bay (Glenn has already caught five TD passes halfway through 2003, more than he had in his previous two NFL seasons), partly by putting his offensive line through a grueling series of fundamentals drills, and partly by teaching Carter to use his mobility to give his receivers more time to break open downfield.
One can only wonder why it took so long for Parcells and Dallas owner Jerry Jones to get together. They are, almost by consensus, the two biggest assholes in pro football and thus, it would seem, inevitably drawn to each other. Jones wants to spend money—the NFL's salary cap restrictions were initiated largely to curb the spending habits of the Cowboys and San Francisco 49ers—and Parcells knows how to spend it.
The as yet unnoticed dirty secret of the NFL is that the so-called salary cap only has to do with how much an owner can pay his players, not how much he can spend improving his team in other areas. There's no limit to what Jones can and will spend on training facilities, scouts, staff, or, in the case of Parcells, head coach. Parcells' $17.1 million for four years is the most lucrative contact of his career. Steve Spurrier, by the way, has a richer deal: five years at $5 million per. Jerry Jones not only has a winner, he has a bargain.
Correction, Nov. 14, 2003: This article originally misstated Bill Parcells' coaching records. He did not take over the 3-12-1 Giants, as Barra stated, and win the Super Bowl in his third season. The Giants went 3-12-1 in Parcells' first season as coach, and won the Super Bowl in his fourth.  Barra also stated that during Parcells' third season as Patriots coach, the team went 8-5 and went to the Super Bowl. In fact, the team went 6-10 that year. They went to the Super Bowl in his fourth season as Patriots coach. Return to the corrected portion of the article.
---