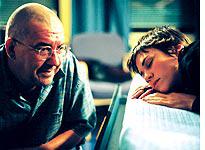 Denys Arcand's The Barbarian Invasions (Miramax) is a pungently funny and heartfelt piece of wish fulfillment about a grown son who reconciles with his selfish dying father by springing him from the purgatory of Canada's national health care system. A wealthy French Canadian investment banker living in London, Sébastien (Stéphane Rousseau) jets home to Montreal at the urging of his mother and is appalled as only a person with too much money can be by the government-run hospital—in which his history professor dad, Rémy (Rémy Girard), must share a room with sundry plebes and wait six to 12 months (which he obviously doesn't have) for a CAT scan.
Although Rémy tells him, "I voted for Medicare, and I'll accept the consequences," the son wastes no time in bribing bureaucrats and union leaders for private quarters and spending thousands to transport his father across the border to Burlington, Vt., for tests. Tipped off that the best pain medicine for this sort of cancer is heroin, Sébastien strolls into a police station and queries a couple of drug-enforcement agents about where to get the best stuff. (They are taken aback but are not without sympathy.) Eventually, he makes contact with the daughter of one of his parents' old friends, Nathalie (Marie-Josée Croze), a darkly attractive junkie whom he hires to score dope—and who, on the brink of self-destruction, feels herself gently tugged back into the land of the living by the dying patriarch. Money might not conquer death but it can cut through red tape and bankroll a swell farewell party.
Sébastien also phones his father's old friends and colleagues and summons them back to Montreal for more talk of sex, food, and declining empires—"more" because this is the sequel to Arcand's last big U.S. art-house hit, The Decline of the American Empire (1986). For those who don't remember (or haven't seen) the original, it's a sardonic ensemble talkfest in which a group of middle-aged academics (men and women) gather at a lake house to gab about their trysts, their bodies, and the end of their civilized era. The tongue-in-cheek title comes from the thesis of a professor's book: that the "frantic drive for personal happiness" is a precursor to (and symptom of) the current empire's decay. (Another harbinger, she argues provocatively, is the rise of feminism.) Apparently, these lefty elites have long since abandoned Marxism for a fin de siècle hedonism (fucking, luxury food, and aerobics), and all this self-gratification has left them rather anxious.
Arcand's earlier film was an affront to many of my colleagues (I worked at the Village Voice at the time), and there is an aspect of neocon gloating in it. But I liked the characters and sympathized with their appetites and their lack of direction—and, bourgeois materialist that I am, I envied their friendship, cuisine, and lake house. Arcand is extremely sympathetic to these people: The movie ends on the same note of dashed romanticism as another great house-party sex movie, Ingmar Bergman's masterpiece Smiles of a Summer Night (1955).
In Barbarian Invasions, which takes place 16 years later, the sex comedy has moved to the periphery: The once plump and libidinous Rémy is increasingly concerned about what he will—and won't—leave behind. His former students barely have a memory of him; his son detests him; his daughter can't bring herself to leave an extended cruise in the South Pacific (she communicates via a video camera and a satellite uplink); and the pleasure of all those sexual conquests has long since faded. At the end of the last film, Rémy's marriage to Louise (Dorothée Berryman) was in ruins, and it turns out that they divorced a year later. But Louise is still around, and still fulfilling a wifely obligation: to bring a son and a father back together. Rémy has a second chance whether he deserves it or not.
If you haven't seen Decline, you won't know what a vital and attractive force Berryman's Louise was: She seems to have dried up a bit when she divorced Rémy. The other returning characters haven't, but there isn't as much for them to do this time. The swinger Pierre (Pierre Curzi) now has a young, neurotic blond wife and a couple of kids; the professor Dominique (Dominique Michel)—once one of Rémy's mistresses—has moved from sex to a giant-screen television in her bedroom; and the gay Claude (Yves Jacques) is still finding sumptuous things to do with truffles and wine—while taking advantage of the incompetent Canadian government's largesse by running a center for Canadians in Rome. The ensemble was the point of Decline; here, the old actors seem more like "guest stars."
But they are very lively guest stars—they give the movie texture. And the leads are vivid. Rousseau's Sébastien is a subtly amusing portrait of emotional constipation: In order to love his dad, he has to rescue him from a government bureaucracy that's the upshot of many of the old man's ideals. In Decline, Girard's Rémy was a fount of bonhomie; here, through the eyes of his children, we see the flip side of his promiscuity. The movie gives the lie to the idea that sexual revolutionaries are just so overflowing with love. As the junkie who medicates Rémy, Croze has a blazing despondency. (In some shots she looks model-gorgeous, but that hardly precludes one from playing a heroin addict.)
The film's maybe-ironic, maybe-not thesis statement comes with a shot of a plane smashing into the World Trade Center (especially shocking on a giant movie screen) accompanied by a commentator's assertion that the West would someday regard 9/11 as the beginning of "the Barbarian invasions." As with Decline, it's hard to know how to take this: Should we be offended by that Trade Center footage? Or by Rémy's conclusion that human intelligence is disappearing—an event that seems inextricably linked to the rise of the immigrant population, unions, and national health care? Is this the characters speaking, or is it how Arcand really thinks? In one scene Rémy recounts his meeting with a gorgeous Chinese professor, who looked at him in horror when he praised the Cultural Revolution, which for years had kept her cleaning pigsties. When Rémy dismisses his own left-wing politics as a consequence of seeing too many Jean-Luc Godard films, Barbarians emerges as a truly counter-counterculture drama.
The Barbarian Invasions isn't an anti-left political tract, though: Priggish international capitalist Sébastien needs saving as much as his dad does. The film is more about a dying man taking stock and leaving behind the things that once stood in the way of human contact. And it's a hangout movie. Rémy was a fool who had destroyed his family at the end of TheDecline of the American Empire. The Barbarian Invasions says that friendship and good talk (smart or dumb) will always offer the possibility of renewal. That and that Canadian health care is a pain.
---