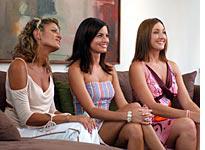 Will Lisa Shannon find love and fortune? On tonight's finale of Cupid, CBS's latest reality dating show, fans will find out which suitor has been chosen to propose to the series's lovely 25-year-old heroine from among the remaining would-be romantics. If Shannon accepts the proposal, the couple will be married right then and there. And if they stay married for a year, they will receive a $1 million check.
To many critics, Cupid and other matchmaking shows that mix money and real-life marital machinations represent a cynical and tasteless new genre that is yet another sign of America's moral decline. But there's something familiar about the fortune hunters, the status seekers, the thwarted loves, the meddling friends, the public displays, the comic manners, and the sharp competitiveness—all find their counterparts in Jane Austen and Edith Wharton. Only now, three-minute get-to-know-you tryouts in a TV studio substitute for three-minute waltzes at a ball. Traditional family values, it turns out, are back on television after all.
Lisa Shannon may lack the wit, depth, and cleverness of an Austen heroine, but like many of Austen's women, she has put herself in the hands of others (in this case her friends and the TV audience), trusting that they will choose the right match. Even the idea that Shannon, at 25, feels the need to go to such lengths to find a husband suggests a troubling 19th-century ethos: A woman who is not married by her late 20s is doomed to be an Old Maid.
Undoubtedly, the hundreds of suitors who joined the pursuit are as attracted to the $1 million dowry as to Shannon. But money played a large (and openly discussed) role in the Victorian and Edwardian contract as well. In Pride and Prejudice, for example, we learn that "Mr. Darcy soon drew the attention of the room by his fine, tall person, handsome features, noble mien—and the report which was in general circulation within five minutes after his entrance of his having ten thousand a year." And in Emma, Mr. Knightly scolds the novel's eponymous heroine for imagining a match between Mr. Elton and her friend Harriet, without understanding he is more interested in money than in love: "I have heard him speak with great animation of a large family of young ladies that his sisters are intimate with, who have all twenty thousand pounds apiece."
On Cupid, Lisa's friends Laura and Kimberly are there to protect her from such gold diggers. They helped Lisa screen the men who answered a coast-to-coast open call (which produced more candidates than did the California primary). After the three whittled down the list of hopefuls to 10, the final selection was turned over to TV viewers, who called in every week to vote for their favorite.
Like the secondary characters in Austen and Wharton, Shannon's companions are clearly there to provide piquant social commentary, deliciously wicked judgments, and intrigue, sabotaging some suitors and championing others. "Freak," "boring," "awful," shrieks Laura, Lisa's confidante, as she ridicules suitors' looks, accents, clothing, schooling, and pronunciation.
Of course, nothing but superficial snap judgments can be made in the few minutes that each man is initially given to impress the three women. But the snap judgments aren't necessarily unanimous, and Laura and Kimberly's debating of the various virtues and flaws (is he "an arrogant jerk" or a dependable lawyer?) are a prosaic version of Mr. Knightly's and Emma's spirited sparring over the lovesick Robert Martin:
"A respectable, intelligent gentleman-farmer," says Mr. Knightly.
"His appearance is so much against him, and his manner so bad," Emma responds.
Likewise, the hopeful bachelors on Cupid understand what goes into a suitable match. Corey, a rocket scientist with the Air Force, acknowledged up front, "I know you have your friends here because I have to fit in." One contestant, Rob, went so far as to boast, "I come from good stock, too. I have good hair and teeth," as if he were a racehorse, waiting for her to check his gums.
Even Richard Kaye, an English professor and the author of The Flirt's Tragedy: Desire Without End in Victorian and Edwardian Fiction, confesses to being a "guilty watcher" of the new matchmaking shows, finding the parallels spookily similar. But inevitably, these series—The Bachelorette, Meet My Folks, Married by America, and For Love or Money (where a woman can keep the man or the million but not both)—have all been scorned for debasing the sanctity of marriage and for their shallow, indecorous exhibitionism.
But the shows also betray dissatisfaction with the individualistic, go-it-alone ethic of modern courtship. The Victorians and Edwardians organized balls, dinners, afternoon teas, country walks, and the like to help their younger members find mates. Today, without such formal social arrangements, singles are pretty much left to their own devices to suss out partners. And while the elaborate courtship rituals and codes may now seem curiously antique, they did serve to cushion the brutally competitive marriage market. "I've been looking for Mr. Right and I've just not been able to find him," Lisa confesses. "Based on my track record, I obviously need help." She has discovered what Lily Bart in Wharton's The House of Mirth learned after losing a sought-after bachelor. Upon hearing of the wealthy match that Grace Van Osburgh expertly concocted for her daughter, Bart concludes: "The cleverest girl may miscalculate where her own interests are concerned, may yield too much at one moment and withdraw too far at the next."
In the end, the American public will choose Lisa's potential spouse in what could be seen simply as a more democratic version of those literary heroes and heroines who gave themselves wholly over to society and allowed their extended family to pick an appropriate mate. And why not? The idea that a good husband is hard to find has become a cultural watchword. Meanwhile, the high divorce rate is evidence that love, American style, hasn't necessarily produced happier unions. Nor should anyone forget that Lisa, too, stands to gain the million only through an advantageous marriage. And if it doesn't work out after a year, she at least has one of the modern conveniences not available to Austen's or Wharton's protagonists: a no-fault divorce.
---