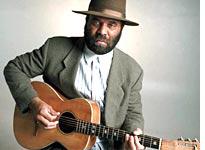 At first glance Otis Taylor would seem to be marketed as a blues man mostly for lack of a better term. Certainly albums like his current don't fit into any known blues scene in this, the Congress-proclaimed Year of the Blues. But they don't really fit in anywhere else, either. His largely acoustic music is blues, or at least blues-based, in that he often echoes the dark, doom-laden one-chord boogie patterns of a John Lee Hooker, with the drone of prewar Delta players. It's trance-inducing stuff. Yet in addition to guitar, Taylor himself plays mostly banjo and mandolin, instruments more commonly associated with country than with blues. And rather than deal straightforwardly in the usual blues verities, his songs usually place those themes—love and loss, community and suffering, catharsis and redemption—in the context of grim, straightforward historical narratives that are meticulously detailed. Taylor's approach suggests the global-village equivalent of a West African griot, a wise storyteller who passes his village history down orally.
Now this may not all add up to any conventional definitions of blues, but it grows undeniably out of one black man's life and passions. Born in 1948 in the postwar blues mecca of Chicago, Taylor grew up, from age 6, in Denver, hanging around the Folklore Center and learning various instruments. In 1964, he formed his first blues band; in 1967, he sold his Native American art and artifacts collection and bought a house in Boulder, Colo., where he played to the emerging white blues audience. His first near-brush with fame came in 1969, when he relocated to London to sign with the Brit blues label Blue Horizon. After that deal quickly fell through, he returned to Boulder to play with more blues-rock outfits, often working with Tommy Bolin, the hard-rock guitar hero who'd recently left the James Gang and would soon graduate to Deep Purple. In 1977, Taylor left the music biz completely to become an art and antiques dealer. He didn't play in public again until 1995, when he also released his debut album Blue Eyed Monster (no longer available). When Negroes Walked the Earth followed in 2000, White African in 2001, and Respect the Dead in 2002; White African won him a Handy Award, the blues world's highest honor, for best new artist in 2002 while the latter earned '03 nominations for acoustic blues artist and contemporary blues album of the year.
So Taylor is not exactly hurting in the blues world—he also has followings among the overlapping acoustic, roots, and folk audiences—but he does remain a level or two down the pecking order from its big guns. If he's going to ascend, blues fans will probably need to relax their definitions of the music. Those who think banjo and mandolin have no place in blues, for example, simply don't know their history. Musical miscegenation between blacks and whites has been taking place in America ever since the first African slaves began adapting Anglo church music in New England in the 1620s. By the earliest days of the recording industry, the 1920s, such cross-pollination was commonplace, especially among rural white and black string bands playing traditional music in the South.
Regardless of race, groups performed many of the same songs—consider "In the Jailhouse Now," "8th of January," or "Stackalee"—and used basically the same instruments, such as guitar, fiddle, mandolin, banjo, and harmonica. The banjo was actually an African instrument, brought to this country by slaves and popularized in the 1840s by Anglos who aped black styles in minstrel shows before finding its way into country string bands. (On songs like "Babies Don't Lie" from Truth Is Not Fiction, Taylor plays it in a percussive, clearly African-derived style that sounds nothing like the rolling runs of white banjo pickers.) The similarly small and portable fiddle had been brought to this country by the earliest white settlers, and blacks in turn slowly adapted it. Indeed, the earliest verifiably integrated recording session in the nation came in 1927, when Taylor's Kentucky Boys, a mostly white string band that included black hoedown fiddler Jim Booker, cut the traditional "Gray Eagle," "Forked Deer," and "Soldier's Joy." Those who assume that country music was always as exclusionary as it is today might be shocked to learn that jazz, the idiom usually credited with breaking down racial barriers, didn't see its initial integrated session until four years later.
Fans of Harry Smith's landmark Anthology of American Folk Music, first released during the folk boom of the '50s and one of the essential reissues of recent years, didn't know if the '20s and '30s string bands they were hearing were white or black, "country" or "blues," because Smith didn't tell them in his notes. And this is the blues tradition Taylor extends into modern times, claiming Doc Watson as a touchstone as powerful as Muddy Waters. Such turf really hasn't been explored since Taj Mahal did it in the late '60s, also coming from a folkie background but with a much cheerier outlook thematically, and it's easy to see why the dominant, mostly white blues audience has trouble with it. That audience has grown increasingly bipolar since emerging out of the urban folk scene of the 1960s, which is also when African-Americans largely deserted blues once and for all as anachronistic field-hand music. From black artists, today's audience expects one of two things: either "authentic" ghetto or Southern rural roots and devotion to blues purism, or the party-down guitar histrionics of most white blues acts. Either way, there's little room for an original reinterpretation of blues, and hardly any black artists (despite exceptions like Robert Cray or Keb Mo) escape that either/or choice. And what's left of the aging, traditional black blues audience has completely different taste, staying true to the soul blues of Bobby Blue Bland and Little Milton.
So where does that leave African-Americans like Taylor (or Chris Thomas King, who's morphed conventional blues into the hip-hop era and also goes it alone)? Usually, on the fringes. Because as much as Taylor's music is 12-bar blues, it's also something quite different. His unorthodox, drummerless band has just two other regular members. Kenny Passarelli, a fretless bass pioneer in '70s rock bands, also produces and adds occasional keyboards. Lead guitarist Eddie Turner's spacey-yet-resounding solos sound distant and disembodied even as they also stab at the heart, head, and gut simultaneously, a pretty good aural metaphor for blues solitude. Taylor's daughter Cassie sings backup, and most recently, he's had Ben Sollee on cello. As delicate a balance as they strike between acoustic and electric on disk, in concert they offer a denser, more visceral, all-out electric assault, pulsating until it verges on psychedelia, with Sollee's cello providing a murky undertow that holds everything together. Like great musicians in any genre, Taylor is both a classicist and a visionary.
On the new album's "Kitchen Towel," members of a Native American farming family in the '30s commit suicide together rather than return to the reservation after their crops fail; in "House of the Crosses," a Russian child who's the product of rape grows up to be the prison guard of his father; in "Shakie's Gone" a slave family struggles to survive after the death of its patriarch. In four earlier albums, Taylor has sung in his raspy, nakedly emotional voice of the lynching of a black hobo (and the real-life lynching of his great-grandfather); the Crucifixion; a man who lives in a cardboard box with his dying daughter; a black witch; black cowboys; African-American troops of the Civil War and of World War II; fatalities in a Mexican car race; and Freedom Riders and civil rights activists. There's hardly a conventional love song in his repertoire, and, as befits an antiques dealer, most of his songs don't even take place in the present. But that's OK. In style and substance, Otis Taylor makes blues for what is, after all, a post-blues era.
---