Day 1 Slide Show: Diane von Furstenberg, Kenneth Cole, and Tuleh at New York's fashion week.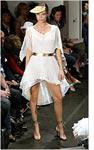 Bravo to Diane von Furstenberg. Her collection, presented on the opening weekend of the New York runway shows for spring 2004, made it clear that fashion can still be a personal expression of joy. Side-stepping the trappings of corporate sponsorship that have become all too prevalent, von Furstenberg welcomed an audience to her West Village studio, far from the centralized tents of Midtown's Bryant Park where "Mercedes-Benz Fashion Week" takes place. And she did not disappoint. This designer's show suggested what living as a free spirit in the 21st century might look like, and it left the indelible impression that makes a season new. Imagine the great black-and-white photographs of Jacques-Henri Lartigue re-colored by Andy Warhol. Here were the Riviera's flapper dresses, with their dropped waists and handkerchief hems, the elegant blouses made casual with wide-leg pants, the broad-brimmed hats for promenading the lawns of Eden Rock. But what made these sentimental shapes fresh was the strong palette of silkscreen-bright colors, like lime green and watermelon pink, and the music-video attitude with which they were worn. The designer does not truly mean for women to saunter around in picture hats, but she most assuredly means that the lovely white dresses and willowy chiffon tops are perfect for spring evenings filled with romance. Von Furstenberg used the runway as it should be used, to show an idealized version of life as she would like it to be.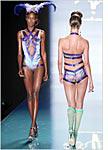 Kimora Lee Simmons (the wife of music mogul Russell Simmons) presented an equally joyful collection for her Baby Phat label. Working with the brilliantly talented stylist Patti Wilson (who has dressed soul divas Whitney Houston and Alicia Keyes), Simmons, like von Furstenberg, looked to the Roaring '20s for inspiration. In a raunchy tribute to Josephine Baker and Cotton Club showgirls, the designer made the audience cheer. The models paraded up and down the runway looking like Erté illustrations brought to life in a Technicolor, hip-hop world. Peacock feathers curlicued from foreheads. Tiny bikinis and satin cutaway coats were made with geometric bands of exotic blues and yellows in Art Deco patterns, recalling the façade of the Folies Bergère: It was as if the chanteuse and the showgirls had torn down the cabaret's drapes to make outfits for their own raucous entertainment.
Simmons reminded the audience that what distinguishes fashion from clothes is a sense of narrative; clothes merely dress, but fashion can tell stories. Never mind that the clothes shown here will never be produced. While Baby Phat sells the T-shirts and jeans that are typical of urban sportswear collections, this show was all for hype—the company was using it to launch limited-edition signature cellphones produced by Motorola—but the effect was fabulous. Someone should give Wilson, Simmons' stylist, a house of her own.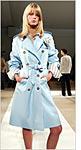 The Perry Ellis collection has been off the radar for years. The company is betting on Patrick Robinson, a designer who has worked for Anne Klein and Giorgio Armani, to restore the casually stylish sportswear that the house was built on. Wisely, he did not delve into the archives of the much-loved '80s designer, who was known for homey dirndl skirts and nubby sweaters, which were designed in response to the slick Halston look that dominated his time. These would look out of place today; instead, Robinson captured the charm and optimism of Perry Ellis with classic American sportswear pieces, such as a soft blue trench coat, an argyle jumper, and slightly oversized cotton shirts.
The budding talents whose shows fill a good half of Fashion Week's calendar hope to one day capture the attention (and the revenue) of the big names in American fashion, such as Narciso Rodriguez and Ralph Lauren. Among these, a handful of newcomers are sponsored by Gen Art, a national organization that has offered an all-expenses-paid show for the past 10 years. The opportunity is double-edged: It's difficult for a designer's work to shine among 12 competitors and low production values. But Duckie Brown, a menswear duo (Steven Cox and Daniel Silver), managed to do just that. Generally, men on the runway look like twee peacocks, but Duckie Brown's electric-bright, color-blocked T-shirts and slouching pants conveyed a stylish street credibility while maintaining a masculine feel. The designers showing alongside them literally paled in comparison: Who cares about dreary putty-colored jersey dresses copied from other runways or about meek attempts at seeming "cool"? Don't these young designers know that cool is last season's news?
This season's news, hopefully, will be a purer beauty than fashion has embraced in recent seasons. Intelligent glamour—not the vampish variety favored by Zang Toi and his No. 1 client, Ivana Trump—is the direction taken by Tara Subkoff of Imitation of Christ, who is known for her reworking of flea-market finds. Sure, her models—Jean Harlow doppelgängers, mostly—are vamped in satin tap shorts and sparkling dresses that would be perfect for stepping in the cement at Grauman's Chinese Theater. But it was the simple baby-doll shapes and relaxed blousons that made this retro collection charming.
When a designer's work is called "retro" or, even worse, "vintage-y," its value is immediately in question; a too-heavy dose of nostalgia often diminishes clothes' contemporary relevance. Tuleh (full disclosure: I co-founded the house but left in 2002 to pursue a writing career) has struggled with this dilemma from its beginnings five years ago. But Sunday night's show changed that. Bryan Bradley proved that while Tuleh's clothes may be based in dressmaker tradition—the jackets are finished with jacquard linings, buttonholes are bound—they are cut with a sex appeal and a lightness of hand that would have been unimaginable in, say, the 1950s. Bradley layered coquettish ruffles along the slithery seams of the chiffon dresses that have become his signature. Sharply tailored coats were detailed with graphic rows of trapunto—a kind of quilted stitch—and Lucite buckles. Even cocktail dresses that could easily have been nothing more than dowdy rehashes of Christian Dior's glory years were turned out with a near brazen voluptuousness that projected the kind of sexually charged glamour today's young socialites and celebrities crave.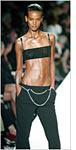 In the fashion world, no one believes that Kenneth Cole is anything more than a clever entrepreneur. He opened the week with a show that said more about fashion's looming crisis of purpose— Are any of these clothes really for sale? Are these shows anything other than marketing free-for-alls?— than it said about what you might be wearing next season. The design company's 20th anniversary was celebrated with a cheeky new slogan: "Our outfit is 20. Who Cares?"—a reference to Cole's own ambivalence about fashion. Cole, known more for the agitprop of his ad campaigns and for his midpriced shoes than for his inventive clothes, offered up his latest set of clothes he "believes" in. It seems he believes in shoes he copied from Manolo Blahnik and satin shirts he copied from Michael Kors. But what Cole clearly believes—as demonstrated by his ubiquitous ad campaigns focusing on condom use and on AIDS research—is that fashion is a perfect platform from which to broadcast his worldview. Never mind about the clothes.
---