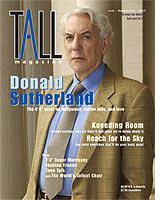 Tall magazine—"because life may be short, but we're not"—went to press for the first time two weeks ago. Aimed at a target audience of the 5.5 million American men over 6-foot-2 and the 1.5 million American women north of 5-foot-9, the glossy magazine boasts a cover profile of actor Donald Sutherland (6-foot-4); height-related humor from the tallest man in late-night TV, Conan O'Brien (6-foot-5); plus interviews with Buffy the Vampire Slayer nemesis Roger Morrissey (7-foot-4) and Heather and Heidi Burge—at 6-foot-5, the longest-limbed female twins alive. No mere treetop fanzine, Tall also dishes up plenty of "service" articles touching on hot-button issues in the tall community, from chronic back pain to the arrival of the latest Grand King Mattress model. ("Are you excited? We're excited!")
Tall was clearly conceived by someone who went looking for it, couldn't find it, and set out to make the mag he wanted to read. Its publisher and editor, Everard Strong (6-foot-9), wants Tall to give expression to an underserved, if highly visible demographic—to empower fast-growing clumsy teens, to assist anyone who has been taunted as "Amazonian," nicknamed "Lurch," or has tired of giving a weather report from "up there."
Is it so bad being tall? Given the staggering reams of data and number of books—The Height of Your Life, The Truth About Your Height, Survival of the Prettiest—that find height correlates to social, economic, and political success, it's hard to believe that tall people have much to overcome. Most vertically challenged types, it seems, would rather have taller people's problems. As Natalie Angier reported in the New York Times, the Food and Drug Administration recently approved genetically engineered human growth hormones for short but otherwise healthy children in order to give them a shot (literally) at another inch or two. Then again, studies have shown that, on average, taller people, like big dogs, do not live as long as smaller, lighter ones. Plus there was the recent news that no less than 50 single women of above-average altitude fell for the same U.S. Army colonel when he contacted them through tallpersonals.com and, sight unseen, successfully proposed marriage. (Though he claimed to be 6-foot-2 or 6-foot-3, he's reportedly sub-6 feet.) Clearly, someone needs to expose these ladies to a broader (or taller) world of romantic partners.
And yet Tall's mission is not so much to commiserate with lanky lasses as to build a heightened sense of camaraderie. Strong wants Tall to frame an inspirational "culture of height." Which raises an obvious question: To what extent does being "tall" define a tall person? Do tall people have outstanding body-image issues? Is all tallness alike—or is there a height barrier at which "tall" passes from being descriptive adjective to an essentialist identity? Do individuals of stature gain a deeper sense of belonging—it's a tall thing, you wouldn't understand—only from other tall people? To find out, I did a little legwork; at 6-foot-7, I figured this was one subculture where I might pass.
As a social force, tall pride appears to have gotten its first major leg up on the eve of World War II. In May of 1938, Kae Summer Einfeldt (6-foot-2) published a cri de coeur about the inconveniences of being an exceptionally tall broad in the Sunday Los Angeles Times Magazine. Einfeldt, who was one of several artists who drew dwarfs for Walt Disney's Snow White and the Seven Dwarfs, illustrated her own article. A few weeks later, the charter members of the California Tip Toppers Club gathered in her home. By the time Einfeldt died in 1996, her organization had been celebrated in Life magazine and had established liaisons with the "vertically gifted" in Denmark, Norway, the Netherlands, as well as behind the Iron Curtain in countries like Czechoslovakia.
Today, Tall Club International counts 65 member organizations in the United States and Canada, and there are at least 35 tall clubs in Europe, many linked through a network called Klub Langer Menschen. California alone sports 10 tall clubs, including a civic-minded bunch of towering techies in Silicon Valley who volunteer for highway clean-up, award scholarships, and recently sued Alaska Airlines and several other carriers. According to the San Francisco Chronicle, their suit sought no damages, but preferential seating for tall customers.
Mostly, tall clubs attract singles and/or recent transplants looking to make a friend or two in a new hometown. The Tall Club of New York has about 100 active members who meet for after-work cocktails, chat each other up, and plan the occasional trip sailing or hiking. To join, you must be 21 years of age and stand at least 6-foot-2 (for men) and 5-foot-10 (for women)—in stocking feet. Justin Zizes, the Tall Club's membership director, says he's vigilant about tall poseurs. "I can usually eyeball them," Zizes said. "But sometimes they come in platforms or heels, and then I have to check."
At a recent First Friday meeting of the Tall Club of New York, conversation consisted of the small talk you'd expect at any Manhattan happy hour, although there was some height-specific talk among women (who were the majority) about the insecurities of diminutive boyfriends, the tendency of some shorter gents—aka "squatty bodies"—to see taller babes as a conquest, and the buzz-kill of looking down on a would-be lover's bald spot. With the exception of an errant essay topic (Are tall people underachieving because they have too little to prove?), nothing I heard at the Tall Club of New York gave the impression of a nascent cultural revolution among the tall. Sure, height plays a factor in several of the top-paying professional sports, but, against stereotype, Tall Club members didn't engage in serious jock talk, nor did they speak of tall artists, or tall writers, or tall musicians, nor did they karaoke to Randy Newman's "Short People."
Nonetheless, one area where Tall magazine could make a significant contribution did emerge: tall fashion. Aside from basketball courts, the most salient nexuses of tall culture are Big & Tall stores, and, as a quick tour of Rochester Big & Tall, AM-PM Men's Store, or Tall Expressions reveals, these shops are far from the height of fashion. At best, they are well-appointed emporiums of can't-go-wrong khakis and merino wool pullovers—and a lot of factory seconds. At worst, these retailers veer perilously close to, what for men, anyway, might be described as Chess King meets pre-Dr. J NBA.
In a telephone interview, Strong said he thinks Big & Tall stores represent a natural, if non-conventional venue for his magazine. Think of his approach as Esquire in reverse. Whereas Esquire began as a dress-for-success pamphlet at haberdashers in 1933 and later moved to mainstream newsstands, Tall will debut on newsstands but, Strong hopes, become a fixture at large-size apparel stores. This could prove Tall's coup de grâce. As an Oprah magazine for the vertically gifted, Tall invites ridicule. But if Strong can update off-the-rack style for those of us who can never find our size or reserve me seat 10A on every 737 that I fly, I'll have no choice but to consider him a giant among men.
---