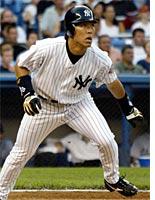 Ask any fan at Yankee Stadium who he or she wants with a runner on second and third in a tight situation. Ask anyone in the Yankee Stadium bleachers which outfielder they want chasing a hard-hit ball with runners on base. Ask them who is the only Yankee outfielder who seems to know the meaning of the words "cut-off man," in either Japanese or English. The answer will sound something like—and I'm spelling this phonetically—"Go-JEE-rah!"
Hideki Matsui, the best rookie in the American League, is headed for about 120 RBIs this season. If he had had a bit more experience looking at American-style cut-fastballs and two-seam sinkers, he would probably be headed for 140 to 145 RBIs and the Most Valuable Player award would be within reach.
But we're not talking about Matsui as MVP. What we're talking about is Matsui as Rookie of the Year—or more specifically, about the subtle but insidious campaign to deprive him of what he clearly deserves. ESPN.com's Sean McAdam fired the first shot in July, writing, "Matsui's spot on the American League All-Star squad is largely the result of fans who haven't seen him play Major League Baseball, or at least not on an everyday basis." This is probably true, but it's also true that most fans who vote for the All-Star teams scarcely see any but their own hometown favorites on an everyday basis. It should be pointed out that those who have seen him play on an everyday basis, the folks with the plastic Godzillas on their heads, doregard him as a legitimate All-Star and overwhelmingly support him as Rookie of the Year.
There are other arguments against Matsui, many of which can be heard every day on WFAN, the New York radio station that seems to draw its listenership largely from disgruntled (or am I being redundant here?) Mets fans. The arguments, usually voiced by someone named "Vinnie from Queens," go something like this: "He's too old." (Matsui is 29.) Or: "It's not fair that someone with that much experience should have a chance to compete for the Rookie of the Year award against real rookies." (Matsui played 1,286 games in Japan's Central Leaguebefore jumping to the American bigs.) Rick Sutcliffe offered the same argument on ESPN radio last Tuesday, that Matsui was "simply too old" to be regarded as a rookie.
So is he? I went flipping through the record books trying to find the last 29-year-old player who really qualified as the best first-year player in the major leagues. It appears to be Orestes Arrieta "Minnie" Minoso, who didn't get his big league shot till 1951, after three seasons in the Pacific Coast League. He made the most of it, hitting .326, driving in 76 runs, scoring 112, and leading the league in both stolen bases and triples. Somehow, the baseball writers managed to ignore Minnie for Rookie of the Year in favor of the Yankees' fine 23-year-old second baseman, Gil McDougald, who batted .306 with 63 RBIs and 72 runs scored.
There are some interesting parallels between Minoso's case and Matsui's. The other two candidates for AL Rookie of the Year this season are Tampa Bay's Rocco Baldelli, 21, and Kansas City's Angel Berroa, 25. All three men have batting averages that have been close to .300 for most of the year. Matsui's on-base average as I write this is superior to the other two. Both Baldelli and Berroa, as of Aug. 7, had driven in 57 runs, 24 fewer than Matsui. With 39 walks, Matsui has more than Baldelli and Berroa combined. It can't be said with any certainty that Matsui will finish the season with better numbers than the other candidates, but right now he has them, just as Minoso had the better numbers in 1951.
I askedveteran baseball writer Charlie Einstein, who profiled Minoso years ago for Sport magazine, if he felt that the injustice of the '51 Rookie of the Year voting was racially motivated. (Minoso was the first black Latin ballplayer in the major leagues.) "No," said Einstein, "and I don't think it was really a Yankee thing either, because a lot of guys who voted for the awards had a lot of resentment towards the Yankees. I do, though, remember a lot of people saying that, 'Well, he did play nearly three seasons in the Pacific Coast League before coming to the American League. I really don't think it's fair that he should have that kind of experience and still compete for an award with a 23-year-old like McDougald.' "
No one knows for certain exactly how good the Japanese big leagues are on the whole compared to the American and National League. But judging from the performance of their top players, a pretty good guess would be that Japanese big-league ball is about on a par with the Pacific Coast League that Minoso came out of in the late '40s—or, put another way, a bit better than most Triple-A minor leagues in the United States today. So if we don't consider Hideki Matsui the leading candidate for AL Rookie of the Year, what we're saying is that he had an unfair advantage because of those 1,200 plus games of high-level minor league ball. What kind of rational argument is that?
Actually, what's really unfair is not that Hideki Matsui got to play for all those years in Japan, but that he didn't get a chance to play here sooner.
---