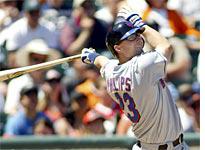 This year's New York Mets were assembled by recently ousted General Manager Steve Phillips, perhaps the only GM so bad that he acquired a stalker. The team Phillips built, 39-50 at this writing, fits snugly into what might be called baseball's "underachieving overdog" model. Start with a massive payroll: $116.9 million on opening day, second only to the Yankees. Add old players flailing about in an attempt to re-enact their past glories. Finally, subtract all young players with the potential to get any better. If rooting for the Yankees is like rooting for General Motors, then rooting for this year's Mets is like rooting for a used Oldsmobile with a persistent urine smell. Maybe it used to have flash and run well, but my God, what the hell happened in there?
This year's Subway Series tally—GM: 6, Olds: 0—doesn't do justice to how far apart the two teams really are. For the Mets and their unfortunate loyalists, the 2003 season has swan-dived into a yearlong anniversary celebration of the 1993 team. That outfit, led by luminaries like Chico Walker and Met-again Jeromy Burnitz, was so unimaginably dreadful that it inspired a book called The Worst Team Money Could Buy. Not only did those Mets lose 103 games, they did so while producing an unstinting stream of evil deeds. Take July 24, for example. Relief pitcher Anthony Young loses his record 27th consecutive game. In the post-game celebration, Vince Coleman throws a firecracker into a group of kids. Let's play two!
Seeing as the coping mechanism for dealing with the pain and suffering of 1993—cursing out Bobby Bonilla—is out of date, Mets fans need a new strategy to endure the long summer months. Luckily, the team's stable of overpaid, broken-down ballplayers has provided the answer. While Mike Stanton ($2 million), John Franco ($3,833,333), Pedro Astacio ($7 million), Al Leiter ($8 million), Jeromy Burnitz ($12,166,667), Mike Piazza ($15,571,429), and Mo Vaughn ($17,166,667) might not rack up many home runs, RBIs, wins, or saves this year, they have provided one valuable commodity: roster space. The dearth of able-bodied men in the organization (13 different players have spent time on the DL so far) has forced the Mets to field a shadow roster of castoffs and spare parts. These glorified AAA players taught fans how to love the Mets again—just pretend that half of the team doesn't exist.
So long, underachieving overdogs. Bring on the underachieving underdogs. Cheer as Raul Gonzalez, a 29-year-old career minor leaguer, nimbly chases down a ball in the gap. Applaud when Jason Phillips, who looks and plays like Steven Soderbergh, bashes a home run. Rejoice when 27-year-old utility infielder Marco Scutaro crosses the plate with the winning run in the bottom of the ninth. And for the fan who longs to root for authentic Met types, there's the exhumed Jay Bell ($550,000) and Tony Clark ($550,000), wily veterans too old and broken down for even the Mets to overpay.
The quintessential moment for the underachieving underdogs came in a June 28 loss to the Yankees. In the eighth inning, Gonzalez rapped a three-run double to trim what had earlier been a 9-0 deficit to one run. In the commotion, he took a big turn around second base and was tagged out. The Mets lost 9-8. Sure, Gonzalez might have made a mistake, but that's missing the point. The greatest strengths these stopgap players have are their glaring weaknesses. When Raul Gonzalez transcends his deficiencies, that's cause for celebration. And when he doesn't, well, what's another loss?
Gonzalez, Phillips, and Scutaro might not be passable ballplayers, and Jason Roach, Dan Wheeler, Pedro Feliciano, Heath Bell, Mike Bacsik, Vance Wilson, and Joe McEwing aren't either. But all of these minimum-wagers have been on the active roster at some point in 2003, doing their part to redeem the Mets for having more resources than almost every other team and squandering them all.
There are a few bright prospects in the Mets system, but Jae Weong Seo, Jose Reyes, and Aaron Heilman will get their due some other season. This is Scutaro and company's day in the sun: None has a chance to be on the next Mets team to flirt with decency because, from the management perspective, their value lies only in their replaceability. Scutaro, for one, has already been designated for assignment. At least that's something. It's not nearly that easy to get rid of Mo Vaughn.
The Mets do have a few tradable commodities, though. In the weeks since Steve Phillips' ouster, Roberto Alomar ($7,689,684) has been shown the door, and closer/head-case Armando Benitez ($6,937,500) will likely be next. This purging is part of the healing process: For the 2003 season to be a success, the Mets need to be bad enough so that the new GM blows up the entire roster and starts over. Every time Cliff Floyd or Jeromy Burnitz hits a home run, fans should cringe. Each step the Mets take toward .500 is a step backward.
The Scutaros allow the Mets to lose with dignity now and win in the future. Two days after the Alomar trade, the Mets, starting a gruesome infield of Clark, Jay Bell, Rey Sanchez, and Ty Wigginton, committed four errors and lost 11-4. With such a striking example of the consequences of poor team-building, how could the Mets possibly make these mistakes again—at least for another 10 years?
---