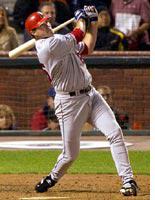 Seventy years ago this month the best players in the American and National Leagues faced each other for the first time. The American League All-Star roster featured nine future Hall of Famers: Charlie Gehringer, Babe Ruth, Lou Gehrig, Al Simmons, Joe Cronin, Lefty Gomez, Lefty Grove, Bill Dickey, and Jimmie Foxx. The National League countered with eight future Famers: Frankie Frisch, Chuck Klein, Paul Waner, Chick Hafey, Bill Terry, Pie Traynor, Gabby Hartnett, and Carl Hubbell.
That's 17 Hall of Fame players in one game, 12 in the starting lineups. Now look at 2003 All-Star squad. It features just two starters who seem a sure bet for Cooperstown: Barry Bonds and Alex Rodriguez, and Bonds is 39 years old. The rest are an undistinguished group of flash-in-the-pans and career mediocrities having career-best years, perhaps the worst group of All-Stars since the game was first played.
Am I being unfair? Let's look over the lineups:
National League
First Base—Todd Helton, Colorado Rockies. Helton is an OK ballplayer whose numbers have been driven to ridiculous heights by the thin air at Coors Field. Last year he was Stan Musial at home (.378) and Tino Martinez (.281) everywhere else.
Second Base—Marcus Giles, Atlanta Braves. Giles is 25 years old and has yet to nudge his career batting average up to .270.
Third Base—Scott Rolen, St. Louis Cardinals. Rolen is the best of a mediocre lot. He's28 years old, a fine fielder with good power, but he's never hit over .300 or hit more than 31 home runs in a season.
Shortstop—Edgar Renteria, Cardinals. Renteria is 28 years old, and in seven major league seasons before this year his batting average was .283. This year he's been flirting with .340; sounds like a career year.
Catcher—Javy Lopez, Braves. Lopez has been a good man for a long time at a tough position. At age 33, though, he is an All-Star this year only by virtue of Mike Piazza's injury.
Outfield—Barry Bonds, San Francisco Giants; Albert Pujols, Cardinals; Gary Sheffield, Braves. Bonds, of course, was a legitimate HOFer long before he broke McGwire's home-run record. Sheffield is 34, and no one has ever hinted that he is one of baseball's immortals. Pujols looks to be a monster—at least at bat. However, if you can't run at age 23, and they have to hide you in left field at a young age because you can't play third base, where will they put you when you're 29? In the American League, DH-ing?
American League
First Base—Carlos Delgado, Toronto Blue Jays. Delgado is a terrific hitter, but at 30 has yet to suggest he is worthier of Cooperstown than a dozen other good-hit, no-field sluggers who make no contribution outside the batter's box.
Second Base—Alfonso Soriano, New York Yankees. I may be alone on this one, and if I'm wrong you can call me up in five years and Bronx cheer my cell phone. I don't see the greatness in Soriano that the New York press keeps talking about. He has tremendous power and great speed, but no discipline at bat (he averages better than one strikeout per game) or in the field (he's led the league's second-basemen in errors two years in a row). Five years from now they'll be trying him out in left field.
Third Base—Troy Glaus, Anaheim Angels. He's 26, and they've been touting him as a potential superstar for three years, despite a batting average that hovers around .250. How many superstars have to be platooned against right-handed pitchers?
Shortstop—Alex Rodriguez, Texas Rangers. At last, a legitimate young superstar on track for the Hall of Fame. The AL might have two such players in the starting lineup if Nomar Garciaparra wasn't also playing shortstop.
Catcher—Jorge Posada, Yankees. A good catcher and hitter, nothing more.
Outfield—Ichiro Suzuki, Seattle Mariners; Hideki Matsui, Yankees; Manny Ramirez, Boston Red Sox. Ramirez hits a ton, but he runs like a buffalo and in the field he has manos de piedra. A Hall of Famer? Let's discuss when he's 35. Matsui and Suzuki are complete ballplayers, but the question as to whether they might merit Cooperstown on the basis of their combined American and Japanese performances is not one I'm prepared to deal with right now.
On the bench, Nomar Garciaparra is in line for the HOF. Andruw Jones is 26 with a career average of about .270 and he has exactly two seasons with more than 100 RBIs. What about the pitchers? Well, Oakland's Mark Mulder and Barry Zito are the best of the lot, and the former is 25 with just 60 career wins while the latter is 25 and has 55. Even with the scaled-down expectations in the era of the five-man rotation, do you think those project to HOF numbers?
In an interview a couple of months ago, the late sportswriter Leonard Koppett cautioned me not to overrate the old-timers: "Don't put too much stock in some of those Hall of Fame votes involving old guys. A lot of that was just nostalgia on the part of their friends on the committees. There's a lot of those guys in the Hall of Fame who couldn't make it in today's game."
Fair enough. There's little doubt that some of those old timers weren't as good as their batting averages appear today. For instance, take Chick Hafey off the 1933 Reds and put him in an average hitter's ballpark today, and he'd probably hit .285 over his career instead of .317. Pittsburgh's Pie Traynor probably couldn't take Scott Rolen's job away if he played now.
But that doesn't make today's players more distinguished or explain why there are so many one-dimensional players in today's game. Ray Robinson, a veteran sportswriter who edited The Baseball Stars of 19__ series for nearly two decades, says, "I've never seen such an unremarkable group of players as the guys making the All-Star team over the last two seasons." Compared to half a century ago, I asked, pulling down a copy of Robinson's Baseball Stars of 1953 off the shelf? "Yes," he said, "I'll match the '53 All-Stars against the ones chosen this season."
In 1953 the American League featured several Hall of Famers, including Nellie Fox, Phil Rizzuto and George Kell in the infield, Yogi Berra, perhaps the greatest catcher in the game's history, and Mickey Mantle and Larry Doby in the outfield (along with Minnie Minoso, who should be in the Hall of Fame). The NL squad had 12 HOFers, including Pee Wee Reese, Red Schoendienst, Stan Musial, Roy Campanella, Eddie Mathews, Duke Snider, Enos Slaughter, Robin Roberts, Ralph Kiner, Warren Spahn, Richie Ashburn, and Jackie Robinson. (It would have been 13, but Willie Mays was in the Army.)
You can play the same game with any other season from 1933 to the end of the 20th century. Reaching for my copy of Total Baseball, I flip to the year 1961. In '61, the American League had Nellie Fox at second, Luis Aparicio at short, and Brooks Robinson and Harmon Killebrew sharing third. Mickey Mantle and Al Kaline were in the outfield; Jim Bunning, Hoyt Wilhelm, and Whitey Ford headed the pitching staff.
The NL squad was even more imposing with Orlando Cepeda at first, Ernie Banks at shortstop, and Eddie Mathews at third; and available to play in the outfield were Willie Mays, Hank Aaron, Frank Robinson, and Roberto Clemente, all at or near their prime.
Prominent among the pitchers were Sandy Koufax and Warren Spahn. Every one of these men is now in the Hall of Fame.
If you think I'm indulging in nostalgia, consider that there were 18 major league teams in '61 and 30 today, and ask yourself: How many players on this year's All-Star team would you choose over those selected in 1961?
You don't have to go back to Babe Ruth or even Mickey Mantle to see that baseball is suddenly suffering from a dearth of talent. Where are the real All-Stars, the young superstars who are supposed to be coming along in back of Barry Bonds, Mark McGwire, Sammy Sosa, Mike Piazza, Cal Ripken, Greg Maddux, Randy Johnson,Barry Larkin, Tony Gwynn, Ryne Sandberg, Ken Griffey Jr., Rickey Henderson, and other All-Stars of the '90s? Did they opt instead for soccer or lacrosse?
Or, perhaps, are we looking at it from the wrong perspective? Is it possible that baseball has now reached a level where there is so muchtalent coming into the game from so many countries that everybody is good and few players will be able to rise far above the median? Will I live long enough to see an article about how the players of 2053 aren't up to the standards set by Marcus Giles and Albert Pujols and Alfonso Soriano?
---