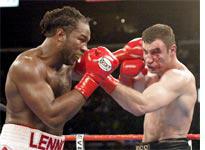 It is a reflection of just how little Lennox Lewis is appreciated as heavyweight champion that Vitali Klitschko woke up Sunday morning unable to see out of one eye but carrying the mantle of "people's champion." Lewis retained his title against Klitschko Saturday night in Los Angeles when the ring doctor ruled a cut over the Ukranian's left eye was too severe to let the fight continue beyond six rounds. The Staples Center crowd then showered the champ with boos.
Lewis was charged with being out of shape, being old, being rusty, and fighting the wrong style—all true, except the charge that Klitschko deserved to win Saturday night. The challenger got in some good licks, especially a second-round right that would have put away the opponents Klitschko usually fights. But Lewis rebounded to open a gaping cut that was bad enough to stop the fight (actually, it should have been stopped earlier). In other words, he won the fight. Just because he looked bad for a few rounds doesn't matter—few heavyweight bouts are aesthetically pleasing. Sure, Klitschko was ahead on all three judges' cards, but the fight was only 6 rounds old. There is every reason to believe that Lewis would have finished matters had it been allowed to continue, inflicting serious damage to Klitschko's eye.
Klitschko claimed the cut came via head butt, which is ludicrous, but for some reason the boxing press felt Lewis was classless after a victory he didn't deserve. When the champ launched into his post-fight histrionics, USA Today's Jon Saraceno wrote that Lewis was "in denial." But such jabbering is standard in a sport where self-belief is paramount. Besides, was it classy for Klitschko to whine about a doctor's decision when his face looks like steak tartare, then parade around the ring, arms raised in a transparent bid for a rematch?
Boxing's sour relationship with Lewis goes beyond the post-fight heckling and smack from the press. The champ has always had two strikes against him, one for being British and one for being a good guy. The first charge was nicely summed up by George Foreman, who told the Los Angeles Times last week: "[I]t's the fact that he's not from anywhere. He's not from Louisiana, he's not from Chicago, he's not from New York." (Foreman himself is from Texas, but never mind.) That Lewis' Britishness is crossed with a Jamaican dreadlocked vibe—he has familial roots on the island—makes him seem more like the comic villain in a Guy Ritchie movie than the heavyweight champ.
Meanwhile, Lewis' forays into generic boxing misbehavior seem forced. Lewis may be several times the fighter Mike Tyson is, but when it comes to sociopathic antics, he'll always run a distant second to Iron Mike. Much as Larry Holmes was castigated for Not Being Ali, Lennox gets static for Not Being Tyson. As both men discovered, demolishing their respective bêtes noirs in the ring did little to change that notion.
Boxing is a sport where misanthropy is more necessity than vice, and introspective types are seldom embraced by fans. Floyd Patterson and Archie Moore valued intelligence in and out of the ring but wound up being pitied as much as lauded. In an era when only hard-edged athletes cut through the media haze, Lewis sips tea and plays chess. Without plentiful tattoos or a penitentiary stare, he doesn't have a prayer.
That's not to say that Lewis is without fault. He tries too hard in a futile attempt to win over public opinion, and he seems determined to believe he is the same fighter he was five years ago. That leads to displays like Saturday night, when he figured he could step in the ring after a yearlong layoff and with a few extra pounds and still win going away. While he had enough pop to take out Klitschko, it was hardly a performance that will cause Roy Jones to lose any sleep. Clearly, at 37, Lewis is on his last legs.
That doesn't take away from the fact that Lewis is clearly the best heavy since Sir Lawrence Holmes. Lewis is often belittled as the best of a subpar lot of heavyweights—a complaint regurgitated by boxing old-timers for every champ since Jack Dempsey. Well, Lewis hasn't fought "the Bum of the Month"; hasn't been sent up the river; hasn't been a Mafia leg-breaker; never engaged in a street brawl; never quit on his stool; never bit off any his opponents' body parts—and, miraculously, he seems to have all his faculties intact. I guess the old-timers are right. They just don't make heavyweight champs like they used to.
---