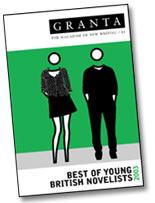 For a project that began as a cheerful form of promotion, the publication of Granta's "Best of Young British Novelists" issue has, in three issues over 20 years, evolved into a skeptical, even anxiety-filled, process for adjudicators and writers alike. One judge for the 2003 issue, which came out this April, publicly decried the "bland, facile and unambitious" work that characterizes current British fiction. In his introduction, Ian Jack, Granta's editor, invites readers to refrain from comparing this issue with the inaugural, and starry, "Young British Novelists" issue of 1983; that was a "special" generation, he says. Then again, he adds quickly, "This one may be too." God forbid a British literary magazine engage in that peculiarly American trade known as "hype."
In fact, the original idea for Granta's "Best of Young British Novelists" issue was borrowed from something called the British Book Marketing Council, an organization that promoted books by applying retail principles. The council published a series of Top 20 lists—including a list of talented writers under 40 whose work had generally been neglected by Britain's establishment-oriented literary culture.
It was work by these writers that Granta featured in its first "Best of" issue, in 1983. The beauty of this list was that it did more than tell the world what the judges liked; remarkably, it served as a revealing snapshot of a generation and even, perhaps, helped mint a literary movement. In the '70s, canonical British fiction—Angus Wilson, Margaret Drabble, Iris Murdoch—had been characterized by a sober, introspective handling of realism. But to read Granta's "Young British Novelists" issue in 1983 and encounter the work of then-newcomers Martin Amis, Julian Barnes, Rose Tremain, Salman Rushdie, and Ian McEwan was to realize that these weren't simply applicants to the pantheon of great British writing. They were writers of almost insolent ambition whose new, rambunctious realism was enlivened by the experiments of American writers such as Thomas Pynchon, Don DeLillo, William Gaddis, Kurt Vonnegut, and Norman Mailer.
Take Rushdie, McEwan, and Amis, whose collective disaffection for old Britain led them to use the English language in a new way—not as the universal tongue of an empire, but as a hybrid, flexible thing, inflected by Hindi and Urdu slang (in the case of Rushdie); by the colonizing effects of American pop culture and the exuberance of novelists such as Bellow and Nabokov (in the case of Martin Amis); and by the speed and bluntly visual shock tactics of cinema and television (in the case of Ian McEwan). These novelists were writing about the state of England—but instead of chronicling the decline of the postwar British Empire, they took measure of the changes wrought by Thatcherism and the rise of immigration and widespread global communication in a convention-bound culture that, like a kipper on a breakfast plate, seemed mostly unapproachable.
Of course, the success of Granta's stunt guaranteed that it would be repeated. Ten years later, the magazine appointed a panel of judges, among them Salman Rushdie, to read the work of new writers and come up with another list. The resulting issue lacked the same quality of generational exuberance (reviewing it, James Wood wrote "there [is] nothing we might yet call the new or young novel"), though within five years a handful of writers on it were household names, including Jeanette Winterson and Allan Hollinghurst.
Now we have the third list. (Click here for summaries by the London Observer of all 20 writers on it.) Aside from the strikingly bad publicity photos—nearly all the writers appear wan and Vitamin-D deficient—there's little to surprise the reader. Not only is there no sign of a renovation of the English novel, there's no sign of the thing literary critics apparently encouraged Ian Jack to find—a "state of England" book. As he himself notes, of the 20 excerpts and stories represented, only five take place in post-Thatcher England. A number of these young writers set their stories during or after World War II, before they were even born. Perhaps that's a good thing: The weakest works in the issue tend to be the most self-consciously postmodern or post-colonial—including Hari Kunzru's, who is represented here by a showy, shallow story about a computer virus, and Monica Ali's, whose portrait of a young Bangladeshi wife in London reads like warmed-over Jhumpa Lahiri or Rushdie (without the mythography).
The fact that the new "Young British Novelists" issue does not encapsulate England or suggest a new "-ism" can't really be surprising. In electing to publish its anthology every 10 years, Granta has made it more of a snapshot taken on an auto-timer than a careful way of capturing what Henri Cartier-Bresson would call a "decisive moment." Jack seems to be aware of the problem when he suggests in his diffident introduction that the anthology is meant primarily as a guide through an overgrown forest of first novels bearing the words "a thrilling debut by a young writer of enormous talent." Thus the irony of success: The first Granta helped transform British literary culture, and now there are far more must-read young writers than one could ever get through.
But the issue doesn't do a great job of presenting the work of its best writers. The excerpts of novels can be disappointingly hard to follow or simply second-rate examples of the novelists' work. (This is true of Susan Elderkin and Zadie Smith.) What's more, some of Britain's most interesting young novelists, including Ali Smith and Alex Garland, aren't on the list (the latter because he had no new work). [Correction, June 5, 2003: Ali Smith turned 40 in 2002 and therefore was not eligible for this special issue of Granta.] 
And yet there are some very good "must-read" young writers on Granta's newest list—including Ben Rice, Alan Warner, Andrew O'Hagan, and Elderkin. These are not novelists working on a broad, social, contemporary canvas, as were Amis and Rushdie. Each writes idiosyncratic fiction that is ambitious in a local sense. One of the finest writers is A.L. Kennedy, whose highly accomplished and original novels and stories map an insular world of human relationships. Her subject is love; her engagement with language is more personal than social; her interest in contemporary life is a fascination with the ways that an incurable sense of perfectibility bumps up against the absence of a moral system.
All this aside, what's most interesting about the issue is that it seems haunted by what Harold Bloom identified as "the anxiety of influence." There is, of course, the anxiety of living up to the success of the 1983 version. But there's a larger anxiety reflected here (and in British culture at large) about the general quality of British fiction—especially in relation to American fiction. In his introduction, Jack writes, "We don't, it seems, have young Roths, Updikes, Wolfes, and DeLillos"—meaning, presumably, that Granta could find no British social novelists. This may be true, but what's striking is that Jack named three American novelists—Updike, DeLillo, Wolfe—when he could have mentioned Amis, Rushdie, McEwan.
An article in the Daily Telegraph recently claimed that America "takes magazines such as Granta, and writers in general, more seriously" than do the British, noting that in times of upheaval, the United States "will turn to its literary figureheads—Norman Mailer, Don DeLillo, Philip Roth, Tom Wolfe—to make sense of what is happening." (And America's cultural critics worry that we're little more than the intellectual progenitors of Are You Hot?!) Ian McEwan noted in a Guardian interview that no British senior writer can compete with Roth; Rose Tremain implied in another that she wished she were an American novelist; a Booker Prize judge said that if the prize were opened to American contestants, they'd surely beat out their British counterparts. And a hundred years ago, American writers were earnestly flocking to Britain in order to take notes on how to write a social novel, as their cousins looked down their blue-blooded noses.
Maybe all this anxiety is why much of the better work in the new Granta is Scottish, including Kennedy's and O'Hagan's. As Julian Barnes notes, in England, England, one of the few state-of-England books from the past five years, he's writing about people everyone thinks are "cold, snobbish, emotionally retarded, and xenophobic." It doesn't exactly want to make you curl up with a cup of tea and an English novel. Which is everyone's loss.
[Correction, June 4, 2003: Ali Smith turned 40 in 2002 and was therefore not eligible for consideration in Granta's "Best of Young British Novelists" issue.]
---