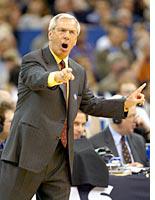 With the resignation/canning last month of Matt Doherty at the University of North Carolina, arguably the premier perch in college basketball, the inevitable dominos started falling upward. Kansas' Roy Williams took the Carolina gig, and Illinois' Bill Self filled the void in Lawrence. The Illini then looked one area code south and tapped Southern Illinois' Bruce Weber. His job, too, will be filled by some coach further down the pecking order, and so on and on so, until your team at the Y has to chip in a fifth assistant coach to the local middle school and you make the inevitable call to Doherty.
It's a wonderful story of hard work paying off, American-style—for everyone, apparently, except the student-athletes at these institutions of higher learning, who got neither a raise nor a bigger office when their coaches fled. The kids were left to the whims of whatever regime change befell them. Their only option is to hit the highway, with the NCAA's mandatory year of no-ball purgatory awaiting those who transfer between Division I schools. To hear the pundits moan, the player's plight is comparable to slavery, never mind that the current NCAA transfer rules, clunky as they may be, are a last, romantic vestige of college amateurism and about the only thing keeping many collegians from becoming free agents.
With the stir, you'd have thought Williams and Self took all the W's off the keyboards on their way out. ESPN shouting head Dick Vitale calls the NCAA's penalty of sitting out one or two years for reneging on a national letter of intent " totally unfair" in situations where the coach jets for (Carolina) bluer skies. It does seem like a ripoff for a high-school senior to sign four years over to a coach who has courted him, only to find he'll be playing instead for the new hire. According to ESPN's Andy Katz, the wording of this rule will be under scrutiny at the June meeting of the Collegiate Commissioners Association, which regulates national letters of intent, the optional but customary contract between a player and his college.
Arguments like Vitale's are sound in the should but weak in the what if. Yes, being abandoned by a coach stings, just as it stings to be left in the contrails of divorcing parents, fickle girlfriends, or robber-baron CEOs. But let's play this transfer game to its bizarre ending point. Your gut says that recruits of coaches who ditch School A for School B should be allowed to follow him without waiting a year or two. Let's say, just for kicks, that a mid-major conference coach signs a strong freshman class, wins a bunch of games, then gets the call-up to a bigger, richer school. On his way out he absconds with a stapler, a nice desk lamp, and his talented sophomores-to-be. At School B, that cabal joins some more young players and reels off a couple of good seasons. Coach is then considered a hot commodity, both with his win-loss record and his short stack of quasi-nomadic all-stars, and commands contract bonuses based on how many players he can entice to follow him.
Actually, that scenario is one that columnists, Vitale included, foresee like a plume of smoke in the distance. ESPN's Jay Bilas says unrestricted free agency would create "too much instability, which could negatively affect competitive balance"—one way of saying "mercenary hordes of all-stars would turn college basketball into major league baseball." In miniature, this is the situation that will loom if the national letter of intent regulations are junked. Admittedly, the career changes are a bummer for Kansas recruits who saw Roy Williams as a fixture, especially for incoming freshman David Padgett, whose choice between Kansas and Carolina came down to Williams at Kansas. Williams suggested after taking the Carolina job that on principle, abandoned players such as Padgett ought to be allowed to re-evaluate their choice of school because, you know, they might want to weigh their options differently. (Bilas notes this conflict, concluding that players should get to skip anywhere other than a coach's new digs.) But you've also got to feel for Kansas as a program (athletic department, fans, boosters, students, cheerleaders, sweat-mopping kids) if it's willing to make an unrequited investment in a coach and team, only to have players spurn it as well. The NCAA currently forbids men's D-I teams from signing more than five players in a year or eight over a two-year period. Even if they don't get to follow their chosen coach, national letter of intent signatories defecting at will could cripple a spurned school. Springboard schools (Tulsa, Gonzaga, the entire MAC) would be driving without seat belts. Any coach with a mind to skip town and scatter his freshmen to the wind could hold a school hostage—giving coaches even more power, not less.
As it happened in Kansas, Padgett and the Jayhawks' other three recruits all pledged allegiance to the new coach, so all is well in Lawrence. The question is, who really believes a coach is permanent anymore? Duke and Temple players, maybe. Who else? Why does it come as a shock every March when dozens—literally, dozens—of coaches switch schools? Asked about Weber's move to Champaign-Urbana, Southern Illinois recruit Randal Falker seemed to be dragging himself through all five stages of grief when he told that school's paper, the Daily Egyptian: "I don't know what to say. I am shocked. I have mixed emotions. I am happy for him, but I am sort of mad. I don't really have anger because I know what he is doing. I can't blame him for taking that sort of raise." There remain a few things coaches can do to shock a recruit—Larry Eustachy's alleged booze cruise through the Big 12, for example—but taking a better job can hardly be one of them.
From the Missouri Valley Conference to the Big Ten, yeah, Weber's gotta make that leap, the charms of Carbondale, Ill., notwithstanding. And next year, a coach getting heaved out of a Carolina-esque program will bring another Chinese fire drill and another round of what-about-the-children hand-wringing from Vitale. But at least one check still balances. A player wanting to opt out of his letter of intent may petition the school for release, which if granted would still cost him a year of eligibility unless he wins an appeal to the Collegiate Commissioners Association. If in egregious misconduct cases, such as the one shaping up at Georgia, the school doesn't offer a release, word will get around. It will always be in a school's best interest not to job recruits, lest a reputation fester.
Ultimately, the players may be their own best leverage. If they're truly concerned with coaches who might defect, they should assess their situations fully (players tend to be, believe it or not, savvy college basketball observers) and sign only with a coach they trust to be there in the fall. If stability is your thing, don't sign with Quin Snyder or Rick Pitino. Seek Lute Olson at Arizona, Jim Boeheim at Syracuse, or Gene Keady at Purdue, who between them have 70 years of service at their respective schools. Or student-athletes could do what just about every other high-school kid does when looking at schools. Gauge the class size, the department strengths, the best ratios of faculty-to-student and male-to-female, the strongest academic departments, and the best post-grad job placement. See which U feels right, and which will afford the brightest future. The college basketball world is unfair, a veritable serfdom, so maybe players should take a cue from their coaches and start making some selfish decisions.
---