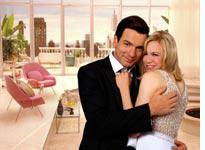 Camp was once a subversive mode, a way for gays to appropriate the norms that popular culture had peddled in the two decades after World War II. By "appropriate" I mean both mock and half-embrace, since there was sometimes a strong element of wish-fulfillment in their loving re-creations. Today, I'm not sure what the hell camp means. Making fun of the '50s and early '60s became a mainstream-heterosexual preoccupation in the mid-'80s, fueled by David Letterman, ironic esteem for American kitsch, and watching Nick at Nite while sucking on a bong. (Irony is really so '80s, isn't it?) Last summer, I went with the wife to a drag show melodrama in Provincetown, Mass., hoping to restore my faith in the primal camp attitude. But—for this hetero couple anyway—the evening was excruciating: Every line was accompanied by a nudge and a leer, every quip aimed at reinforcing the audience's sense of everlasting superiority over the clueless straight world.
The above paragraph is inspired by the heterosexual drag show Down With Love (20th Century Fox), which I found nearly as excruciating as its P-town counterpart. Directed by Peyton Reed, it's an attempt to remount an early '60s Doris Day/Rock Hudson picture like Pillow Talk (1959) or Lover Come Back (1961), only with a score (by Marc Shaiman) that underlines and adds three exclamation points to every absurd posture. (Someone gets an idea and the triangle goes ding!) The nudges and leers are now the text instead of the subtext. The film has been compared to Far From Heaven (2002), but Todd Haynes was trying to get inside the three-hanky '50s melodrama and to show its fundamental seriousness: He used the language of camp to suggest the ways in which we're all—whether we admit it or not—subtly regulated by our cultural landscape. Down With Love, by contrast, is a smirky reproduction meant to make its audience feel more evolved.
Now, there is some pleasure to be had from such a skillful smirky reproduction. The film starts with the old Cinemascope logo, then follows with a credit sequence that's almost as fun as the one for Catch Me If You Can (2002), with flying Cupid's arrows and spinning flowers and champagne bubbles that burst into hearts. The camera moves in on the pre-World Trade Center "island of Manhattan" while the narrator celebrates the 8 million men and women in pursuit of the American dream. "Oh, make that 8 million-and-one," he says, as Barbara Novak (Renée Zellweger) emerges from Grand Central Station in her pink cloak and white pillbox hat. I gasped when Reed reproduced a shot that must have been lodged somewhere in my unconscious: the heroine getting into a cab, the camera just slightly below eye-level to accentuate the skyscrapers along the avenue (which have a blurry, rear-projection quality). So far, so great: The only reason to do this sort of parody is to make the early '60s world so seductive that the audience says, "I want to pretend to live like that. I want to wear those clothes, drink those highballs, re-enact those dumb stereotypes!"
You can't accuse the movie of ducking the big themes of the '60s sex comedy. The small-town heroine, it turns out, has written a book called Down With Love, which argues both for women's equality in the workplace and for the right to adopt a casual attitude toward pre-marital sex—just like men. The premise attracts the attention, and scorn, of playboy men's magazine journalist Catcher Block (Ewan MacGregor)—routinely described as "Catcher Block, ladies man, man's man, man about town." Pressured to do a profile by his reedy, effeminate editor (David Hyde Pierce, doing a variation on Tony Randall, who also shows up in the movie), Catcher sets out to humiliate Barbara, first by standing her up, and then—when her book becomes an international best seller—pretending to be a lovelorn, bespectacled Southern astronaut. The gag is that she wants to go to bed with him but he's holding out for love—because if he can make her fall in love with him then he can prove to the world she's not a Down With Love gal after all. All clear?
Well, there are many twists down the road, some of them good ones. The script, by Eve Ahlert and Dennis Drake, is a well-crafted deconstruction, packed with drolly stylized comebacks and double-entendres; and there are clever (if obvious) split-screen gags and riffs on the accoutrements of a "swingin' bachelor's pad" (buttons that dim the lights, start the mood music, or turn the sofa into a bed). In an inspired sequence, Catcher and Barbara each prepare for their big date: He primps to Frank Sinatra's snappy, masculine "Fly Me to the Moon," she to Astrud Gilberto's cool bossa nova version.
I might have had a different response to Down With Love if the direction (and especially the music) had been a little less insistent—if it had left a little more room for the audience's responses instead of doing all the laughing for us. (It's to romantic comedy what Dennis Miller is to stand-up: He thinks he's so funny, why does he need us?) But after 10 minutes of getting poked in the ribs with every shot, I thought, "Is it going to be like this for 90 minutes?" As it turned out, no: It was like that for 110 minutes.
The chief casualties are the good actors, who are forced to turn themselves into cartoons. MacGregor has the hipster's jaunty finger-snap and slink down cold, so he gets by. But Sarah Paulson as Zellweger's chain-smoking editor is just shrill, and I cringed for poor ex-Borg-babe Jeri Ryan as a frenetic, robin's-egg-blue-clad English stewardess. The way that Zellweger is dressed and coiffed, all you register are her alarmingly skinny new body and her puffy face. She has the unenviable task of recreating Doris Day, who was close to 40 when she made those Rock Hudon/James Garner pictures and was lacquered, mascara'd, and bewigged to within an inch of her life. Reed does the same thing to Zellweger, which kills her girl-next-door appeal and makes her look like a female impersonator. A colleague of mine complained he was getting sick of her, but why? She was wonderful in Bridget Jones's Diary (2001) and Chicago (2002): Can this movie have sabotaged her that much?
If you see Down With Love—and, as it has been smartly counter-programmed against The Matrix Reloaded, you might well—be sure to stick around for the credit sequence: a superb MacGregor/Zellweger song-and-dance duet that's both satirical and exhilarating. It suggests what the movie might have been like if Reed had spent less time making sport of his characters and more time loving their style and insouciance. It suggests, yet again, that camp is dead—but the old-fashioned musical lives!
---