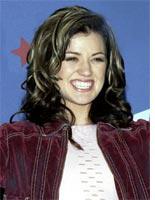 More so than any other so-called reality-based show, American Idol trades in honesty. Each week, singers vie for the ears and hearts of voters with overwrought renditions of familiar hits, a karaoke purgatory with the potential to grate at nearly every turn. But on Idol, the voice is the thing. Performing live in a series of televised, neon-heavy theme nights—music of the Bee Gees, country hits, etc.—contestants must somehow transcend their material and put a unique stamp on it. The most accomplished of them begin to cultivate the personalities that will ferry them to pop stardom, succeeding, presumably, on their own merits.
Impishly pretty 21-year-old Kelly Clarkson won the first season of the contest thanks to brassy, faithful renditions of classic songs—like "Respect" and "(You Make Me Feel Like a) Natural Woman"—that showcased her bluesy vocals and hypertrophied diaphragm. Even if she didn't have the best voice of the competitors—that belonged to Tamyra Gray, currently starring on Fox's Boston Public and recording her debut with Babyface—she still exuded vocal maturity wildly out of proportion to her diminutive stature. Week in and week out, she cultivated a distinct vocal identity. While other competitors melted into their songs, Clarkson took command of them, making them her own.
Which is what makes her solo debut album, Thankful, such a surprise: Clarkson sounded more like her own woman belting out other people's hits on Idol than she does on her own record. A furious exercise in multiple-niche marketing, Thankful marries Clarkson to a dizzying number of genres. Some work, some don't, but what's lost on Thankful is any inkling of what allowed Clarkson to trump her fellow Idol wannabes. It's an album any of her peers could have made.
Strictly speaking, Thankful isn't a failure—it sold an impressive 300,000 copies in its first week, debuting atop the Billboard chart—but it does prove that what it takes to win American Idol is radically different from what it takes to have a hit record. Clarkson's first pair of singles, released just after she won the contest last summer, play more to her strengths. "A Moment Like This" and "Before Your Love" are forceful, uncomplicated ballads, simple enough to convey sentiment and spare enough to let Clarkson explode all over them in delivery, for better and worse. The versions of these songs that saturated pop radio in the weeks after her victory were almost identical to her delivery of them on the show. What you heard was what you got.
But after 10 weeks of TV performances that out-piped the competition and two insta-hit singles, Clarkson met her match: the studio. And like most singers with her lack of experience, she lost. Thankful is more Extreme Makeover than American Idol. "Miss Independent," the lead single, is a gauche number that aims to kick ass but only grunts in agony, with flatulent synth lines and filtered vocals better suited to a cosmetics commercial than an open-mike contest. Not surprisingly, it was co-written by Christina Aguilera, a girl-power collaboration to do Gloria Steinem proud: "Miss Unafraid/ Miss Out-of-My-Way/ Miss Don't-Let-a-Man-Interfere/ Miss On-Her-Own/ Miss Almost-Grown/ Miss Never-Let-a-Man-Help-Her-Off-Her-Throne."
Elsewhere, Clarkson's a little bit country and a little bit rock 'n' roll. "Low" and "Just Missed the Train" evoke a more bombastic Faith Hill. "You Thought Wrong," on the other hand, sounds like a Pink song gone awry. A duet with Tamyra Gray, it begins coy and cloying, an update of Brandy and Monica's 1998 hit "The Boy Is Mine." Then suddenly, a symphonic eruption sets the two divas-in-training a-wailing at each other like fingernails on a chalkboard, a truly gruesome demise.
Such a scattershot sound isn't unique to Clarkson; it's the hallmark of most contemporary pop albums. But in rendering Clarkson so schizoid, Thankful elides her strengths—youthful vim and the ability to hurl syllables with astonishing volume—and underlines her inherent weaknesses. As a blue-eyed soul matron would-be, she's perfectly capable of warmth, but, as on the amiable "The Trouble With Love Is" and the numbingly bland "Some Kind of Miracle," it's the digitally homogenized, rote sort of warmth.
The sad truth is that there's no place in pop for the voice anymore. In the early '90s, singers like Michael Bolton and Celine Dion were allowed to have fruitful careers, even if their unrelenting cheesiness virtually obscured their formidable vocal gifts. The most impressive pop singer of the last decade, Mariah Carey, launched her career peddling torch songs, but her later career has been filled with gaudy hip-hop production that brutalizes her at every turn. A commercial failure as well as an aesthetic one, New Mariah should be an object lesson to the Kelly Clarksons of the world, or at least to their production teams.
So, are these twentysomethings cut out to be pop stars away from the American Idol structure? Idol holds that conceit at its core, but Thankful only shows how difficult the transition can be and how raw talent can sometimes be a hindrance to pop palatability, and vice versa. Indeed, this season, Idol judge Simon Cowell, the surly Brit, threw his support behind a 17-year-old Mormon girl named Carmen Rasmusen not for her natural vocal ability but rather because she had the "most commercial" voice in the group. Only right-wing cabals could have kept military man Joshua Gracin in the competition longer than Rickey Smith, operatically trained, gangly, and awkward, who had maybe the finest voice in the bunch but got eliminated midway.
And what of the two finalists, who face off against each other in tomorrow's finale? In a recent interview, reedy Clay Aiken cited the '80s soft-rock balladeer Peter Cetera—the former Chicago front-man and singer of the Karate Kid theme song "Glory of Love"—as a model for the songs he hopes to make, though it's more likely he'll be positioned as a soul man for the post-boy-band generation. A few weeks ago, after big-and-tall teddy bear Ruben Studdard delivered a tender reading of the Carpenters classic "Superstar," Cowell conceded, "If you released that song tomorrow, you'd have a No. 1 single." Unlikely, but with a production assist by the Neptunes, and maybe a few songwriting tweaks courtesy of R. Kelly, it just might be so.
---