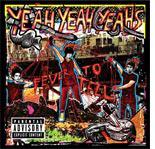 If authentic tribal music is your thing, don't miss the next New York show of the Yeah Yeah Yeahs. In its purest form, which isn't very pure at all, it is music of and for the East River basin region, which ranges from Lower Manhattan's NoLita neighborhood east to Williamsburg, Brooklyn—that is, the land of Way Downtown, peopled for more than a half-century by artists, fashionistas, and, since not long after the Beatles landed at Kennedy, oddly transgressive practitioners of rock music. Among the latter just now, the Yeah Yeah Yeahs are, in live performance, the most excitingly transgressive band there is, which captivates the tribe—especially in songs that mention lurid nights, bad love, or art dealers, which more or less sums up downtown life—and thrills just about anyone else who can get a ticket to one of their packed and frenzied club dates.
Like the White Stripes, with whom they share an angular approach to electric blues, the Yeah Yeah Yeahs make all their instrumental noise with just two instruments: the slashing, squawling guitar of Nick Zinner (who looks like a cross between Nick Cave and Highway 61 Revisited-era Dylan) and the thundering, free-jazz inflected drumming of Brian Chase (he's no Meg, thank you). But it is lead singer Karen O who's the show. Older fans of downtown music will glimpse in her style a number of art-scene antecedents from a previous generation—Debbie Harry, Lydia Lunch, even Wendy O. Williams of the porn-metal Plasmatics—but, her punk get-ups and post-punk screaming dissonance notwithstanding, Karen O is very much her own woman. She is peculiarly beautiful and knows it, but doesn't seem to trust it—and doesn't want you to. She exudes sexual swagger and gender confusion (anguishing, in the chorus of one new song, "boy you just a stupid bitch and girl you just a no-good dick"). She can guzzle beer from a long-neck bottle and sing at the same time, which is interesting. She can go from undergrad nihilism (absorbed at Oberlin and NYU film school, in her case) to country innocence in a couplet, which is even more interesting. You are never quite sure if her whole thing is art or therapy or a put-on, which could be the point. She may be rock's first unreliable narrator.
The Yeah Yeah Yeahs' major-label debut album, Fever To Tell (Interscope), is out this week, and it's a striking recording—both for what it is and what it's not. They've come a long, long way since their five-song, eponymously titled EP of 2001. They are more clever about, or less put off by, danceable grooves, pop dynamics, and hooks: They've infused their underground Lower Manhattan No-Wave-inspired sound (think early Sonic Youth) with New Wave riffs and sonics (think the Cars). The songs are more intricate, shapely, and powerful. In a two-minute dynamo called "Pin," in which Karen O might or might not be singing about drugs, Zinner and Chase begin with a guitar-and-drum drone in an odd time signature, shift suddenly to a Led Zep stomp, then build a song by continuing the back-and-forth, slow-fast shift, thickening the guitar chords and drum fills as they hurtle along: intrepid rock, and from guys who've been playing together only for a few years. And Karen O's singing throughout the recording is confident and rangy, drawing on the vocal tropes of classic female rockers like Chrissie Hynde and classic female impersonators like Iggy Pop and Robert Plant. It's a rousing recording, beginning to end: Among the albums to emerge so far from New York's over-hyped rock-band resurgence, only the Strokes' debut, This Is It, was more engaging and is likely to be more enduring.           
But then the Strokes were, from the start, bent on being "recording artists." Their major-label debut was largely a reworking of older material (much of it drawn from an earlier, demolike indie EP); the sound that made them emerged not live but in the studio; and they were never a true New York cult band until after their record caused a stir in England. Moreover, they became a compelling live band in the wake of their album's success. The Yeah Yeah Yeahs are, in a sense, coming from a different place: The challenge was capturing the electrifyingly discomposed vibe of their live shows in a studio setting. It didn't happen. In a recent interview in Spin, Karen O describes how the band, with producer David Sitek, worked to get that "live" sound, " [m]e drunk. Me sober. … Whatever it takes." But in the end, the sound of Fever to Tell is too cool and clean; the signs of live-in-the-studio abandon are too contrived (listen to Karen O count off the start of "Man"), and Karen O's vocals on most tracks are far too foregrounded: It's as if it were somebody's idea to present her as the thinking girl's Pink. On stage, she's not. They're not.
It would be easy enough to blame the producer, who is not a top-drawer knob-turner; or the band, for getting a producer who would allow them too much control over a process they don't understand (he's an old friend; they share the production credit); or the mix (which Zinner had a hand in); or the record label (with its natural desire to mainstream a hot product). I'd point a finger at the Yeah Yeah Yeahs' essence. In his remarkable book Musicking, the musical theorist Christopher Small argues that music is not a thing but a verb, and that the experience of music resides not in a composition or a recording but in performance—a social activity wherein musicians and their audience together share in a ritual, exploring and celebrating in indeterminate and perhaps fantastical ways their relationships and identities. The Yeah Yeah Yeahs have made an impressive record. But in their weird, wild hearts, they're musickers.
---