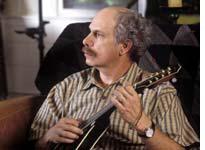 Near the start of Christopher Guest's A Mighty Wind (Warner Bros.), the audience is present at the reunion of the 1960s folk threesome the Folksmen (Alan Barrows, Mark Shubb, and Jerry Palter), together after 30 years for a concert to memorialize their patron Irving Steinbloom—who oversaw their records Hitchin', Wishin', Ramblin', and, of course, Singin'. As they strum and warble a few bars in a park, Jerry smiles and says, "Yes it's really us," to the passing throng. Then the three sit on a bench and speak affectionately of their old label, Folktown—although they note that after a while, they were demoted to its sister label, Folk tone, a cheaper outfit with less distribution ("no distribution," pipes up Shubb) and two-color covers instead of four-color. Also, one of them adds, there was no hole in the center of the record—and they all chime in that, yes, that was often a problem: If you didn't drill the hole correctly, the record would wobble like crazy on the turntable. But if you did, they aver, that was some classic folk music.
The scene is a gorgeous lesson in a certain kind of deadpan comedy, in which the casual asides prove not so casual—and not so beside the point. It starts as a warmly straightforward reminiscence, then turns rather bittersweet, then slightly depressing, and then, when you finally register what pathetic losers these guys are, grisly. Yet you also see them smiling (or smilin') and telling themselves that their music was important and that their coming together again is momentous. And you're too busy laughin' to be blue.
It helps, also, that this isn't a real documentary and that this reunion is momentous: The Folksmen are played by Guest, Michael McKean, and Harry Shearer—the core members of the faux-metal titans Spinal Tap, first seen, of course, in This Is Spinal Tap (1984). Even better, it marks the return of the cast of Guest's Bestin Show (2000) and Waiting for Guffman (1996), one of the most gifted improvisatory comic ensembles the movies have ever seen. (The honor roll includes Eugene Levy, Catherine O'Hara, Parker Posey, Fred Willard, Jane Lynch, Bob Balaban, John Michael Higgins, Michael Hitchcock, and Jennifer Coolidge.)
Despite a flurry of influential experiments by Robert Altman and John Cassavetes in the '60s and '70s and the ongoing work of Mike Leigh, there isn't much of a history of improvisation in movies—of giving an actor a character and a situation and letting him or her riff on camera. That's a shame because some actors—even those who aren't, in real life, brain trusts—have a knack for getting deep into their characters' heads and coming out with amazing things. The lack of opportunities for improvisation is even sadder for comics, especially those with a background in the form, like the veterans of Second City troupes: They often seem shut down in straight roles, the way talented jazz players do in Broadway pit orchestras. Guest has been quoted as saying: "Comedy is like music. You have to know the key, and you have to find players with good chops." Almost to a one, the people he casts are virtuosos, and he lets them hit notes they can't hit anywhere else.
To get the most pressing question out of the way: No, A Mighty Wind is not as cough-up-your-soda hilarious as the pooch-fest Best in Show; it doesn't even have as many yucks as the spottier Guffman, a broad satire of community theater. As befits its folky milieu, it's rambling, in places even melancholy. The truth is, I'm not sure it fully lives up to its comic potential. But it's still a deeply pleasurable 89 minutes—a mighty gift. It affirms the idea that the best comedy is rooted in characters with a strong psychological reality and that the right actors may, if guided by a sensitive hand, create figures as startling as those by all but the greatest dramatists.
The legend that sets the plot in motion, Irving Steinbloom, is never seen, but the children he has left behind are a strange bunch. Among them are the implacably anal-retentive Jonathan (Balaban), who has the idea for a memorial concert featuring his dad's favorite artists at New York's Town Hall, and the brittle, weepy Naiomi, played by the criminally obscure Canadian comic Deborah Theaker in her best recent part. Apart from the Folksmen, the concert (to be televised live on the Public Broadcasting Network, which skews to the very old) will feature the New Main Street Singers, a smiling posse of well-scrubbed, guitar-wielding guys and gals (among them Posey, Lynch, and Higgins) and the once lovey-dovey but long-divorced duo of Mitch and Mickey (Levy and O'Hara). Each group is introduced with a series of old album covers (a howl), concert clips, and the musings of a ponderous musicologist (Paul Benedict).
I feel less like a critic than a jeweler holding up the movie's comic gems—starting with the Folksmen, who I hope show up someday on A Prairie Home Companion. They're an inspired creation, with the rakish showman McKean flanked by his more earnestly folky partners: the deep-bass Shearer (bald, with beard that can't quite make it above his chin) and Guest, his bare dome framed by two puffs of white hair, his trebly tenor uncannily like the voice that used to puncture your eardrums coming out of even non-hi-fi speakers. Lynch, whose turn as a steely lesbian dog trainer was one of Best in Show's many highlights, is an ex-porn star turned New Main Street Singers mother hen; she and her husband (Higgins) have started a new religion based on the frequencies of colors, which they attempt to hum before the climactic performance. Lynch's girlfriend from Best in Show, the delectably fleshy Coolidge, is back as a dim publicist with an accent that's half-Scandinavian, half-Martian; as her partner, Larry Miller is in top form as a ponytailed idiot who thinks the best PR is admitting how little he knows—and less he cares—about the stuff that he's supposed to be publicizing.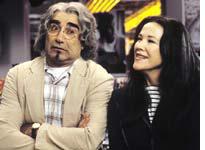 But it's Levy's and O'Hara's Mitch and Mickey who give A Mighty Wind its note of delirium—who threaten to lift it out of the realm of comedy altogether. They haven't spoken in 28 years, and no one knows how Mitch—a borderline schizophrenic and a near-catatonic—will behave in the presence of his still-traumatized ex-wife (or her new husband, a heartily oblivious catheter salesman and model-train enthusiast played by Jim Piddock). Levy dispenses with his usual nerdy affability and creates a mythic nut case: He seems to have taken his frozen non-affect from Brian Wilson, his squirmy monotone from Julia Sweeney's Pat.
He'd be even more of a hoot if O'Hara's Mickey weren't so vulnerable. A warm butterball of sex in Best in Show, the actress is now a tremulous, white-faced mouse with jet-black hair that hangs like a shroud. The performance, a brave one, is right on the border between comedy and drama—comic in its intensity, a little too intense to be funny. It's clear that Mitch made a mess of Mickey and could well do so again. The big question is: When they perform their biggest hit, "A Kiss at the End of the Rainbow," will he take her in his arms for the climactic smooch that once melted hearts the world over? And what, if so, will it rekindle?
There's no particular art to the structure of A Mighty Wind, and not all the picture's jokes take wing. There's too little Parker Posey for my taste (I like higher doses) and maybe too much Ed Begley Jr. as a Swedish-born TV executive who peppers his discourse with Yiddishisms. Fred Willard, whose hack TV commentator was Best in Show's uproarious wild card, brings a similar jolt of tastelessness to the part of the New Main Street Singers' absurdly lowbrow producer, but his goofy interjections don't feel as subversively liberating. Guest should have saved Willard again for the final act: The memorial concert is sweet but a little placid—it needed a surprise or two.
One of them might have been politics, which is totally absent from A Mighty Wind. Apart from a couple of rote mentions of the Spanish Civil War, none of these musicians appears to have any ties to the Woody Guthrie protest-song school of folk, or even the hectoring, early Bob Dylan wing. They're all vanilla and rootless. A rabid lefty character would have given A Mighty Wind more urgency: It might have even cast a sharp light on the stale rhetoric of the present anti-war movement, which—however laudable its aims—has barely made a dent on modern public consciousness. Maybe Guest didn't want to alienate his core constituency.
In life, Guest is famously shy and hangdogish. The good side of his temperament is that he keeps his comedies poker-faced, free of camp or slapstick overreaching. The bad side is that he's too comfortable with futility; he's like a Scotsman without the compensatory lyricism. The untalented characters of Guffman had no breakthroughs on stage; and, apart from the tender title song of A Mighty Wind, the musical numbers are a joke—strictly pastiche. (Best in Show might have overcome this air of futility because the dogs themselves were so beautiful and exhilarating to watch.) These are rather bleak films, in essence: They're about passionate people who can never quite transcend their limitations—who are as foppishly nearsighted at the end as they were at the beginning.
There might be another subtext. Guest, McKean, O'Hara, Levy, etc. do not have fame commensurate with their talent—they're well-liked, but they're not the gods of culture that they ought to be. They come from the most ephemeral of forms—improvisational comedy, which makes small numbers of people deliriously happy but, unless they get a gig on a long-running sitcom, doesn't generate the kind of attention that opens doors in Hollywood. In three movies (plus Spinal Tap), Guest and his collaborators have found a form that at once accommodates their gifts and lets them revel in their fear of insignificance. Here's hoping that, as their fortunes change and the audience for these marvelous movies gets bigger, their characters grow even wilder, freer, and more marvelous. Here's hoping that Guest finally starts to feel at home.
---