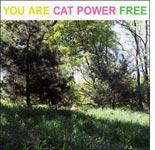 I've seen the singer-songwriter Chan Marshall, aka Cat Power, play solo three times, and in each instance it was less like a pop concert than performance art—her face obscured by the longish pageboy haircut that's become a kind of trademark, her tempos almost unbearably slow. At a sold-out show at UCLA's 1,800-capacity Royce Hall, she didn't finish a single song. During a cover of Bob Dylan's "Knockin' on Heaven's Door," the audience began to sing along so loud they drowned her out. Marshall simply stopped playing. It seemed like she'd come to a fork in the road—on one side stardom, on the other silence. She chose silence.
Read the reviews of You Are Free, Cat Power's new album, and you'll find that such behavior has her pigeonholed as the leading light of a micro-genre: They call her the Queen of Sadcore. A sadcore checklist would include songwriters such as Elliott Smith, Will Oldham, and Mia Doi Todd and the aptly named bands Low and Smog. The genre's musical cues include excruciatingly deliberate tempos and clearly enunciated lyrics that explore the singer's vulnerabilities and tortured worldview. Yes, this description applies to much of Marshall's music—her songbook is filled with languid guitar lines, lazy piano, and lyrics like "How we all die/ Sometimes/ How we all try/ Somewhere"—but what's sad is that she could be so much more than that.
For someone with such an existential outlook, Marshall was certainly blessed with good fortune. She didn't pick up a guitar until 1992, when she was 20 years old, but within just a few years she had gathered a formidable alt-celebrity fan base in New York. Sonic Youth's Steve Shelley spotted her opening for Liz Phair and was so inspired he put together her backing band and released her second record. By 1996 she had signed with Matador, the Miramax of indie rock, and the first single on her debut for the label, What Would the Community Think, became a minor hit in France. She has radically increased the size of her fan base with each subsequent release—1998's Moon Pix and 2000's The Covers Record.
The reason for Marshall's inherent bleakness is easy enough to figure out. It's her voice, a fabulously neurotic instrument that's as distinct as Bob Dylan's Okie accent and nasal whine. Like Dylan's, hers is deceptively plain. An extension of a regional accent, its quirks emerge from the rhythms of everyday speech—one part slow Southern drawl, one part urbane mewl. (That might be where the feline name comes from.) Warm, empathetic, and emotionally resonant, it seems part of a lineage that includes Nina Simone and Edith Piaf. It's also a sad sound.
Unlike Piaf or Simone, Marshall is untrained, but her voice is still the central part of her appeal, and she seems to feel the need to play to it. Her previous album The Covers Record consisted of 12 desolate cover versions of songs by Dylan, the Velvet Underground, and the Rolling Stones, among others. Her interpretations were perverse: The album is full of low moaners accompanied by spare electric guitar and amateur-quality piano and set in lethargic arrangements. It was as if this untrained star was purposefully murdering the songs of her forebears. I appreciate the material, but I'll chart my own course, thank you very much.
The key to her most successful songs, though, is not her sad core but her pop heart. Marshall does her best work on her most upbeat material—What Would the Community Think's "Nude As the News" (le coup de Français) or Moon Pix's "Cross Bones Style." A magic frisson occurs when that drowsy voice is paired with catchy hooks. There's something alluringly foreign about it: Marshall is the melancholy crazy person let loose on a pop record.
Thankfully, Marshall's new album doesn't wallow in the gloom. Listen to the ascendant children's chorus of "Good Woman," the propulsive shimmy of "Speak for Me," or the whispered come-ons in "He War." On these tracks, she recruits her latest celebrity fans, Dave Grohl and Eddie Vedder, two key ingredients in alternative rock's early '90s heyday. (Vedder opened for her at the aforementioned Royce Hall concert and was evidently impressed with both her élan and her false modesty: The linear notes bill him simply as E.V., Grohl as D.G.) The duo makes her aim for the stars sound almost chipper. Grohl provides pop propulsion to "Speak for Me," "He War," and "Shaking Paper." Vedder's rumbling low-end counterpoint lifts her dour voice on "Good Woman" and "Evolution." An artist who fully exploited this combination of happy and sad could earn a place in the all-time singer-songwriter pantheon.
This is not to say the new record is all sunsets and lollipops. "Names," about young adolescents selling crack and experimenting with sex at the back of the school bus, is one of several quasi-autobiographical songs that are simultaneously harrowing and plain-spoken, cringe-worthy and kind of beautiful—like a modernist Tori Amos. ("Black hair like electric space/ She would pretty paint my face/ She was a very good friend/ Her father would come to her in the night/ She was 12 years old.") A running subtext directly addresses Marshall's diffidence about pop stardom. "Don't be in love with the autograph," she sings on "Free," "Just be in love when you love that song all night long." On the opening track, "I Don't Blame You," she watches a brooding, Vedder-esque rock star:
Last time I saw you, you were on stage
Hair was wild, your eyes were bright, and you were in a rage
You were swinging your guitar around
Because they wanted to hear that sound
But you didn't want to play
I don't blame you
The lyric is an admission of Marshall's unwillingness to grab the spotlight. This is the thing about artists blessed with the gift of a unique voice and worldview: The gifts are not always welcomed. It's sad. With Cat Power, you always get the sense that she could be just a bit brighter if she weren't entertaining thoughts of shutting off entirely. Oddly enough, she seems to be thinking the same thing. "Baby, black black black is all you see," she sings on her new song "Baby Doll." "Don't you want to be free?"
---