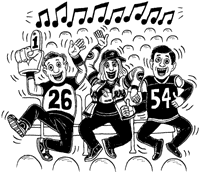 Todd Rundgren's 1982 album The Ever Popular Tortured Artist Effect included a goofy but popular song called "Bang the Drum All Day." No matter how you parse the lyrics, they have nothing to do with sports. Nevertheless, the tune is familiar to fans of the Green Bay Packers: Since the early 1990s, the song has punctuated home-team touchdowns at Lambeau Field.
Of course, the song is also familiar to followers of the St. Louis Rams, since that team uses it for touchdown music, too. And it shows up not just on the odd pre-fab collection Packers Greatest Hits, but on similar offerings from the Chicago Bulls and the New York Yankees, not to mention ESPN's  Jock Rock Volume 1 series of CDs, and a collection called Game Time from Sports Illustrated for Kids. (Who buys these things?) In other words, what might seem like a unique, idiosyncratic bit of stadium music—men banging drums to celebrate trips across the goal line—is in fact a national standard.
Why does this always seem the case? How come the same songs seem to pop up in major-league venues all over the country? I'm not talking about Gary Glitter's "Rock and Roll, Part Two" (the "Hey" song) or the entire oeuvre of Queen—all of which long ago entered the sports motherbrain. I'm wondering how a 20-year-old song become the default accompaniment for end-zone dances?
Turns out that the folks who make decisions about stadium music are less interested in crafting a unique, venue-specific soundscape than in giving the people what they want—and they are not too proud to steal. If fans in Sports Market A love a given song, you can bet that it'll soon be pumping out of speakers in Sports Markets B, C, D, etc. Forget about regional music. These days, stadium music functions pretty much like mainstream radio—a combination of lowest common denominator hits and reliable standards, all played to death until they seem inescapable.
The NBA actually strives for standardization. Joshua Richardson, who picks music at New Orleans Hornets games, says the league sends a CD of suggested tracks out to every team about once a month, and team music supervisors keep tabs on each other's favorites by way of a private, dedicated Web site. The January "team support" disc included "Cry Me a River" by Justin Timberlake and "All My Life" from the Foo Fighters—not exactly obscure, cutting-edge stuff. In any case Richardson didn't really use anything from that disc; the latest addition to his rotation is Jennifer Lopez' "Let's Get Loud," a hit that's heard frequently on the radio.
Because New Orleans has a storied music culture, I was curious how that affects Richardson's choices. He says the team's collection of song snippets (up to 200 a game) has lost most of the country selections used when the team played in Charlotte last season, and now includes bits from New Orleans' Mystikal and other local rappers, and that starting forward P.J. Brown's theme is a traditional jazz second-line rhythm. That's something, I suppose, but if you're not paying extremely close attention, you'd have a hard time guessing that you're watching hoops in a city whose whole identity is drenched in melody.
Or take Jeff Conroy, the music man for the New York Giants. Like others in his position at major-league clubs, Conroy travels with the team and listens to the music in rival venues. Players lobby for certain songs. And he gets hundreds of CDs sent to him by record companies (the vast majority of which he disregards). He makes some decisions based on what he thinks will fly with his team's fans—the heavy emphasis on rap and metal in Oakland, for example, wouldn't go over so big with the New Jersey-based Giants faithful. But a few extra Springsteen cuts aside, there is probably more overlap than difference.
It works pretty much the same way in Major League Baseball. The big difference is the at-bat factor: Players can pick several songs as personal themes for their plate appearances, sometimes a rotation of four different tracks a game. (Not that your average player is as innovative as a free-form DJ—but at least the league doesn't make decisions for them.) The only big restriction is that the song can't be nasty. A couple of years ago Yankee fans were startled to hear the profanity-laced "Tommy's Theme" by Lox accompany the appearance of outfielder Tony Tarasco to the plate; Tarasco said he'd requested the "clean" version of the song. (There's a mound factor, as well: Lots of relievers like "Crazy Train," and John Rocker has used "Rock Me Like a Hurricane," and so on.)
There are, thankfully, a few holdouts. The Baltimore Orioles, thumbing their noses at geography, still play John Denver's "Thank God I'm a Country Boy" during the seventh-inning stretch. Jeff Conroy, the Meadowlands guy, took a noble stand against "Who Let the Dogs Out" at the height of its popularity. Giants fans are not a trendy bunch and tend to respond better to classic rock than to pop gimmickry, but some players rallied for the Baha Men hit in 2000, so Conroy relented and used it in a game against the Redskins. "We got waxed," he says, and that was a good enough excuse to never play the song again.
And really—does the emphasis on Top 40 fad songs really add to anyone's experience? Is it supposed to attract a younger crowd? In most cases the real answer is not that teams are trying to attract anyone; they're trying not to alienate anyone—a sentiment that's at the core of how both pop and "classic rock" stations are programmed these days. The business of sports long ago transformed from a bunch of linked local businesses to sprawling national—even global—conglomerates. The TV contracts, the marketing campaigns, and even the musical backdrops all serve to make the sport experience, from stadium to stadium to stadium, as consistent as a McDonald's Happy Meal.
It's too bad more teams don't opt for oddball choices—like "Bang the Drum All Day" must have been at first. Then again, that tune's rise to stadium ubiquity proves that a little originality can be duplicated so quickly and so thoroughly, that it soon just blends in with all the other interchangeable music and sounds like the same old song.
---