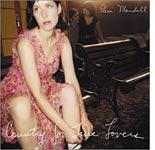 A couple of years ago The New Yorker referred to the singer-songwriter Eleni Mandell as "perhaps the best unsigned artist in the business." OK, it was just a blurb in the listings section, but still, it was an eye-catching and flattering assessment, and it raises an intriguing question at a moment when the major record labels are reeling from years of depressed sales and are dumping artists right and left: What does it mean to be both "unsigned" and "in the business"? Mandell is a rare and genuine talent who, as it happens, still hasn't been put under contract by a music conglomerate, and her career says a lot about the pros and cons of working outside, or at least on the fringes of, the major-label system.
On the plus side, she can record quickly. (She's put out two more albums since The New Yorker's minitribute.) And she has the freedom to make just the sort of stylistic departure that industry types tend to frown on: After three albums that meshed alt-rock with a torchy lounge sound, she has now put out a country album. The down side? Country for True Lovers is a consistently fine album that radio programmers in a variety of genres are almost certain to ignore.
Mandell has named X and Tom Waits as her key early influences, and appropriately, her first three releases were full of songs that ranged from aggressive rock (" Pauline," from Thrill) to loungey character studies to borderline Tin Pan Alley tunes (" I Believe In Spring"  from Snakebite). They all hung together on the strength of her melodic flair and noirish vocal sensibility (" He Thinks He's In Love," from Thrill).
Mandell's live shows have long included a few country covers, and they made sense—both the heartbroken ballads and brassy up-tempo numbers square well with her knowing hipster persona and the alternately dangerous or vulnerable protagonists of her originals. It may sound like a paradox, but there's always something exciting about hearing great songwriters cover other people's tunes—it gives you a glimpse of their tastes (think of Elvis Costello)—and some of Country for True Lovers' great moments are covers. In some ways Mandell's strength is as a sort of vocal actress, and you get a sense of her range from two songs. For Merle Haggard's " I've Got a Tender Heart," her voice is bold and clear, dipping in and out of notes with a theatricality that sounds almost Dwight Yoakam-ish. In the traditional " Kingsport Town" (which appeared on the first disc of Bob Dylan's 1991 Bootleg Series box set), she's throaty and hushed, sounding shattered and hopeful at the same time, against a spare but spacious backdrop highlighted by guitar and mandolin.
The originals are strong, too. The opening cut, " Another Lonely Heart," is a beautiful ballad in a woe-is-me style that eases into country territory with pedal steel and a twangy solo by Tony Gilkyson (former X guitarist and this record's producer). The exuberant honky-tonk stomper " Tell Me Twice" ought to find its way into the repertoire of all the finest cover bands in Austin. But probably my favorite original is the tender and waltzy " Iowa City," a sweet meditation on blue-sky innocence.
If Mandell has been overlooked by the industry, it's not because she's hiding out in the American heartland. She lives in Los Angeles and could actually be described either as an insider's outsider or an outsider's insider. Raised in the Sherman Oaks section of the San Fernando Valley, she started playing guitar when she was 15 and began performing publicly while a senior at UC-Berkeley. Soon she met Tom Waits and Chuck E. Weiss (musician, quintessential rock scenester, and subject of the Rickie Lee Jones classic "Chuck E.'s in Love"), and Weiss became an encouraging mentor. Twice she's been a finalist for top singer/songwriter honors from L.A. Weekly, losing both times to Beck. Several of her songs have popped up on television (Six Feet Under) and in films (Heavy). Her reviews—when she gets them—are glowing. Country for True Lovers ought to get Mandell some new attention—from the influential alt-country magazine No Depression, for example. But without an outsized gimmick or trendy "scene" or outrageous persona to boost her marketability, I doubt it's going to bring an offer for a huge, multirecord deal from Sony.
But with the big labels foundering, this may not matter. Mandell used her own money to record and press her first CD, Wishbone, in 1998, a few years after finishing college. A fan in Toronto had the financial wherewithal to start what is essentially a one-artist label, Zedtone, which puts up money to record and helps with tour support and distribution. Since Wishbone, she's toured extensively in the United States and even Europe—generally losing money but hoping to build an audience. The film and TV licenses, record sales, and a publishing deal with Chrysalis (which has since lapsed) added up to enough to at least allow her to quit waitressing a year and a half ago.
Clearly, there are stories of underdogs hitting it big (Norah Jones being a prominent recent example), so maybe Mandell and Zedtone will be rewarded for their persistence. Right around the time that New Yorker comment appeared, a friend had sent me Thrill, and I stopped by a small club in New Orleans called the Circle Bar to see Mandell perform. She and her three supporting musicians played two very strong sets—for a tiny crowd. Toward the end of the night, the guitar player, facing the other musicians, sang the chorus of an AC/DC anthem: "It's a long way to the top if you want to rock and roll."
---