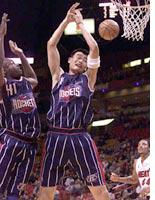 Tonight in Houston the likely starting center on the Western Conference All-Star team takes the floor against an opponent struggling to make the playoffs. That the former is Yao Ming and the latter Shaquille O'Neal is the biggest surprise of the NBA season so far. But the NBA's Long March has plenty of twists left, and don't be surprised if Yao hits the rookie wall in a few weeks. In China, the most games Yao played in a season were about 30, counting playoffs. He's on game 37 now, not even halfway through the schedule. In seven January games, his points average has dropped to 11 per game, down from 17 in December. A sprained knee ligament suffered over the weekend may be the warning sign of a body starting to break down under stress.
Not that Yao's accomplishments should be taken lightly—he's still averaging 13 points and eight rebounds per game for the year. It's just that after half a season of being hailed as the Next Big Thing, those aren't exactly dominating numbers. What makes the Yao hype particularly nauseating is that the people pumping him the hardest are the same guys who were adamant that Yao would be a bust, a circus freak unable to compete with established NBA players. The hyenas on SportsCenter and sports-talk radio couldn't stop giggling after Yao's scoreless debut. The laughter crescendoed when the big fella was sent ass over teakettle by a crossover dribble when caught on a switch.
Then, after Yao began to display excellent court awareness and a nice touch around the basket, the critics pulled a 180-degree turn worthy of the X Games. Suddenly, Yao was an Asian Bill Russell. ESPN's Stuart Scott worked some pidgin Mandarin into his tired faux-ebonics act. Charles Barkley kissed a donkey on TNT, then proceeded to kiss Yao's ass at every opportunity. Over at ESPN.com, Bill "The Sports Guy" Simmons went from guaranteeing Yao's demise to http:/espn.go.com/page2/s/simmons/021227.html">calling him the "most compelling player since Michael Jordan in his prime" and someone who "affects the game at both ends more than anybody since Bill Walton." I suppose that makes Cleveland's Zydrunas Ilgauskas, who betters Yao in every statistical category, Kareem Abdul-Jabbar.
This isn't particularly surprising—after all, the NBA, its licensing arm, its broadcast partners, and marketers great and small stand to profit enormously from Yao's success. Actual on-court greatness is less important than the trappings of greatness, i.e., magazine covers, network features, shoe commercials, and high-profile league appearances. Rest assured, if the NBA didn't allow online voting for the All-Star Game, making it easy for Chinese fans foreign and domestic to stuff the ballot box, the league would have found another way to get Yao involved in the big weekend.
Actually, Yao's game still needs plenty of work. Last Friday in Atlanta, the Hawks showed the blueprint for corralling him. Theo Ratliff, giving away seven inches, shoved Yao out of the two spots from which he is effective, the left box and the lane just inside the foul line. When Yao did get off shots, Ratliff used superior quickness to alter Yao's pet move, an up-and-under scoop. Meanwhile, the perimeter defenders stopped Yao's enablers, Steve Francis and Cuttino Mobley, from running pick-and-rolls with Yao by bodying the guards as they crossed midcourt. The frustrated center finished with nine points, a technical for taunting, and long stretches on the bench.
And while the Rookie of the Year award is already engraved with Yao's name, he doesn't deserve to win it. At 20, Phoenix's Amare Stoudemire is a far more advanced player. His ferocious dunks make the ESPN highlights, but it's his spacing and non-stop movement that make him so hard to guard. Yao found this out first-hand Wednesday when Stoudemire dropped 24 points and 13 rebounds on the Rockets, including an in-your-face dunk on big man; Yao settled for a quiet 11 points and seven boards. If only Stoudemire could sell mobile phones to 1.2 billion Chinese, he'd have a shot at beating Yao for the year-end hardware.
---