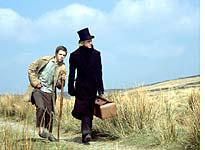 The American director Douglas McGrath, who gave us Gwyneth Paltrow in Emma, continues his sojourn through English literature with Charles Dickens'Nicholas Nickleby. The novel is something of a doorstop, clocking in at more than 800 pages, and it's been made into a movie several times before, but the most famous adaptation is a theatrical one that ran eight-plus hours. A performance is available on DVD, and apparently it's quite diverting if you have a spare fortnight.
The most recent Nickleby just breaks the two-hour mark. I would tell you the plot, but for Dickens all you really need are the characters. There's the sadistic schoolmaster (Jim Broadbent), the crippled boy with mysterious parentage (Jamie Bell), the virginal sister (Romola Garai), the wealthy, heartless uncle (Christopher Plummer), the vaudeville actor (Nathan Lane), and the 19-year-old hero (Charlie Hunnam), who's as virtuous as Jesus and also a blond.
As can happen when Hollywood mixes with English literature, Nickleby turns out to be extremely well-intentioned and polite to a fault. McGrath presents us with what we might expect, and even dread: classical music, mild frights, Victorian speechifying, adorable urchins by the score, and windows carefully smudged with period grime. Nothing seems amiss, or remarkable, until about halfway through the movie, when the young Anne Hathaway shows up as Madeline Bray, the object of Nickleby's affection. This is where the movie reveals its hand.
The boy-band-worthy looks of Charlie Hunnam should have tipped me off, but I was fooled by the presence of Christopher Plummer and Nathan Lane. The veterans in the cast camouflage what the youngsters are up to: an afterschool special in Victorian finery. In an act of commercial savvy worthy of Dickens himself, McGrath tries to be all things to all age-groups: a teen movie crossed with Merchant Ivory. Nickleby even ends in a double wedding. Add a few more couples and it could be a prom.
---