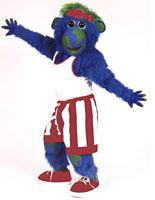 Pity the serious track-and-field fan. Or, wait, before you do that, confirm that serious track-and-field fans exist: They do! I got a note from one the other day with the subject heading "Why No One Takes My Favorite Sport Seriously" and a link to the USA Track & Field Web site, where a photograph of the organization's new mascot is on display. A press release describes this monster, who is supposed to drum up interest in the sport, like this: "The mascot has a blue body with green hair, and a snout that is in the form of a globe. It is wild and zany on and off the track."
The mascot, currently outfitted in striped shorts and a wife-beater-style T, has been jeered by track fans on various online discussion boards, who see the zany globe-snout as a) an affront to serious followers of the sport; and, b) more evidence that no pursuit is safe from the taint of silly marketing tactics. E. Garry Hill, editor of Track & Field News magazine, commented on one board: "This defies belief. …  I think this was an early reject in the contest that "Whatizit" won [to become the lame mascot of the 1996 Olympics in Atlanta]. The Apocalypse is upon us."
Others have pointed out—to add insult to injury—that the "new" mascot is actually a product of creative repurposing. He used to be the mascot of the 2002 World Basketball Championship. In that guise, his name was Bounce—"an international basketball fanatic representing the great sport of basketball." I guess he got over that.
So what's the deal? Jill Geer, director of communications for USATF, is happy to explain and does not sound the least bit perturbed at criticism of The Mascot Formerly Known as Bounce. The point of the mascot, she says, is to attract kids to the sport, on the theory that people tend to make decisions about what sports they'll follow between the ages of 6 and 11. And yes, Bounce was created by the Indianapolis Sports Corporation—Indianapolis was the host city of the World Basketball Championship—and was "adopted" by USATF. (No money changed hands.) But hey, track and field is a global sport, too, so the global schnoz still works, and he's getting a new, trackier outfit.
The organization is soliciting suggestions for a new name via its Web site, and Geer volunteers that suggestions from less-enthusiastic track fans have included "Evil Mascot of Terror," and, in a reference to the USATF's CEO, "Craig Masback, You Are an Idiot—Look at This Friggin' Thing." More polite entries have included "Spike," "Mr. Sprint," "World Class," and "Pace-Setter."
Whatever it's called, the new mascot is actually doing exactly what any marketing gimmick is supposed to do: attract attention. Geer says nothing has ever generated so much interest in the Web site. Lurkers in the Sports Nut Fray should feel free to join in and suggest a name before the Jan. 15 deadline. But be advised that "Apocalypse" has already been nominated.
---