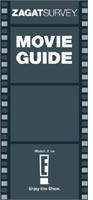 The restaurant/nightlife/shopping publisher Zagat now has a movie guide. I passed it around to "friends," who said it might be "useful" for a "night" in "some lousy inbred pisshole" where the "only place" to rent "videos" is "Goober's gas-station." But they also found the "use of numerical ratings from one to 30" as applied to "works of cinema"—as well as such categories as "Acting" and "Production Values"—a "little" "boilerplate" and "fucked-up." "And what's with those quotes around everything?"
Like most of you, I've dipped into many a Zagat restaurant guide. (My home base, Brooklyn, even has a new one of its own: The wildly inflated scores suggest the borough's boosters have cast a disproportionate share of the votes.) The books have been rightly criticized for being excessively populist, but the surveys at least are local, and the people who fill them out tend to be slavishly devoted to food. The quotes are often witty, snarky, and, in my experience, about 75 percent on the money. At the very least, Zagat restaurant guides are useful for finding out what foodies think of a place before you drop a hundred bucks on dinner. I don't consider them a replacement for evocative, idiosyncratic restaurant criticism, but I'm not going to haul along the collected works of Jeffrey Steingarten on a trip to Cleveland.
The Zagat movie guide "reviews and rates" 1,000 "top" movies—"top movies" can be read as "movies you already know about." The survey could do a service by alerting casual filmgoers to less well-known fare (who needs to read that The Godfather is "absolutely flawless" and features "bravura cinematography"?), but you won't find anything out-of-the-multiplex here: I chose, at random, five American favorites from the '80s and there was no sign of four: Jonathan Demme's Something Wild and Melvin and Howard, Paul Mazursky's Enemies: A Love Story, and Stuart Gordon's Re-Animator. My sole hit was Albert Brooks' Lost in America, but with a rating of 20, it was on par with such films as Michael Bay's The Rock and well below Lawrence Kasdan's synthetic Silverado (24! the same as She Wore a Yellow Ribbon!) and Guy Ritchie's Lock, Stock and Two Smoking Barrels (23).
At least Albert Brooks finished ahead of Gus Van Sant's Drugstore Cowboy, one of the best movies about addiction ever made in this country. It got a mere 19.
OK, it's too easy to make fun of the numerical ratings. The real problem is that movies are even more a matter of taste than meals. Most people can agree on what makes a superior piece of steak or sushi. How many times have you been out for a meal that half your table loved and half your table hated? (Probably not often.) But it's pretty common for a movie to come along that half your friends end up loathing and the other half embracing.
And because everyone rents movies, the dull-witted are amply represented. (Darn this democracy.) The adjective "bravura" for The Godfather cinematography tells you nothing about Gordon Willis' palette of deep blacks and browns. (The word would be more applicable to Touch of Evil or Moulin Rouge.) Here's the Zagat survey on a magnificent but relatively difficult film, Julian Schnabel's Before Night Falls (22):
"Based on the true life story" of "gay Cuban poet" Reinaldo Arenas, this "historically significant" bio-drama is a "serious" reminder not to "take freedom for granted" as it details the hero's struggles against an "oppressive regime" bent on "silencing" him; look for an "excellent" Javier Bardem in a "beautiful," "fully realized" performance.
Well, this gives you no inkling of the movie's elliptical storytelling or Schnabel's feverish Expressionism. It also doesn't suggest that this "bio-drama" is different from any other ever made or that it isn't a message movie about human-rights violations in Cuba. Is "beautiful" and "fully realized" the best anyone can do on the subject of Bardem's heavy-lidded, tropical sensuousness and mordant wit? And why is "gay Cuban poet" in quotes? Is this in dispute?
The larger problem with this cut-and-paste idea of criticism is that it neatly trims individual responses to works of art into tidy little homogenized packages, which have the effect of making movies seem even more like products than they already do. It's sad to think that the quintessential Zagat couple will tonight order in "reliable" Chinese food (16) and settle down to watch A Man and a Woman (24), a "romance par excellence." Perhaps in years to come Zagat will offer a survey for what comes after. Try "cunnilingus" (23). "A "wonderful way" to show her "you'll do anything." "You won't leave hungry!"
---