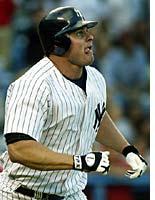 The New York Yankees never really seemed to get hot this year—certainly not in comparison to the Oakland A's or the Anaheim Angels—but they still finished with the best record in baseball. This is what happens when you outspend your competitors by such a wide margin. You don't need to get hot. You don't even need to stay healthy. You just keep rolling.
But it's reasonable to ask why the Yankees didn't manage to get better this year, either. Despite a lineup that looks more powerful than any they have had since their mini-dynasty began in 1996, they staggered in some stretches and barely scraped past 100 wins (thank God for those late-season dates with the Tampa Bay Devil Rays). Four years ago, they sailed through with 114. And this season, they're no sure bet to win the World Series, or beat Oakland in American League Championship Series, or even beat the Angels in the first round of the playoffs, which begins tonight. Why is this? Why aren't they the overwhelming favorites their payroll indicates they should be?
Jason Giambi.
By almost every reasonable measure, Giambi had a huge season. He hit 41 home runs, knocked in 122 runs, and batted .314. His on-base percentage was a fabulous .435. There is one way, however, in which this performance does not look particularly impressive—if you compare it to Giambi's own numbers before he became a Yankee.
From the time he was a rookie with Oakland in 1995, Giambi's batting average improved every year; his home runs either went up or stayed the same every year except the last season, when they dipped slightly; RBI were up every year except that last one, too. In his last two seasons there, his on-base percentage climbed above .475, the first player since Ted Williams to post those kinds of numbers two seasons in a row. Moreover, he did all this in Network Associates Coliseum, a park that favors pitchers.
Moving into Yankee Stadium, a much friendlier environment for left-handed swingers, Giambi figured to have an outstanding season, Bondsian even. After all, the much-maligned Tino Martinez, the man Giambi replaced, managed 34 home runs in 2001.
But this year, Giambi's season-by-season improvement came to a halt. He dropped 28 points off his batting average, 42 points off his on-base percentage, and 62 points off his slugging percentage. Year by year, his strikeouts had been declining, but this season they jumped from 83 to 112, making him yet another rally-halting free swinger in a lineup that has plenty of them. The result was that Giambi never seemed able to carry the club the way he had carried the A's. Alfonso Soriano, not Giambi, was the guy in the Yankee lineup you didn't want to face.
Meanwhile, because they had spent so much cash on Giambi, the Yankees couldn't go on the midseason shopping spree to which George Steinbrenner has grown accustomed. Right field and left field have been black holes all season, and their best effort at finding a live bat was acquiring Raul Mondesi. But 10 years into his career, Mondesi has a barn-sized hole in his swing and still doesn't know how to hit to the opposite field.
Why do the Yankees need Giambi and the offense to step it up? Because the rest of the team is slowly unraveling. They scratched their way to Game 7 of the World Series last year on veteran pitching that now has another season of wear and tear on it. The best ERA on their staff belongs to the solid but wholly unthreatening Andy Pettitte. Roger Clemens has been injured and inconsistent. Mike Mussina looked at various times this season like he had completely lost it. Closer Mariano Rivera is fragile enough that manager Joe Torre would never consider using him for two innings at a stretch (which may be a blessing in disguise). And their defense is porous; they turned the lowest number of double plays in the league in 2002 by a wide margin.
This year, the Yankees can't afford to get into one pitching duel after another, waiting for a miracle hit. Where they should have the advantage is offense, and they have to explode. They didn't pay Giambi $17 million for 41 home runs and a .314 average. They paid him to be Mr. October.
---