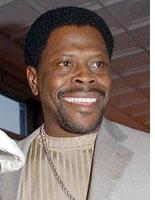 Patrick Ewing led his teams to hundreds of victories. He played before adoring crowds packed with celebrities. He made tens of millions of dollars. By any definition, he led a charmed life. And yet as he retires from professional basketball, he does so as a tragic figure, an icon of not-quite-greatness, wearing, like a scarlet letter, the label of "couldn't win the big one."
There are two conventional views of Ewing's career, one charitable, one not. The nice version goes like this: Ewing was one of the greatest centers to ever play the game, his accomplishments limited only by the inability of Knicks management to surround him with sufficiently good players. The mean version: Ewing was a pigheaded, unimaginative player who was convinced he was much better than he really was and whose insistence on being the man dragged the Knicks' offense into the mud.
There is much evidence to support both opinions, though neither fully explains the sad arc of his career. Ewing's real problem, and by extension that of the near-great Knicks, was a quality that is usually admired in professional athletes: his obsession with improving and expanding his game. Ewing might, in fact, have won an NBA title if he'd done the opposite: if he'd narrowed his skills, refined them, and focused on the physical gifts that few others could match.
Consider the player that the Knicks drafted out of Georgetown with the first overall pick in the 1985 draft—a fierce rebounder and defensive intimidator with very limited offensive skills. As far as big men go, Ewing was a Bill Russell clone. He was not, however, content to remain so. He wanted to be a Wilt-Chamberlain-type scorer, and the Knicks wanted the same thing.
So, over the early part of his career, Ewing worked doggedly at his shooting skills. Eventually, he became one of the best jump-shooting big men of all time—not Chamberlain by any stretch, but he could put the ball in the hoop. Among his trademark moves, none of them pretty, was a fade-away baseline jumper, a pretty hard shot to make and an almost impossible one to defend. Ewing got really good at it. He would often reel off three or four in a row and give the Knicks a nice second-quarter boost.
As Ewing became a better shooter, though, he started to live life farther and farther away from the basket. The Knicks should have put a stop to this the moment they saw it happening. Height becomes an ever-increasing advantage with each step you take closer to the hoop. On the perimeter, everyone's open, and a 6-footer can wriggle free for jump shots. Inside, everyone's covered, and that's where you need your 7-footer to shoot over the opposition.
Moreover, because Ewing learned to shoot and score so effectively, the Knicks' front office lost its mind. It began to believe that all the team needed was to surround the big man with a supporting cast of one-dimensional players who would not demand the ball. So they plucked players off the scrap heap (John Starks and Anthony Mason) and others on the downward slide of their careers (Xavier McDaniel, Rolando Blackman, Derek Harper, Larry Johnson).
The Knicks offense rarely clicked because it was built single-mindedly around Ewing, who, even when he learned to shoot, could never produce enough offense to carry the team. Meanwhile, their interior defense and offensive rebounding suffered terribly because their prized big man had stopped working on the very things that made him such a star at Georgetown. When the Knicks met the Houston Rockets in the 1994 finals, the player who did the best job covering Hakeem Olajuwon was not Ewing but Mason, who gave up nearly a foot to the Dream.
Of course, the Knicks didn't lose to Houston just because of Ewing's defense. They also lost because their next-best offensive option, Starks, had perhaps the most dreadful shooting day in basketball history in Game 7, and the Knicks simply had nobody else to give the ball to. Ewing, with the complicity of the coaching staff and the management, had established himself as the team's only legitimate offensive option, and nothing could change that.
Not even a new coach. After Pat Riley left following the 1995 season, Don Nelson came in and tried to reconstruct the Knicks offense. This was both brilliant and stupid—brilliant because he recognized Ewing's limitations, stupid because his solution was to anoint Anthony Mason as the "point forward." Ewing could simply not tolerate being upstaged. Nelson and then Mason were forced out of town.
In 1998, the Knicks acquired Latrell Sprewell, the first true scorer they ever tried to pair with Ewing. It went terribly. Until, that is, Ewing went out with an Achilles' injury, and the Knicks made an improbable run to the NBA finals. They were led by Sprewell and Marcus Camby, two versatile, athletic players who could never mesh with Big Pat, but played brilliantly without him.
If, early in his tenure with the Knicks, Ewing's coaches had realized that his greatest potential was to remain a Bill Russell clone, I suspect it would have taken them longer to become the top contender. They would have had to develop more offensive firepower and find a few more shooters. But the imperative to do so would have been unavoidable. They would have suffered through lean years in the late 1980s and early 1990s, but they would have emerged a stronger team by the middle part of the decade.
Enough to beat Michael Jordan in his prime? No way. But good enough to take advantage of Jordan's absence in 1994, 1995, and 1999—and to perhaps lift the curse that Ewing now carries into eternity.
---