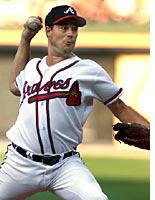 Everybody loves to praise the Atlanta Braves, and to some degree, this is deserved. They have won 10 straight NL East titles, and they are now cruising, almost effortlessly, toward their 11th. Throughout this great run, however, the Braves have won just a single World Series, way back in 1995. By most accounts, their recurring failure to win the big one is not their fault. There is, for starters, the convenient excuse of the New York Yankees, who all but established a monopoly over the postseason starting in 1996.
But the Braves' consistent record of near-greatness demonstrates something else besides bad timing. It suggests that coming close to winning a championship year after year might not actually be all that difficult—and further, that nearly making it breeds a kind of complacency. When you fall a game or two short of the title, like the Braves have habitually done, you lose the urgency to go after the next available big star or to radically remake your roster. Why bother? You're so close, all you need to do is tinker, make a minor adjustment or two, and you'll get there.
This holds true throughout pro sports. In the NBA, near-greatness is personified by the Utah Jazz, who have made the playoffs 19 straight times and gone to finals twice, losing both times to the Bulls in six games.
And yet, every year they head into the season with more or less the same team, built around the near-great duo of John Stockton and Karl Malone. The hoary masters of the ol' pick-and-roll were essentially the product of two turns at the drafting board. The Jazz took Stockton with the 16th pick in 1984, then Malone with the 13th pick the following year. These selections were, depending on how you look at it, either uncannily prescient or astoundingly lucky. Why lucky? Well, the Jazz never drafted anywhere near that well again. In 1986, they got Dell Curry (OK, not bad) then went on a roll where they expended their first round picks on Jose Ortiz, Eric Leckner, and Blue Edwards. Nice.
With Stockton and Malone, Jazz management became convinced they had the makings of a championship club. So they never bothered to go out and get another legitimate star. Instead they became the best team in the league at developing above-average role players, like Shandon Anderson, or clumsy big men, like Greg Ostertag. Last year, with Stockton and Malone nearing retirement, and the window for a possible championship closing, the best the Jazz could do was add a feeble John Starks.
Year after year, the Jazz fail to win. But as with the Braves, this is not their fault, it is argued, because they were playing in the era of someone else's greatness, in their case the Era of Jordan. What could you do about that? Well, consider what the Bulls did. In 1993, after winning two of their six NBA titles, Bulls management went out and signed Toni Kukoc, then considered the best non-American player in the world. This not only risked antagonizing Jordan and Scottie Pippen—it did antagonize Jordan and Pippen. They hated Kukoc's soft style of play, and they resented him for his big contract. But he was a perfect complement to the Bulls' core, and the championship run continued. For the 1995-1996 season, the Bulls went out and got the most divisive and distracting player in NBA history, that special breed of human being known as Dennis Rodman. They won another title that year. The Jazz couldn't even get past the Seattle SuperSonics.
There are examples of chronic near-greatness in other sports, too. The Minnesota Vikings of the mid-1970s come to mind, as do the Buffalo Bills of the early 1990s, losers of four straight Super Bowls. Four straight! Naturally, the Bills turned over their roster somewhat in this stretch—it's impossible not to in professional football. But they never gave their brilliant offensive core—Jim Kelly, Thurman Thomas, and Andre Reed—a defense that could win the big one. The Dallas Cowboys, the great team of that era, added players like Deion Sanders and Larry Allen, which helped them win a third Super Bowl.
Near-greatness, it turns out, is not that hard to achieve. A little luck in the draft, one smart and/or lucky trade, and you end up with the two or three players who make you almost good enough to win.
Back to the Braves: Might this be the season their near-greatness turns back into real greatness? Through the years, their versions of Stockton and Malone have been Greg Maddux and Tom Glavine, who have been on the team together since Maddux arrived from the Cubs in 1993. Since then, they have developed a few fine players from their farm system (Chipper Jones and Andruw Jones, principally) but have resisted bringing in superstars, despite a plenty big enough payroll. Their touted acquisitions have been guys like Brian Jordan, a pretty good player, but something less than a fearsome slugger, and more often, they've attempted to plug holes with known middling commodities such as Walt Weiss, Gerald Williams, and B.J. Surhoff. George Steinbrenner, meanwhile, has been out doing what the Bulls always did, adding proven stars like Mike Mussina and Jason Giambi to rosters that were already loaded.
This season, however, the Braves broke out of their tinkering funk and acquired Gary Sheffield. It was risky. Sheffield had alienated himself everywhere he's played. But he instantly became the one true slugger in their lineup, and he, more than any thing, is what might finally get them back over the top.
---