It was Caveat Central on Tuesday morning as the Lower Manhattan Development Corp., together with the Port Authority of New York and New Jersey, unveiled six plans for rebuilding at the former site of the World Trade Center. Designers stressed that their work is "preliminary" and marks only "the beginning of a public dialogue." LMDC Chairman John Whitehead, moving right into damage control mode, told reporters that New Yorkers might even help planners create a new, completely different scheme in the weeks ahead.
The existing designs show that an essentially conservative consensus, much more deferential to commerce than to the public weal, has taken hold at Ground Zero. (Click here to view a slide-show of the plans.) To be fair to the designers, they were hamstrung by complex programmatic requirements, which included honoring leases calling for 11 million square feet of office space and 600,000 of retail. A public outcry may force them to try to wriggle out of those commitments. But don't get too excited about the extra plan Whitehead mentioned. Parents who have had six children with dark hair and dark eyes just aren't likely to produce a green-eyed blonde on the seventh try.
All the schemes suggest that retail space, while perhaps not infringing on the footprints of the Twin Towers themselves, will be a major element—after a memorial, certainly the major element at street level. Westfield America, which runs 60 "Shoppingtown" malls around the country, has a contractual right not only to replace the 430,000 square feet of retail space that existed prior to the attacks, mostly in a multilevel underground mall, but to add an additional 170,000. The company has made it clear that it intends to develop every last square foot to which it's entitled.
There's unanimity on at least one other issue: Each plan calls for restoring some of the streets that were erased to create a so-called superblock upon which the seven buildings of the World Trade Center rested. Greenwich Street, for example, has emerged as the major north-south artery in every proposal, and others suggest restoring the east-west streets—Fulton, Dey, and Cortlandt—as well. Many observers have called this a victory for local street life over the aloof modernism personified by the Twin Towers.
But reintroducing the street grid at the site is not the purely urban gesture many are making it out to be. To understand why this is the case, a little history is in order. For at least the last 30 years, American cities have been borrowing strategies from the suburbs for attracting shoppers. Scores have turned some portion of their downtown streets into pedestrian-only zones. New York came close in the early 1970s to malling off a long stretch of Madison Avenue, and more recently has brought a neotraditional stage-set feel to developments like South Street Seaport and Battery Park City. Cities have also welcomed big-box stores and suburban-style entertainment centers, so that New Yorkers can now shop at Kmart or Toys 'R' Us or see Scooby-Doo at a gigantic movieplex without leaving Manhattan.
Suburbs, meanwhile, have been returning the compliment in all sorts of ways. Many have built malls that look like Main Streets of yesteryear. Twenty miles west of Washington, D.C., for example, sits Reston Town Center, a shopping mall built to look like an old-fashioned downtown and deposited in the midst of Northern Virginia's sprawling, centerless suburbia. Its designers claim it has "the vitality of an Italian piazza and the diversity of a French boulevard." It has neither, of course, but on weekend afternoons the Ann Taylor store is packed.
What has this got to do with the World Trade Center? Everything, when you consider that when Frank and Peter Lowy, who run Westfield, signed their lease last summer, they were attaching themselves to a location that, in retail terms at least, was as suburban as urban and that exhibited some early signs of the urban-suburban cross-dressing that became commonplace by the 1990s. The Twin Towers, soaring symbol of New York, the world capital of bustling street life, sat atop a complex of plazas designed essentially to banish that street life, which themselves sat atop a huge shopping mall.
 Advocates of street restoration at the site are arguing for a return to what they consider an authentic, premodernist grid. And when the Lowys, who at first opposed the change, began to soften on the issue after pleas from prominent architects and theorists, it was hailed as a triumph for the forces of humane urbanism. But authenticity, as it turns out, is a tricky thing to pin down in this case.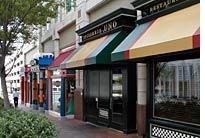 If the new streets are handled crassly, the result could wind up feeling a lot like Reston Town Center, Battery Park City, South Street Seaport, or the clean-cut new 42nd Street—or some death-by-quaintness combination of all four. The restored streets might symbolize New York's urban past, but they won't truly re-create it: Show me a site where developers have built (or even rebuilt) a streetscape, and I'll show you a place that feels more precious and nostalgic than real—more "Olde" than old.
Don't be surprised if Disney-style urbanism winds up infecting the entire site. Shopping is sneaky that way. As The Harvard Design School Guide to Shopping, an exhaustive book edited by the Dutch architect Rem Koolhaas and published earlier this year, points out, it is now very difficult for Americans to think about cities without thinking about shopping. We demand retail amenities in every public and quasi-public space, from airports to train stations to mega-churches. Even the Oklahoma City memorial and the Holocaust Memorial Museum have gift shops. It's increasingly rare for Americans to mix with strangers in a place where there is no shopping to be enjoyed.
Understandably, the prospect of blatant commercialism on the site makes victims' families blanch. Monica Iken, a Sept. 11 widow, asked NPR this week, "What is [the site] going to say to a 2-year-old that is going to be 7 five years from now? What are we going to say—'Your Daddy died right where the Starbucks is?' "
To be fair, though, Daddy did die where the Starbucks is—metaphorically, if not literally. The WTC victims were killed in the middle of the city, in the middle of life, in the middle of carrying out mundane tasks like ordering lattes. Unlike most memorials, the one at Ground Zero will pay tribute to people who died right there on the spot. To entirely strip the place of offices, shops, and other hallmarks of urban life would risk abstracting the slaughter.
Commerce is a given at the rebuilt site, and there's nothing wrong with that: the World Trade Center was a fundamentally commercial entity (just look at its name), not a rolling field where soldiers once fired muskets at one another. But it will be hard to keep the retail from overwhelming the rest of the design, especially when you consider that planners are being asked to accommodate about 40 percent more retail than existed before 9/11—and in a space that, with several acres set aside for a memorial, will be up to 40 percent smaller.
Given those requirements, the key to preserving the victims' dignity will be paying close attention to the ways in which the different parts of the site are divided and connected. The early signs are not good. Each of the preliminary plans appears to call for an underground pedestrian walkway lined with shops leading west along Dey Street to Ground Zero from a new transit hub one block east of the site. That means for most visitors, the experience of paying their respects will begin, and end, with shopping.
It may be in the Lowys' interest to promote fluid boundaries at the rebuilt site, particularly between the memorial and retail. And it will be in ours to enforce strict ones. A central question is circulation: Whether the 9/11 memorial will blend effortlessly into a gift shop that moves inexorably into a shopping promenade, so that before you realize it you've gone from weeping to deciding if you want fries with that.
---