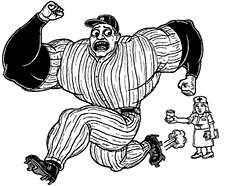 Sports Illustrated's blockbuster cover story —in which 1996 National League MVP Ken Caminiti admitted to using steroids and estimated that half the league did, too—got columnists prescribing urine tests to other hulking sluggers. The Chicago Tribune's Rick Morrissey writes, "Here's what I would do if I were Sammy Sosa: I'd call a news conference, shake hands with the impartial observer in charge of my drug test, carry a cup into a bathroom and wait for the truth to come out."
The San Jose Mercury News' Skip Bayless thinks Barry Bonds should pee in a cup: "I want to believe it's the evidence that lies, and not you, Barry Bonds. … I want to believe you're that billion-to-one genetic freak who did not need to inject anabolic steroids to pack on 20-plus pounds of muscle late in your career." In 1998, Bonds hit 37 home runs and weighed about 210 pounds. Three years later, the 39-year-old Bonds looked closer to 240 and hit 73 homers. Bonds tells the media he weighs 222. Bayless dares him to step on a scale.
The Philadelphia Daily News' Bill Conlin deadpans, "What about the Phillies? That is a question that probably needs to be asked. But if you look at the standings, maybe Larry Bowa's studs need to increase the dosage."
Rick Adelman is still whining about the officiating: The Los Angles Lakers finished off the Sacramento Kings, 112-106, to advance to the NBA Finals. After the game, Kings coach Rick Adelman continued to fuss about the officiating. The Los Angeles Times' Mark Heisler explains: "Look at it from their perspective. You can't play as well as the Kings did, come as close as they did, go through what they went through and exit smiling. … The biggest lead the Lakers had after Game 1 was seven points. Meanwhile, the Kings led by 15 in Game 2, 27 in Game 3, 24 in Game 4, 10 in Game 5, seven in Game 6 and nine in the third quarter of Sunday's Game 7."
Chris Webber scored 16 points in the first half of Game 7, then faded into oblivion in the second half and overtime. The Sacramento Bee's Ailene Voison defends him: "Webber was fine, at times outstanding. Much will be made of his six-point second half, and too little of his overall performance. With Shaq leaning on him throughout much of the fourth quarter and all of overtime, he tired, missed some shots, yet still set the screens that sprang [Mike] Bibby for all those late jumpers. Once again, he demonstrated that he operates most effectively in the framework of the offense."
The Lakers-New Jersey Nets Finals series tips off on Wednesday. The Los Angeles Times' Diane Pucin fears overconfidence: "There has been an arrogance about the Lakers this season, a feeling that playing hard all the time wasn't necessary or worthwhile, that another title was a birthright. The Kings proved that it isn't. The Kings showed the Lakers that a team must play hard and well every night—and every minute. Will the Lakers remember this by Wednesday?"
Bring on the "Buck Stops Here" headlines: Finally, the Toronto Blue Jays canned manager Buck Martinez, the fifth skipper to get the ax this year. ESPN.com's Jayson Stark writes, "Buck Martinez is a bright, wonderful guy. He was a fabulous broadcaster. He'd be an asset to almost any employer anywhere in baseball. But before this weekend, his team had a worse record than the Devil Rays, despite vastly better talent."
Read a good column lately? Post a link in "The Fray." The best entries will be mentioned in future columns.
---