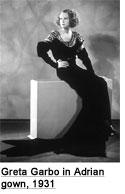 In the 1980s, professional women who went to work in tailored suits with padded shoulders probably didn't know that their power look was actually a revival from a less socially enlightened time and place: Hollywood in the 1930s. The sharp Donna Karan and Armani suits in which these women conquered the business world recalled the suits and gowns in which Joan Crawford conquered the social world in movie after movie of the Depression and New Deal eras. Armani and Karan were taking their cue from a man who knew how to dress women on the make: costume designer Adrian.
Gilbert Adrian, who is currently the subject of an exhibit at the Met's Costume Institute, designed for MGM from 1928 to 1941 and dressed Crawford, Greta Garbo, Norma Shearer, Judy Garland, and Katharine Hepburn. His designs were widely copied. Half a million women bought a Macy's version of a  ruffled dress Crawford wore in Letty Lynton (1932), partly because of its dramatic puffed-sleeve, cinched-waist look but mainly because of what Adrian's clothes meant when Crawford wore them: social opportunity, ambition, and a kind of magical transformative power that could take a poor girl and turn her into a member of the drawing-room set.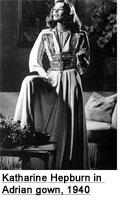 For poor women, Adrian's movies provided a view of the high life, and of high fashion, that they had never had before. In the 1937 movie The Bride Wore Red, Crawford played a prostitute trying to pass among nobles at a swank resort in the Alps. When her character said she picked up what she knew of upper-class etiquette from the movies, Crawford was describing a process of learning and assimilation that her own fans engaged in when they came to see her pictures.
The fantasy of vaulting into a higher social class really hit home during the 1930s. MGM cast Crawford in several of these Pygmalion roles, in which elegant clothes and manners transformed her from a working girl into a woman of fashion. It is Adrian's dramatic costumes that effect the transformation, both expressing her characters' aspiration and signaling their arrival. In Possessed (1931), in which Crawford plays a factory girl who goes to New York and attaches herself to a rich man, her broad-shouldered and assertive  costumes express just what her character does when she announces to her skeptical boyfriend: "If I were a man, you'd think it was right for me to go out and get everything I could out of life. Why should men be so different? All they've got are the brains, and they're not afraid to use them. Well, neither am I!"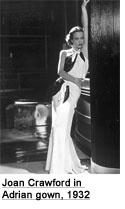 Even when Crawford stopped playing working girls and started playing socialites—roles that made it easier to use her as a fashion plate—Adrian's costumes still communicate hunger and restlessness, but also power. In the Letty Lynton dress, Adrian picked up on Elsa Schiaparelli's hesitant revival of the padded shoulder and produced a cloud of chiffon with huge ruffled sleeves that is both aggressive and childish at the same time. Later in the movie, when Crawford watches impassively as her playboy boyfriend drinks a poisoned glass of champagne she had prepared for herself, she wears a silver lamé cocktail suit, with a jaggedly cut, lethal-looking collar.
Crawford had her own rags-to-riches history—rising to stardom from the sales counter at a Kansas City department store—so Adrian was talking about both the actress and her on-screen persona when he said that movies and Hollywood style were for her "a belated finishing school." It's inconceivable to imagine any contemporary director or designer saying that of an actress or anyone else. Today, celebrities are hard-pressed to admit that their success and fame have changed them; they're always insisting that they haven't changed from their younger, pre-famous selves. We're contemptuous, and a little suspicious, of people who recreate themselves: Celebrity profiles praise those who stay in touch with their roots and "keep it real." In magazine and TV profiles, stars wear jeans or other casual clothing. One reason the awards-show circuit may be covered so relentlessly is that these events afford us our only opportunity to see stars look like stars, decked out in lavish evening gowns by top designers. But even at the Oscars, some of this year's styles—Gwyneth Paltrow's ruched, sheer Alexander McQueen top and Jennifer Connelly's sagging, flesh-colored Balenciaga—made their wearers look more like little match girls than the high-earning female powerhouses they are. Adrian is hardly the last Hollywood designer to explore clothing's power to disguise. What's changed is that today's clothes let celebrities go in drag as poor folks, instead of the other way around.
---