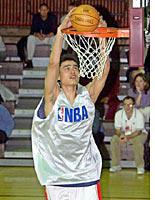 Because height is to basketball what crude oil is to global diplomacy, Yao Ming will be one of the top three choices in the NBA draft this summer, perhaps No. 1 overall. I have come to accept this, even though as a producer of the Asian Basketball Show I saw Yao outplayed more times than I'd like to remember. I can still close my eyes and see him being dominated by Korean big-man Seo Jang Hoon, a player lifeless enough to earn the nickname "The Tin Man." I remember the Lebanese national team bullying around the Chinese Tower of Glower until the game ended in an ugly brawl (with one Chinese player wielding a pair of scissors). And I vividly recall the Sydney Olympics, where Yao made his reputation off two early rejections of overaggressive Dream Teamers, but then picked up four quick fouls and found himself on the bench.
Look, Yao won't be a complete bust. On the big-man scale he still comes up north of Gheorghe Muresan. I also like him better than the player he's inevitably compared to, Shawn Bradley, if only because Yao is a better athlete and younger than the Mormon Mosquito when he came to the NBA. But he'll never approach Rik Smits' achievements, such as they were. He'll get some points and blocks simply by virtue of being longer than anyone else, but I must ask the essential question: Is that what you want of a top draft choice?
The conventional wisdom is that the NBA is a power forward's league, except for Shaq. More accurately, it's a score-off-the-dribble league, and almost all the best big forwards can put the ball on the floor and drive to the rim. That threat creates a lot of open jumpers, and Duncan, Webber, Nowitzki, Garnett, etc., all take advantage. Without dribbling skill, you're a role player, at best—for proof, check out Wang Zhizhi, the Marco Polo of Chinese exploration into Western basketball. At 7-feet 1-inch, Wang is strictly an off-the-bench, spot-up jump shooter in the Dallas Mavericks high-octane attack, basically a stretched-out Dell Curry. Yao won't be dribbling by anyone in the NBA, either, and if he can't make up for that by outmuscling opponents, that leaves only lobs and a lot of hooks and fade-away jumpers. Not exactly the kind of offensive force one looks for in the lottery.
Yao will be more of an asset defensively, but even there he has problems. He's a natural shot blocker with good footwork, but his alarming tendency to pick up silly fouls is exacerbated by his limited fitness and lack of savvy. He'll be on the bench in foul trouble too much to truly wreak havoc. Expect improvement, sure, as he hits the weights and the snack bar, but his frame really isn't conducive to packing on the pounds. Consider this: He's lighter than Bradley, who isn't exactly Lee Haney.
Nevertheless, Houston's dire need for an inside presence makes it likely that Yao will be Texas-bound. The homeland may prefer a city with a more vibrant Chinatown, but Houston should please the Big Fella—he told me in 1999 that his favorite NBA team was the Rockets, as he idolized Hakeem Olajuwon.
But will the Rockets feel the same way about Yao once they begin to deal with a thicket of Chinese ministries and associations, all with their own agendas, and all with the ability to make life very difficult for Yao?
On the horizon could be the ugliest battle between team and country this side of European soccer. NBA teams are accustomed to foreign players being at their beck and call. Houston management needs to recognize that this will never be the case with a Chinese player, and they should approach negotiations accordingly. Even if they work out a short-term arrangement for Yao to spend off-season time with the national club, the Chinese government is likely to want to change the deal at any time, depending on shifts in the political wind. And unlike European players, Yao is hard-wired to do what the motherland tells him to. This, after all, is someone who has credited his size and uniqueness to China's one-child-per-family policy.
Should he forget his upbringing, various entities in China will waste little time in reminding him—by increasing tax rates in his family's neighborhood, by making it difficult for friends and family to obtain visas in order to see him play, or by simply barring him from representing China in any fashion (a fate that befell poor Ma Jian, who played at the University of Utah and dared to try out for the Utah Jazz without permission from above).
Not that such treatment would come as a surprise to Yao, who has endured this sort of humiliation for years. His club team, the Shanghai Sharks, refused to budge from an asking price of 2 million RMB (about $245,000) for Yao's endorsement rights, a figure far beyond the budget of any advertiser in China. Thus, the Beijing and Shanghai skylines are festooned with images of soccer and table-tennis stars pitching all manner of goods, while Yao—perhaps China's most popular athlete—is invisible.
It's important to understand the Chinese perspective here—their interest is not in Yao getting better as an NBA player so much as it is in Yao getting better so he can lead China to glory in international competition. Of paramount importance is the fact that China must contend for a medal in the 2008 Games in Beijing. Should Yao go overseas and reflect well on the Middle Kingdom, so much the better. But a scenario where Yao wins an NBA title for Houston but China continues to lose in the first round of the Olympics and world championships would be an intolerable trade-off. The same goes for the next generation of Chinese hoopsters: Using Yao as a role model for improving their skills in order to upgrade the domestic league and lead China to international success is fine. But emulating Yao by scurrying off to the West in the pursuit of dollars wouldn't be in the finest tradition of the Long March.
Ironically, the difficulty in getting to the NBA may wind up being Yao's greatest asset. The idea of returning to a nation of empty arenas, all-controlling coaches, and indentured servitude in anything less than triumph will surely motivate him to improve and get stronger. Compared to that, ritual abuse at the hands of Shaq, Duncan, and Garnett is penny candy indeed.
---