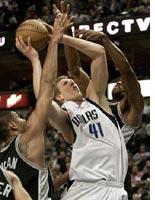 The Mavericks-Kings series sure was fun while it lasted, but it should've and would've gone on longer if not for the strangely stubborn truth behind the cliché of the soft European.
The notion that European players aren't tough enough for the NBA was established when Croatian star Toni Kukoc joined Michael Jordan's Chicago Bulls back in 1993. Kukoc was that rare basketball specimen, a player who combined incredible length, agility, and an oh-so-sweet shooting touch. There was only one problem: Kukoc had an allergy to contact. He hated being anywhere near the paint. Defensively, he was a nightmare—opponents easily bullied him, boxed him out, blew past him, whatever they wanted. All the winning the Bulls did couldn't stop Jordan from loathing Kukoc for his lack of intensity and guts.
Due in large part to Kukoc, the soft European cliché was fully ascendant when a disgraced Don Nelson arrived in Dallas to take over the Mavericks. Nelson promptly used his lottery pick on a 20-year-old German phenom named Dirk Nowitzki, all the proof that Nelson's detractors needed that the old coach had completely lost it. In his first season, Nowitzki played the soft-Euro part to perfection—he looked weak and confused on the court and shot 40 percent from the field. It's a miracle Don Nelson held onto his job.
But he did, and with each year Nowitzki made his coach look like a prescient genius. This past season, Nowitzki established himself as a superstar, notching 23.4 points and a shade under 10 boards a game, as well as shooting nearly 40 percent from beyond the three-point line. Newsweek hailed Nowitzki and other incoming Euros as an "explosion of new talent that is revamping racial perceptions." Sports Illustrated put the big German on its cover and called the Mavericks "the best show in basketball."
That seemed to put the soft-European cliché in its grave, at least until we saw Nowitzki go up against Sacramento. The Kings are hardly a rugged club—their perimeter D, with Doug Christie and Bobby Jackson, is nasty, but inside they don't present much resistance. In fact, their center is one of the original soft Euros, Vlade Divac, the world's greatest practitioner of what Walt Frazier calls matador defense (based on the idea that when something fast and powerful is coming at you, the most prudent action is to get out of the way). Chris Webber is capable of playing compelling defense but often doesn't care to and is prone to cheap fouls. A strong opponent who could take it inside would've forced coach Rick Adelman to give major minutes to back-up center Scott Pollard, robbing the team of Divac's superior offensive smarts.
But the Mavericks didn't, and the worst offender was Nowitzki. He disappeared for long stretches in Games 1-4. And while he dominated Game 5 (32 points, 12 rebounds, 3 assists, a steal, a blocked shot, and just a single turnover), the stats don't tell the whole story. For starters, Nowitzki imitated Vlade the Matador on defense, rarely applying pressure on Chris Webber and never providing meaningful help defense when a teammate was beaten by his man, which happens a lot when you have guards as quick as the Kings'.
On offense, Nowitzki contentedly camped out by the top of the key, where he managed to nail some stunning shots. But why was he out there at all? Steve Nash and Michael Finley are excellent shooters, too, so why not leave the perimeter to them while going inside to muscle in for some easy buckets and trips to the free-throw line? This is the tried-and-true method by which the best teams win—inside and out—but Nowitzki couldn't bring himself to stay at home in the paint. When he did take it to the rack, he did well, which is not surprising. He is slippery and quick, and he is 7 feet tall. But there is no sense in having a height advantage if you don't use it, and he often didn't.
At one point in the second half, just after 7-foot-1-inch Wang Zhizhi came into the game for his cameo, TBS color man Danny Ainge remarked at what unbelievable height the Mavs had on the court. To which his partner John Thompson replied, "Yeah, but they're playing small."
That's what Nowitzki did for most of the series. He played well but he also played small. And in doing so, he kept the soft-Euro cliché alive. The truth is, given how much he's improved since coming into the league, it's likely that Nowitzki will be the one to finally turn this cliché into myth. But it hasn't happened yet.
---