Once a month or so, apparently, a tourist visiting Florence faints in front of a Michelangelo or a Raphael, finding its beauty simply too much to bear. In the early '80s, Italian psychiatrists dubbed this phenomenon the Stendhal syndrome, after the author who once complained that his heart nearly gave out after an intense run-in with some frescoes by Giotto.
Lately that kind of collapse is more likely to be caused by sore feet or aching calf muscles—by sheer museum fatigue, in other words—than an encounter with a sublime work of art. From Los Angeles' Getty to the Tate Modern in London, many of the prominent museums to open in the last four of five years are about as big, and as impersonal, as airports. Making slow progress through their hangarlike halls, you brace yourself for the news that the exhibit you came to see has been moved to far-off Terminal D or delayed by bad weather in Chicago.
The shows themselves are getting bigger, too. I recently set aside two hours to see the Gerhard Richter retrospective at the Museum of Modern Art; when my time was up, I'd seen fewer than half the canvases. Savvy New Yorkers have long known how to exploit the Metropolitan Museum's vast collections for brief, rewarding visits—get in, stride directly to the Asian art on the second floor, get out—but if you show up without an exit strategy, you might wind up staying as long as the kids in From the Mixed-Up Files of Mrs. Basil E. Frankweiler.
Just in time, though, a backlash is whipping into view. Two modestly sized, richly appointed museums—along with a pair of European cultural centers with significant space set aside for art—have opened in recent months in Manhattan, of all places. Each provides the chance for a satisfying 90-minute tour through its galleries. Each also offers a welcoming place to get a snack or a cup of tea, a tiny bookshop, and impeccable architectural credentials. You've heard of boutique hotels? These are boutique museums.
The first was Scandinavia House by James Stewart Polshek. The Neue Galerie, a jewel box of a museum dedicated to early-modern Austrian and German art, debuted in November in a renovated 1914 mansion. A month later came the highly praised new American Folk Art Museum, by the American husband and wife architects Tod Williams and Billie Tsien. And this month brings the unveiling of the Austrian Cultural Forum, a Midtown building as thin, angular, and full of attitude as a runway model.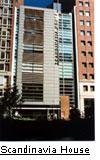 Smallish museums in New York are nothing new, of course. The Morgan Library and the Frick Collection, which opened in 1924 and 1935, respectively, still offer civilized refuge from the bustle of Manhattan. But the boutiques are a different breed. They're coolly, stylishly contemporary, meant to attract the kind of design sophisticate who appreciates the flatware in the cafe and the details of the architecture along with the paintings on the walls. ("The entire building is a design exhibition," Polshek has said of Scandinavia House.) As with new art museums from Milwaukee to Bilbao, the building is a bigger draw than the collection.
And while the Morgan and Frick began their lives as private properties, the new museums are small by design rather than historical accident. Actually, a mansion-sized museum remains a particularly satisfying venue for viewing most kinds of art, as fans of the Phillips Collection in Washington, D.C., can attest. Maybe it's something about the human scale or the fantasy that the house and art are actually your own.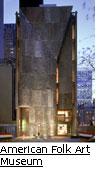 Already, contemporary architecture fans in New York have been making subway pilgrimages to see the American Folk Art Museum, which occupies a parcel of land just 40 by 100 feet. Right now it's about a half-block from the Museum of Modern Art, but when MoMA finishes its renovation and expansion, the two buildings will stand side by side. At 600,000 square feet, the expanded MoMA will be 20 times bigger than its neighbor.
With a façade covered in panels of a white-bronze alloy that's full of irregularities and will turn dark greenish over time, Williams and Tsien's building perfectly matches the handcrafted, idiosyncratic pieces in the museum's collection. The folded planes of its interior space and its double stairways on the upper levels combine to provide more architectural surprises per square foot than in any other new building I've seen in years. Walking through it is like exploring the inside of a piece of origami.
Polshek's Scandinavia House and Raimund Abraham's Austrian Cultural Forum are not, strictly speaking, museums, but both feature spacious permanent gallery space and other amenities we've come to expect in art centers. Scandinavia House's ground floor plan is torn right out of the museum architect's handbook, with a bookshop behind glass walls and a bustling cafe where you can eat a plate of cold herring while sitting on an Arne Jacobsen chair. On the day I visited, there was a smart show of new Swedish design installed on the third floor.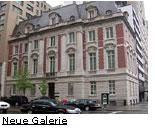 The superb Neue Galerie is the product of a fruitful collaboration of the late art dealer Serge Sabarsky, the cosmetics heir and onetime New York City mayoral candidate Ronald Lauder, and the architect Annabelle Selldorf. The entrance is marked by discreet signs rendered in an attractively spare typeface. As in a hotel by Ian Schrager, the staff is young and intimidatingly good-looking, and there are fresh flowers everywhere: bunches of tulips at the front desk, a towering arrangement of spring blossoms above the marble fireplace in the cafe. On the second and third floors are high-ceilinged galleries that leave intact the rich ornament of the mansion—originally designed by the firm of Carrere and Hastings, who also did the main branch of the New York Public Library—while at the same time delicately adding lighting and climate control systems, plus more of that sleek graphic design. There is probably no building in America where the early years of the 20th and 21st centuries get along so well.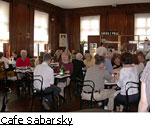 While the cafes at the Folk Art Museum and Scandinavia House are pleasant diversions, Neue Galerie's Cafe Sabarsky is becoming a draw on its own. William Grimes gave it two stars in the Times a couple of weeks ago (and called its coffee the best in the city). And with its period black lacquered chairs by Adolf Loos and light fixtures by Josef Hoffman, the cafe is absolutely of a piece with the rest of the museum.
It must be said that the pleasures of boutique museum—even if you don't hang around for a $40 meal of strudel, Gewürztraminer, and Linzer torte—don't always come cheap. Paying $10 at the Neue Galerie or $9 at the Folk Art Museum seems unfair: the equivalent of paying full price to see a short film, or $40 for a one-act play. (Scandinavia House charges just $3 for admission to its galleries, and the ACF is free.) On a recent visit to the Neue Galerie, I arrived to find that the top-floor galleries were closed to set up a new show, leaving just a second-floor selection of objects from the permanent collection (paintings by Klimt and Schiele and housewares by Otto Wagner, Hoffman, Loos, and others) on view. The museum had lowered its admission price to compensate—but only to $7. Clearly, the directors of the Neue Galerie have not overlooked the fact that it's located right in the middle of the wealthiest neighborhood in America. And somebody's got to pay for all those flowers.
---