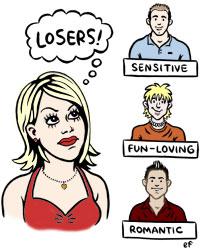 Are you a prude or a skank? Are you old-fashioned?
Are you easygoing, a jerk, intelligent, funny, insane?
Do you have an edge?
Are you normal?
If you answered "yes" to any of these questions—and if you work mightily on your abdominal muscles—you might be a prime candidate for one of the current dating shows: elimiDATE, The Fifth Wheel, Blind Date, Rendez-View, Change of Heart, Shipmates(all in syndication), A Dating Story (TLC), and Dismissed (MTV). In these true-life boy-meets-girlers, trim So Cal types go on blind dates and face a series of distractions contrived by the shows' producers.
The producers and writers are the talent. Unlike The Dating Game or The Newlywed Game, the new shows as a rule don't feature contestants who rattle off jokes, squeal, or make sex innuendoes. In today's shows, with the exception of the Learning Channel's A Dating Story (which is an eccentric but straight-faced instructional video), humor comes from voice-over, hosts, and graphics—illustrations and thought-bubbles that provide Annie Hall-style commentary on the players' presumed secrets and true natures. (A girl explains that she meets a lot of jerks; a cartoon magnet appears screen left, pulling toward it the goofy mugs of jerks Mike Tyson and Osama Bin Laden.) Of the hosts, The Fifth Wheel's Aisha Taylor gets—and pulls off—the best deadpanned lines. "Hold on, rubbernecker," she says before a break. "There's much more trauma to come in our tale of narcissism and nutcases."
In contrast, the contestants find the preposterous premises of the shows no laughing matter. Go on a blind double-date and then face another hammy temptor or temptress in the third act (The Fifth Wheel)? Square off with a brutally competitive rival ("Your boobs are fake") and play a laminated "time out" card to help you seduce a guy or girl you don't know (Dismissed)? Sure, if those are the rules. The refs may be in it for laughs. The daters are in it to win it.
But dating shows cannot derive their color from commentary alone. They need vivid characters. To this end, all who participate are required to define themselves in a hard, irrevocable word or two. Sweetheart. Flirt. Homebody. As dates enjoy their prefab activities—sit-ups, boat rides, a showdown with a rival—what they do above all is create their stock characters before your eyes, as in an improv class:
"My favorite movie is Steel Magnolias."
"Oh, wow. Did you cry when what's-her-face died?"
"So, tell me, Vanessa. What's your favorite movie?"
"I don't have a favorite anything."
As each episode evolves from improv to melodrama, the players feel their way into their hero and villain roles. Watch more than two of the shows, however, and the dates blend together. What's left are the kinds of overconfident character assessments that govern dating generally.
ACT I. ME "I am an entertainer." "I make a decent living." "I'm a butt person." "I'm an adrenaline junkie." "I'm conservative sexy." "I'm a loser." "I'm a jerk magnet." "I have a foot phobia, so I leave my socks on a lot."ACT II. YOU "He's easygoing." "She has a lot of energy." "You're a good girl." "You're a very beautiful woman." "You are a righteous babe." "You are a yuppie."ACT III. US "He's not on the same mental level as me." "So, you think you can do the romance thing—and the party thing?" "Tom is normal, nice, funny—not my type." "I would see him again—as friends, as partners in crime." "Yeah, I could party with that bisexual stuff."
The chief surprise of the shows is that, in this bright Cali paradise where everyone looks the same, people rely so heavily on words to seduce. They love words; they talk about words. "You're spunky. Is that a good word?" Or: "When he said that word 'relaxedness,' I thought that he's got to get his educapation [sic] on." And my favorite, from a gorgeous educated flea: "Have you ever heard of the word 'carpe diem'? It's a great word. It's a Latin word." (He had heard of it, he said. But he never kisses on the first date.) In the shows that feature three- and four-ways, the aim of the daters is to slander their opponents. "That guy thinks he's Magellan 'cause he's been to 40 states." "He's a gym rat." And the evergreen: "She's a bitch."
So, what do these shows tell us about courtship? Falling in love on the dating shows, like going to the gym and appearing on television, is a function of discipline, humor, and confidence. It has nothing to do with stammering, wondering, or tears. (The Bachelor—ABC's painful show about a guy who must choose a wife from his hundred-woman harem—is another story. On that show, one of Alex's unchosen had a heartbroken panic attack—involving an ambulance—the other night.) These shows are not for Lifetime, WE, or Oxygen. In fact, I'd guess that a woman viewer's chance of getting a hit of good old TV romance from these shows is worse than her chance at the more famous long-odds things (getting married, being attacked by terrorists, having a baby, brooking a lightning bolt).
And though these shows feature ordinary people who look like soap-opera stars, there is very little soap-opera action. Dating shows may be the anti-soaps: Their pleasures come not from passion and upheaval, but from routine. This is their great virtue—and, as they present it, an upbeat routine (with good hair, highly laundered clothes, and ironic comments from on high) has considerable appeal.
So, if you prefer your love stories troubled, ambiguous, or gritty, stick with Queer as Folk or George Eliot. But if optimism and clarity are part of your ideal, don't feel guilty about tuning into the dating shows, where a dozen Tristas, Vanessas, Martys, Felicias, Duskys, and Jasons gamely allow the revolutions of their human, all-too-human hearts to be televised—every day. They treat it like a fun job. You define yourself; you define another person; and you merge those definitions. Is this trash? Come on. Maybe it's love.
---