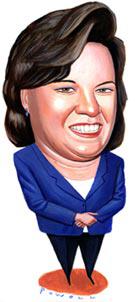 Until recently, I thought The Rosie O'Donnell Show was hokey and monotonous, with none of the fire of a good daytime show like The View, in which three coffee-talk sharpshooters parry the grating perfectionism of their bitchy, undermining colleague Meredith Vieira. Next to these conniving Heathers, Rosie—lumpen, sentimental, Gap-clad—has always seemed just to sit there.
But now, as Rosie gears up to leave her syndicated program at the end of May, her show has developed its own freak potency. An hour spent in front of it can wreck your whole day. Never mind its thin wholesomeness, peachy-colored set, and piles of schlocky freebies. Rosie has come to embody the dark side of morning. Rushed, angry, and cynical, she marches through her daily routine, stealing glances at a clock off-camera. She can't wait for the charade to be over. And as Rosie gets darker, her candy giveaways, as well as her show's loopy graphics, add an unsettling note of crazy-mom denial to the gloom. Kids, have more Frooot. It's going to be a great day!
What happened? When The Rosie O'Donnell Show premiered in 1996, it was billed as "a good old-fashioned talk/variety show" in the Merv Griffin mode. But while Rosie had big stars and a Broadway band (smooth John McD and the McDLTs), the show's sensibility was more chocolate milk than afternoon cocktail. It was supposed to be an antidote to the dread "tabloid TV," but in fact it took its tone from another section of the national tabloids—the grandmas-and-kids pages, with their brainteasers and tributes to Milton Berle. With her sweet doublewide face and modest secular habit, Rosie exuded a nunlike love for all God's creations—every actor, director, producer, movie, play, song, corporate brand name, toy, and candy wrapper.
For six years, Rosie's world has been a low-impact safe space for female consumers. Arts and crafts are done; baby talk is spoken. On her set, hale and patient women and children rule. Male guests are kept down with questions that focus on their childhoods, their children, and their servitude to women. Newly out as gay, Rosie explained away her crush on Tom Cruise ("I wanted him to mow my lawn and bring me a lemonade"). She also got the teddy-bear John Travolta groveling for feminine approval. (No kidding: "Women usually like teas and ice cream parties, so I had one. … I served scones, little corner sandwiches, four different teas.")
But lately Rosie's anger has interfered with the show's soft-focus love. Her moods show. She regularly bridles, for example, at the imperative to act as if she's talking on her show's airdate (some shows are taped earlier). The other day she'd had enough of this and muttered, "A show like this—that airs when you don't know—you don't know what to talk about, because you will already have talked about it." Until then, I had enjoyed the daily illusion that talk shows and I were on the same calendar page. Now I felt Rosie's frustration at being stuck in the past. She had not, for example, seen the Oscars. Worse, by calling attention to this time warp, Rosie revealed her alienation from her show's basic premise: that she is a happy, patient person with plenty to talk about, and that we—Rosie, the celebrity guests, and I—are together, just talking like friends.
At the same time, Rosie's off-kilter anger has made the show's last weeks worth watching. Rosie is a famous fan, one of the string of TV women whose job is to gush: Leeza Gibbons, Mary Hart, Ananda Lewis, Melissa Rivers. Of these, she is known as the most openly sycophantic, paying giddy tribute to Jane Goodall and Ring Dings alike. But lately her black humor is every bit as black as Letterman's—and often more savage. That is, even as she burbles on about life's cuteness, Rosie signals that she isn't trustworthy. She crackles with self-hatred, portraying herself as a glutton whose I'll-eat-anything appetite for cultural products—sitcoms, snack foods, male actors—is simply proof of how interchangeable and disgusting they all are. As celebrities come and go touting no end of ephemera, Rosie wolfs it all down, implying in flashes that only someone with no control—and no taste—would consume this stuff.
The logic of Rosie's self-hating gluttony was strongly in evidence on one show last week when she plugged the ingenuity of her new plastic M&M dispenser. Having spent the show's opening chalking up her diet successes, she now clicked the candy into her hands, two pieces at a time. In the space of a few seconds, the Queen of Nice was stuffing handfuls of chocolate into her mouth, gobbling the candies while mocking her own compulsiveness. Finally, her joke was an anti-advertisement. For a vivid minute, Rosie had turned the brightly branded gadget, big gift bags of which were pressed on the studio audience, into a delivery device for a very sweet poison.
In her new incarnation, Rosie can be riveting. But no talk show can go on like this. The genre simply requires generous quantities of product placement, promotion, and hype; a good host serves up all three without making her viewers feel bad for wanting them. Rosie's semiconscious satire is impressive, but it makes me queasy. She's now more complicated, but she is not a true gusher—and to work, the show needs a true, conscience-free gusher.
I wonder if we'll see one in May when Rosie's chair goes to Caroline Rhea, the excellent Canadian comic from Sabrina: The Teen-Age Witch. Rhea flaunts a bumbling sexuality alongside a stout unwillingness to be bamboozled. She may be able to restore some swing to the show, reassure her viewers that celebrities and M&M's are harmless fun, and let everyone enjoy the hokey hour in peace. In the meantime, Rosie's former aspirations to be a good old-fashioned talk show host will yield to her current aspirations to be a good old-fashioned magazine editor. And maybe she will find a way to free herself from the grinding and self-defeating work of making every day sunny. (In this respect, her essays in Rosie on her staph infection and her depression are promising.)
I hope so because, though her submerged anger has been making me nervous and turning her show into disturbing self-parody, Rosie still gives hints of a warmer comic sensibility. Last Friday, in a rerun, she was great. Sean Penn turned up surly, unshaven, unprepared, and complaining of a hangover. Brightening, Rosie offered Penn some headache remedies. She promised him that the interview was almost over. "Great," he sneered. She looked impressed at his defiance. "You love talk shows, huh?" There was no faking it: Sean Penn hates talk shows. What followed was a moment of mutual understanding, during which Rosie O'Donnell looked radiant—as if she'd found a true friend at last.
---