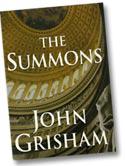 He is the best-selling living author of adult fiction ever: Over 100 million copies of his books have been sold, in 31 languages. As of this writing, his new offering, The Summons, is No. 1 on Amazon's list of best sellers. It's been out a week. It will nestle on best-seller lists next to A Painted House and Skipping Christmas— last year's offerings—and John Grisham will become even bigger than huge. He'll be, like Madonna, Bill Gates, and Stephen Spielberg, a mega-phenomenon.
Mega-phenomena inevitably evoke the same question: Why do they keep doing it? Madonna and Bill Gates seem to do it for the challenge of creating something bigger and more innovative each time—to keep breaking through their own walls, to paraphrase Neil Young. But what to make of a Grisham, who for the past two years departed from the formulaic page-turners that made him a household name, and then, with The Summons, returns? The easy explanation is that, having failed to achieve critical success with serious fiction, Grisham, à la Michael Jordan, is simply slinking back to that which he does best. But that's not quite right. For one thing, Grisham proved with A Painted House that he could write serious fiction. For another, The Summons is not the same old legal thriller.
Let's establish right away that Grisham's return to legal fiction wasn't done for the money. Formerly a struggling small-town lawyer, Grisham reportedly earns $40 million per year. And while Grisham told the New York Times this week that his contract with Doubleday required him to write a few more legal thrillers, at $40 million per year, Grisham can afford to breach it. Moreover, with his latest, Skipping Christmas (It's a Wonderful Life set in a Klan neighborhood), he's proved to Doubleday that they could parlay even his phone messages into a best seller.
It's also clear that Grisham's departure from, and subsequent return to, legal thrillers wasn't done for the critics. Grisham knows, particularly after the middling reviews for A Painted House, that he's no Saul Bellow. He never expected to be. Last week, Grisham rather defensively told the New York Times: "My problem is that I have sold too many books to ever be accepted."
The case against Grisham is easy. He's a master plotter but an unoriginal one: His thrillers are closely calibrated to fit a single precise formula. (In case you missed it: Naive young lawyer discovers shocking secret and uses it to bring down monolithic corrupt system.) Most of Grisham's characters are about as nuanced as comic-strip heroes. This is why they are so perfectly captured by Tom Cruise, Matt Damon, and other actors with five facial expressions. In particular, it's hard not to be enraged at Grisham's portrayal of women, which usually begin and end with their luscious, curvy legs. (The Summons does represent an advance of sorts for Grisham, if only in that he's now consumed with his romantic interest's traffic-stopping ass.) He avoids probing the darker places of human experience; in The Summons, the protagonist's addict brother is invariably cut off with a "Don't go there," each time he tries to describe his binges and crashes. And while Grisham is an astonishing anthropologist of legal archetypes—the curmudgeonly judge, the greedy associate, the small-town hustler—he has never really been a master of the law. Grisham uses the law the way Danielle Steele uses love—it's a conduit to drive the plot along, but never interesting unto itself.
All of which makes the risk Grisham took with A Painted House really admirable. He all but abandoned his customarily flawless plotting for what is a set of loving portraits of real characters. He went back to the familiar—carefully conjuring family and friends from his boyhood. There are still some clunky turns of phrase in the novel, and there are almost no moments that will catch a reader's breath. Still, A Painted House has Grisham characters with interior lives, and for him this really is revolutionary.
The subversive trick at the heart of The Summons, then, is that it is closer to A Painted House than to The Juror. The Summons is styled as a return to the airport book. It makes use of the formulaic Grisham title (article + two-syllable word chosen at random from Black's Law Dictionary). But it's not at all a book that showcases Grisham's long cha-cha with the law, in the tradition of The Firm or A Time To Kill, and the plot is pretty much limited to a law professor driving around with $3 million in his trunk. While it probes the relationship between the protagonist and his judge father, The Summons doesn't even contain a nominal legal narrative: The story would have worked as readily if the protagonist were a waitress whose dead mother was a schoolteacher. Ditching the ready-made arc of a trial or an unfolding scandal, the novel showcases Grisham's tentative experiments with complex characters. Ray Atlee, his protagonist, is grappling not with the System, but with his own conscience and the ways he's avoided dealing with his dysfunctional family. The two years Grisham spent exploring the depth of his characters with A Painted House shows.
Indeed, The Summons gives us, for all intents and purposes, the grown-up narrator of A Painted House, the son of a dying profession who has fled a dying Southern way of life. Ray Atlee has fled this South, this code, and family, and replaced them with modern achievements and modern toys. Now he's coping with his emptiness. More to the point, this protagonist is not 28 anymore. He's pushing middle age, like Grisham. He's a son of the South, transplanted in Charlottesville and flying planes, like Grisham. And he's confronting the morality of suddenly being a millionaire …
---