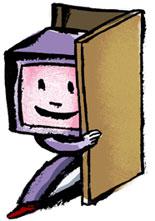 Last week's announcement that Viacom's MTV and Showtime will launch a gay cable channel sometime in 2003 prompted much hee-hawing speculation. The New York Post predicted Odd Couple reruns; the Washington Post suggested Law & Order: Special Rights Unit and Abercrombie's Creek. The jokes may be predictable, but they raise the questions that the channel's creators are probably struggling with at this very moment: How campy should the programming be? How will it span the varieties of gay experience without indulging in tokenism? And—the question that makes everyone so wisecrackingly uncomfortable—what to do about sex?
Tough questions, but not unprecedented ones. It turns out that our continent already has a gay cable channel—Canada's PrideVision TV, which started broadcasting last September. Its programming schedule is daring, funny—and a useful guide to what our own version could look like. In fact, it may become our own; PrideVision's executives hint that they have plans to expand stateside. Meanwhile, two smaller projects, called Triangle Television Network and Alt1TV, have plans to launch within the next year. Which means that, before too long, the United States may have no fewer than four gay cable networks.
PrideVision has copious camp offerings, including Barry Manilow and Elton John concerts, and forgotten, so-bad-it's-good movies such as Moment by Moment, starring John Travolta as "a young stud named Strip." Most interesting is a series called "Closeted Hollywood"—this month featuring a "Marlene Dietrich Festival"—which specializes in classic films whose gay innuendo is clarified by this context.
Campy programs on Viacom's gay channel could be one source of its crossover appeal; Odd Couple reruns might lure the same viewers who watch The Mary Tyler Moore Show and My Three Sons reruns on Nickelodeon. The challenge is in the presentation; and a balance of extremes may be the best way for gay TV to go. Broadcasting Sweet Bird of Youth hosted Mystery-Science-Theater fashion (with running commentary by, say, Charles Busch done up as Alexandra del Lago) would be delicious, but more obvious offerings such as The Judy Garland Show are probably best served dry.
PrideVision addresses the diversity issue with shows like You Don't Know Dick, a documentary about female-to-male transsexuals, and, perhaps even more radically, Locker Room—a sports show whose mission is to "delve into the world of amateur gay and lesbian athletic associations," to profile the rare pro athlete who's gay and out, to provide "an examination of the clothes and equipment worn by various athletes," and to spotlight the "Hot Moment of the Week, which more or less speaks for itself." The coverage of amateur sports is particularly welcome for the insight it might offer into the less glamorous, more humdrum varieties of gay experience. Hopefully America's gay channel would do the same, profiling South Dakota lesbians, gay stockbrokers, and gay men and lesbians living in straight nursing homes.
Perhaps the trickiest diversity question will be how to present programming for and about gay youth. (Except for a telecast of The Boys of St. Vincent about pedophile priests and a few segments on a news show called Shout, it appears that PrideVision has skipped this issue altogether.) But they'll need to practice Kissinger-caliber diplomacy to avoid charges of recruiting.
As far as sex goes, PrideVision is fairly soaked in it. "Hard-core erotica" for both gay men and lesbians is broadcast at midnight. The women's series features the "no-holes-barred" action of Suburban Dykes. And a men's soft-core porn feature at 10:30 p.m. called Steamy Knights is the channel's top-rated show. PrideVision also offers porn-dressed-as-documentary; this month's show, called Urinal, explores "the policing of washroom sex in Ontario." More obliquely, Urban Fitness TV slakes the libido with a "fast paced, visually exhilarating series" that "makes looking and staying fit accessible to everyone."
In the end, sex is the $340 billion question for developers of the gay TV channel and for its potential advertisers (that's the much-quoted gay and lesbian market sector, according to Kalorama Information market research). Although it probably won't be necessary for Viacom's gay TV to turn up the "XXXTreme Heat!"—gay men who want that sort of thing already know where to find it—all the channel's news programs, talk shows, and dramas will have to be fearlessly candid about the centrality of sex in much of gay life for gay viewers to take them seriously.
An emphasis on gay sex may limit the crossover subscription potential for this channel (which is planned as a premium offering, for about $5 a month). And yet if recent trends in cable TV are any indication, rigorous branding (that is, playing solely to your target audience and letting others come if they may) is the surest road to success. Lifetime, the nation's top-rated cable channel, didn't reach the No. 1 spot until the network canned programs that were chosen for crossover appeal (such as reruns of Homicide) and stuck solely to providing "television for women," as promised by the network's tagline.
Aside from its program listings, there's one last significant thing worth noting about the tone of PrideVision's Web site. It is disarmingly, exuberantly open. Looking at it brought back memories of the first time I walked into a gay bar with windows that looked directly out onto the sidewalk. (Most gay bars still black out the windows that face onto the street.) There's even an endearingly ingenuous invitation to viewers to drop by PrideVision's studio. The message of that invitation is perfectly clear: Whatever goes on here, the whole world is welcome to see. So, even if some of their programming is over the top, in at least one respect, they've set an excellent example for their American counterparts. They have no shame.
---