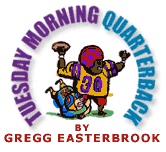 As football winds down and basketball ramps up, TMQ pauses, as he does at this time each year, to thank God the NFL is not the NBA. Thank the football gods, anyway.
Pro football games may not necessarily be well-played but usually are exciting, high-amperage affairs where players and fans really care about the outcome. In the NBA, half the league's clubs are just goin' through the motions from opening day on. NFL players care about outcomes because each W or L means so much in the standings of a 16-game season—and because they can be cut, there being no guaranteed contracts in football. Many NBA players care little about outcomes because each W or L doesn't mean much in an 82-game season. (Yes, each W or L means even less in the 162-game baseball season—but since it's inherently fun to be outdoors in summertime, the calculus here is different for fans.) NBA players also don't care because, for all intents and purposes, they cannot be cut—allNBA contracts being guaranteed, even for perennial benchwarmers. (Ten-day try-out contracts are the only exception.) I don't mean to invoke the cliché that NBA players aren't hustling because they are—everyone on the court is sweating like crazy. But I ask you: Do they look like they care?
Other huge gaps separate pro football from pro basketball. In the NFL there are high-scoring 45-42 games and low-scoring 13-9 games; games that feature the pass and games that feature the run; there are games where teams try wild things and games when teams go conservative; there are games decided by a few sudden big breaks and games decided by long accumulations of field-position maneuvers; there are games played in heat, cold, rain, and snow. In the NBA, pretty much every game ends 98-93; there's nothing remotely like the variety found in the NFL. Even now that the NBA allows the zone defense, in strategy terms pro basketball games remain fungible, each pretty much the same as the next.
What especially separates the leagues is the playoff comparison. Last season, TMQ did a column  lamenting that the NFL spends months and millions building up to a postseason that flames out in a mere 11 games. Count 'em and weep—four wild-card tilts this weekend, four divisionals next weekend, two championship games, and one Super Bowl, season over. The NBA, by contrast, plays about 75 postseason games annually. Last year's column suggested that since NFL playoff games are fantastic, there should be more of them. A barrage of reader mail convinced TMQ this view is totally wrongheaded: The scarcity of NFL playoff games is part of the greatness of the sport.
Scarcity alone makes each NFL playoff game more valuable, but the real beauty of just 11 postseason games is its effect on the regular season.Because the NFL playoffs are so condensed, each regular season game matters muchmore in football than in any other professional sport, making the regular season consistently exciting: whereas most regular-season NBA games mean nothing and are forgotten the moment they conclude. And because playoff home-field advantage is more valuable in football than in any other sport, even leading teams fight like crazy for every possible W to improve seeding. Going into the final weekend this year, nine of the 15 NFL contests had postseason implications. Check the NBA schedule, and you'll find dozens of meaningless games by Valentine's Day.
For humanitarian reasons, we won't beat up on basketball for its current low caliber of play. Caliber was high a decade ago when Michael, Magic, and Larry Bird were in their primes: Maybe basketball is just in a down talent cycle. It is, however, fair to beat up on the NBA for its preposterous solution to current low-caliber play—high-school kids.
In last June's basketball draft, the first, second, and fourth selections overall were high-schoolers. What could the NBA have been thinking? Games are ugly, the players have poor fundamentals and insist on disorganized street ball—so we'll solve it by bringing in high-school kids! As best TMQ can figure, NBA management is so embarrassed about the glorified-pickup-game character of the current league that it is trying to make today's starters look good in comparison by finding players whose fundamentals are even worse. Maybe the acronym will be changed to Now Based on Adolescents.
Most high-school kids glommed by the NBA will never play much, of course. But pulling promising prep players directly into the pros will prevent them from becoming college stars. This, in turn, will make college basketball less interesting, diluting the sport overall. And instead of kids maturing into college stars who generate excitement when drafted by the NBA, no fan is excited when teams tab 18-year-old who-dats whom no one has ever seen play. If the NBA consciously set out to drag down the level of its product, it couldn't have come up with much better than raiding high schools.
Why, if nothing else, African-American thinkers don't fight this—glamorizing as it does the notion of skipping college, which is a formula for keeping African-Americans disadvantaged as a group—TMQ cannot grasp. At least such madness is unimaginable in the NFL, where college juniors are the youngest eligible. If anyone proposed allowing high-school players to jump directly to the NFL, football would laugh out loud. Now, could this approach—which is called "having standards"—possibly relate to the fact that NFL ratings remain strong and attendance keeps setting records while ratings and ticket sales for the NBA are in steady decline?
High-school madness was epitomized by the June 2001 basketball draft in which Shane Battier, the top collegian and a wonderful, mature player who finished four years of college, was not picked until after three high-school kids. Battier might make the All-Star game as a rookie; the high-school kids who went before him (Kwame Brown, Tyson Chandler, and Eddy Curry) are ridiculous non-entities. Presumably if last June, Battier had been an 18-year-old rather than a graduate of Duke University, NBA teams would have lusted for him—he's immature! He's useless! Instead Battier was experienced and strong on fundamentals, and so slipped in the draft.
Thus far Battier has scored almost twice as many points and dished more than twice as many assists as all the high-schoolers who went ahead of him combined. Battier has 506 points versus 278 for the Learner's Permit Three, 85 assists versus 35. Battier has even nearly outrebounded the Learner's Permit Three, although they are all big men and supposedly rebound specialists while Battier is a small forward. (TMQ will track these stats in a Shane Battier Watch.) The Washington Wizards are winning with Michael Jordan back; they also have first-pick-overall high-schooler Kwame Brown firmly nailed to the bench. If Battier were at this moment added to the Wizards, they might challenge for the title. But even Jordan, who as the Wizards' GM picked Brown over Battier, was unable to resist the league's trend for dumbing down.
Thank the football gods the NFL is not the NBA.
In other NFL news, Tuesday Morning Quarterback maintains that the further a team advances into the playoffs, the more important coaching, game plans, and psyche-up become. Thus for the remainder of the season, TMQ will place special focus on analyzing coaching, game plans, and psyche-up. Plus, as an added bonus, commencement of the playoffs means it will be next September before there is any need to say anything about the Bengals, Cardinals, 'Girls, Lions, etc.
Best of the Week. Best Non-Blitz: Leading by two and must-win, New York/B had Oakland on its 20, first down with one minute left. Surely the Raiders will pass, so surely the Jets will blitz. But their defensive coordinator is Ted Cottrell, who guided Buffalo to the No. 1- and No. 3-ranked NFL defenses in 1999 and 2000 by rarely blitzing. On Oakland's final four snaps—three incompletions and a catch for no gain—there was just straight coverage. For three of the downs, the Jets even ran "zone drop," the reverse of the zone blitz. In a zone drop, four gentlemen take stances on the defensive line, but one is a linebacker who retreats into coverage, leaving only three to rush. So sure seemed the Raiders that they would be blitzed that on two of the zone-drop snaps, the Jets' three rushers overcame the Raiders' six blockers and forced Rich Gannon to unload the ball. Raiders blockers seemed to stand around complacent because the expected blitzers did not materialize.
Best Adaptation: In recent years, many teams have used a fake end-around action in which the ball goes straight up the middle. Usually linemen pull to "sell" the fake, but this leaves blocking short at the point of attack. Against the Giants, Bay of Green sent a man on a fake end-around and gave up the middle. But no OL pulled; instead, straight-ahead blocking. New York/A seemed so taken aback by the lack of deception that Ahman Green went 25 yards for the touchdown.
Worst of the Week. Worst Pass-Wacky: Trailing by a point with seven minutes left, Cincinnati faced third and goal at the Flaming Thumbtacks'$2 1. Surely the Bengals would pound the ball, and if that failed, take the figgie and the lead. Instead it's a halfback pass by Corey Dillon, a wild heave-ho into a crowd of gentlemen in the crowded goal-line area where passes are hard even for quarterbacks who specialize in this. Interception.
Buck-Buck-Brawckkkkkkk:Trailing New England 17-3 late in the third, Carolina faced fourth and one at the Patriots'$2 23. The not-quite-yet-fired George Seifert sent in the field goal unit. Carolina was 1-14—what did it have to lose?
Cautionary Note No. 1: Chicago allowed a league-low 203 points and late in the season staggered offenses by blitzing heavily. But the Bears closed out against the Persons, Lions, and Jax—all second-echelon teams. If they go blitz-wacky against first-rate teams in the playoffs, woe may betide.
Cautionary Note No. 2: Enough already with the goal-line fade route, which teams keep calling though it has become less productive than running straight up the middle. Trailing Baltimore 6-3, the Vikings had first down on the Ravens'$2 10 with a minute left in the half and an edgy home crowd worried that the defending champs would be denied the playoffs. Fade route to Randy Moss, everybody knows it's coming, interception. And Minnesota had a timeout; the clock did not dictate shots into the end zone. At this point, teams are calling the goal-line fade mainly for the ego of star wide receivers—I'm so good no one can cover me! Um, nobody is that good. Enough already.
Worst Attempt To Lose: At the end of the half, New York/B left Oakland TE Roland Williams all by his lonesome—uncovered, though there were seven Jets defenders for four receivers. Touchdown. Then with 2:28 left in the game, Oakland leading by a point and facing third down, the Jets down to their last timeout, Williams again loped by his lonesome through the Jets' secondary. This uncovered gentleman makes a catch, and the game is over. But the ball sailed above Williams' head, setting up New York/B's closing drama.
Stats of the Week: Miami made the postseason for a league-leading fifth straight year. But in the previous four years of playoff appearances, the Marine Mammals have been outscored by a combined 80-195.
Stat No. 2: New Orleans closed with four straight losses, giving up 160 points and an average 27-point margin of defeat. During the swoon, New Orleans allowed 78 unanswered points.
Stat No. 3: San Diego, Oakland, and New Orleans were a combined 0-16 in season-ending losing streaks. Oakland needed one win in its final three to get a bye and lost them all.
Stat No. 4: New England and St. Louis were a combined 12-0 in season-ending streaks. Stretching back to last season, Pittsburgh is on a 22-7 run, and Green Bay is on a 16-4 run.
Stat No. 5: Jax is 13-20 since the most disastrous event in franchise history, the Jaguars'$2 62-7 win over Miami in the January 2000 playoffs.
Stat No. 6: Priest Holmes and Antowain Smith, both released in the offseason, combined for 2,712 rushing yards.
Stat No. 7: After 400-pound Chicago DT Keith Traylor made his interception against Jax, he ran 67 yards—in 15 seconds. This is the equivalent of a 9-second 40-yard dash.
Stat No. 8: Trent Dilfer has won 15 consecutive starts and in that span has been released once (by Baltimore) and benched twice (by Seattle).
Glub …Glub …Glub … Seattle coach Mike Holmgren vowed to "sink or swim" with the legendary Matt Hasselbeck at quarterback, repeatedly starting him over proven winner Trent Dilfer. Result? The Seahawks were 4-0 when Dilfer started because the legendary Hasselbeck was injured. When, unfortunately for Seattle fans, Hasselbeck was healthy and started, the team was 5-7. Seattle missed the postseason by one game; had Dilfer started even one more time, the Hawks might be in and Baltimore sitting at home.
Stop Me Before I Blitz Again! On the Niners' first possession, the Saints blitzed five; 56-yard touchdown to Terrell Owens. CB Fred Thomas, lined up across from Owens, didn't move on the play, simply looked at Owens, and let him run deep—then, of course, theatrically pointed the finger at a safety. On the Niners' second possession, the Saints blitzed five; 60-yard touchdown to Terrell Owens.
Playoff Seeding Quirks: Weird quirks had the Eagles at Tampa the week before Tampa would visit the Eagles for a postseason contest, and the Jets at Oakland, then right back to Oakland to open the playoffs.
TMQ's all-time favorite quirk of this nature came at the end of the 1992 season when the Bills visited the Oilers (now the Flaming Thumbtacks) in the regular-season finale. The contest was irrelevant for the Bills, who had locked the home wild card but could not improve their seeding. Houston, on the other hand, could choose its next opponent. If the Oilers won, they would go to Buffalo the following week to open the playoffs while a loss meant opening in San Diego. Visiting Buffalo in January was then viewed as assisted suicide; the Bills had never lost a playoff game at Wilson Stadium and were in the third year of a Super Bowl run. San Diego, on the other hand, seemed the ideal destination for the Oilers—a warm-weather venue for a warm-weather team, and the Bolts were vulnerable, that being the season they opened 0-4.
Sports opinion was pretty much unanimous that the Oilers should deliberately lose, sending themselves to San Diego. Houston coach Jack Pardee declared he would never dream of less than maximum effort and played his starters most of the way, pounding the Bills' second team. For upholding the honor of competition, the football gods rewarded the Oilers with a 35-3 third-quarter lead in Buffalo the following week. Then the football gods chortled, and the greatest comeback in sports history began.
Rat Checks Salary Cap, Debarks From Sinking Ship: When Jax was way over the salary cap the last two winters, team Vice President Michael Huyghue, who handled player contracts, boasted to sportswriters that he had so incredibly cleverly structured the deals that a cap crash would never come. Sure enough the Jaguars brought back Mark Brunell, Kevin Hardy, and Keenan McCardell, all expected to be cap casualties. Now, thanks to contract tricks, Jax will be way, way over the 2002 cap, and a crash seems unavoidable. Huyghue has quietly resigned to "pursue a business opportunity."
Thus he pulls a Whitman. Christine Whitman stepped down as governor of New Jersey just before the true condition of the state's budget became known. Huyghue blows town just before fans learn that a cap implosion will doom their team to a phase of cover-your-eyes awfulness. How long before Tom Coughlin decides to Whitman out, too?
CPA Note: All Jacksonville accounting gimmicks were certified by Arthur Andersen.
Linguistics Note: TMQ loves the word "debark." Unfortunately Geneva, the Official Dog of TMQ, is often embarking as soon as debarking the back door
Hal Rothman Award Announced: TMQ was struck last March by a New York Times article lamenting that the traditional costumed-topless Las Vegas showgirl—she of multiple feather boas, 6-inch stiletto heels, and enormous headdress—has gone out of style, replaced by extra-frisky modern babes who wear the heels and nothing else. Nude dancers, the article somberly explained, today are more popular in Vegas than traditional showgirls. You can find the article by opening the New York Times  site and entering "nude," "Las Vegas," and "feather boas" as search terms. The full text will set you back $2, but TMQ recommends going through these motions just for the fun of typing "nude," "Las Vegas," and "feather boas" into the Gray Lady search engine.
A few weeks after the Times account, the Wall Street Journal had the trend to nude Vegas reviews on its front page, too. The journalistic community proved its fearless dedication by jumping all over the naked showgirls story—what sacrifices hard-hitting professionals will make in the pursuit of truth! And would Slatelet me expense a Vegas trip as column research? The Journal focused on the fact that not just stripper clubs but mainstream stages such as the MGM Grand have switched to high-heels-only shows and that the nude reviews are marketed to the mainstream—couples and vacationers. The Journal featured an MGM Grand spokeswoman saying, "The whole show is about respect for women, I walked out feeling proud to be a woman." See the MGM Grand's nude review teaser here, accompanied by a blurry art shot of two heels-only dancers proudly and respectfully pleasuring each other. 
Tuesday Morning Quarterback was especially impressed that the Times did not just gawk—which certainly would have been TMQ's approach—but found and somberly interviewed "Hal Rothman, a history professor who has studied Las Vegas entertainment culture." A professor whose job is to watch naked babes! (Looking askance with postmodern detachment, of course.) TMQ proposes there be a Hal Rothman Award for the best serious-sounding reason to buy the Sports Illustrated swimsuit issue, pore over cheerleader sites, attend the MGM Grand nude review, etc.
As regards deterministic social forces, apparently today's Vegas showgirls would rather perform nude than in headdress because the former offers more money yet less orthopedic risk. The Times interviewed retired traditional costumed-topless showgirls, who explained that cavorting in 25-pound headdresses and 30-pound angel-wing contraptions ruined their knees and lower backs; nude is preferable for the body. What an incredibly scientifically advanced rationale! Mega-babe dancers should be naked because it's better for their health.
TMQ To Unveil Revolutionary CrayonCam: The sports memorabilia company Upper Deck has begun attaching a "revolutionary PenCam" to the Sharpie markers used by Tiger Woods, Michael Jordan, and other big names to sign autographs. The signer stares into the miniature camera and says hi, then the camera records hand strokes moving across the surface of whatever is being signed, creating an extremely blurry view that supposedly ensures authentication. According to Upper Deck:
Proprietary circuitry and software are used to record the video footage and save it as a digital file. This record is then provided to the consumer on a CD-ROM along with a trail of documentation.
But even with PenCam all you'd be certain of is that a famous athlete got a promotional fee for looking into a tiny lens to say hi, then someone's hand moved a marker across a basketball or golf bag. What we really need is full chromosomal mapping of Tiger Woods and Michael Jordan. Buyers of high-end autographed items would receive a complete DNA fingerprint and mouth-swab analysis to prove the stars actually held the object in question. Upper Deck could resell the DNA sequences to genetic engineers, telemarketers, etc.
TMQ will use his revolutionary CrayonCam to autograph copies of the incredibly cleverly titled book Tuesday Morning Quarterback, which is new stuff, not a collection of past columns. It's in stores, or you can buy it here. You can also read about TMQ, both the column and the book, praised in this new ESPN article by Jeff Merron, who obviously is a gentleman and a scholar and in possession of exceptionally good taste in literature.
He Must Be Good—Dan Snyder Fired Him: As the Houston Texans come closer to reality, TMQ pauses to think kind thoughts about their GM, Charlie Casserly.
Casserly, a self-taught football exec who fast-talked his way into the business, was among the first Persons fired when Owner/Threat-to-Life-as-We-Know-It Dan Snyder acquired the franchise. Casserly made his share of mistakes (prominently, Heath Shuler), but by the time Snyder arrived had stockpiled the Persons with three No. 1 picks in the 2000 NFL draft, plus significant salary-cap space. Knowing new ownership was coming, Casserly might have squandered the picks and cap space in hopes of winning right away and keeping his job; instead he banked the treasure in the long-term interest of the club. Thus, Casserly was a true team-oriented thinker. No wonder Snyder fired him! After dismissing Casserly, the Owner/Threat-to-Life-as-We-Know-It promptly squandered the cap space himself.
Texans update: Check out their lovely cow-inspired logo here. See blurry pictures of the fledgling Texans cheerleaders doing aerobics here.
Investors in luxury boxes at the Texans' new Reliant Stadium will be invited to a special pre-game buffet, thenwill experience "first-class dining" in the suite—how much exactly do people in Houston eat? Also, "enjoy use of your suite during normal business hours for business meetings and other special occasions." Imagine how you can impress clients by meeting in a box of an empty stadium! And say, isn't Reliant a huge energy conglomerate with a hot-stock reputation based on mysterious electricity trading and its name on a stadium in Houston—just like Enron?
Cheerleader of the Week: Check out blurry photos of the Atlanta Falcons' annual "cheerleader camp" here.
TMQ Insider Exclusive! Tuesday Morning Quarterback has learned on an exclusive basis that Rams third-string quarterback Marc Bulger doesn't play much. Remember, this is a Tuesday Morning Quarterback exclusive.
Running Items Department
Look, Mr. Spock! Life-Forms Readings at the BCS Office: The morning after Miami's Rose Bowl triumph, the New York Times front page declared the Canes "ranked # 1 by humans and computers" while the USA Today front page announced, "Clearly the humans were right."
Sure, Homo sapiens agree on the collegiate champ, but what about great apes and space aliens? According to the sports pages of the Observable Universe Dispatch-Picayune,the current pan-galactic college football ranking is:
1. Aldebaran A&M. Its dense, all-proton interior linemen are just unblockable.
2. Sirius State. Fans telepathically chant "R U Sirius!" after each touchdown.
3. Indiana of Betelgeuse. "Earthlings" nickname remains controversial among indigenous silicon life-forms.
4. University of Miami. Passing attack admired across the galactic rim, though many space aliens find the Hurricanes' cheerleaders unbelievably revolting.
5. University of Canopis at 47 Ursae Majoris. Home of the fabled Spiral Arm Offense.
New York Times Final-Score Score: Another regular season concludes with the Times shut out in its quixotic attempt to predict an exact NFL final score, making the Paper of Guesses 0-248 this year and 0-508 since TMQ began tracking. All results certified by Arthur Andersen.
There was rending of garments and gnashing of teeth on West 43rd Street as it was: Times predicted Jets 22, Raiders 19, and that was the actual with six minutes left, but each team tacked on a field goal at the finish. And it was: Times predicted Tampa 13, Philadelphia 10, and that was the actual at the two-minute warning with the Bucs looking to grind the clock, but it's a fumble! The Eagles recover and get a touchdown. The Times is now squarely at the 500-attempts level TMQ projected would be needed for a sheer-random prediction of an exact final score. Perhaps the recent run of close predictions augurs the approaching destiny of a correct guess.
Most Embarrassing Dennis Miller Moment: "It's so cold the ball expanded," Miller declared of a measurement last night.
Reader Animadversion: Many, many readers questioned why TMQ argued that Colorado should be in the Rose Bowl rather than arguing for Oregon. Of note: Almost all such objections were posted after about 8 p.m. ET on Jan. 1. In that spirit, TMQ offers a simple explanation: I meant to say Oregon. A reader haikuizes,
Ducks kill Buffaloes.
Darwinistic perversion—
but better team won.
—"Ted from CU"
Reader Mari Roberson asserts that TMQ's declaring "Kiss 'Em When They're Up, Kick 'Em When They're Down" to be a "traditional media saying" is a quote from the Don Henley song "Dirty Laundry."Not quite, Henley's lyric was "kick 'em when they're up, kick 'em when they're down," which TMQ feels stops short of fully conveying the richness of media introspection.
Reader "Dan F." notes that in Galaxy Quest, space aliens are avenged by Grabthar's Hammer, not Grapthar's. This interview with the screenwriter reports that the phrase can be used as an all-purpose intensifier—for instance, "By Grabthar's Hammer, I'm going to have the turkey sandwich!"
A reader inquires in senryu regarding TMQ—in his secret identity as a visiting fellow of the Brookings Institution—recently being interviewed by Linda Wertheimer on All Things Considered,
Unanswered question:
Linda Wertheimer—tell us.
Babe? Or not so much?
—Alex
Answer: highly respected newswoman!
Reader "Jeff VN" protested that TMQ choosing Jessica Biel as Mega-Babe of the Year, based partly on the fact that entering her name and the word "topless" into Google returned thousands of hits, fails to recognize the problem of associational artifact. Any well-known person's name could appear nearby in Web terms to some apparently salacious phrase such as "naked truth," causing the name and "naked" to return spurious echoes. Here are Google results obtained by Jeff VN:
(person) AND toplessTipper Gore…………..132 hits
Betty White……………76 hits
Bea Arthur, Angela Lansbury………..each 72 hits
Donald Rumsfeld………..56 hits
There must, however, be some virtue in TMQ's rigorous technique, for Jeff VN reports that a search for Anna Kournikova and "nude" returned a slightly more than spurious 69,400 hits.
Finally, in regard to TMQ's item on the University of Toledo allowing jocks to major in "recreation and leisure," reader Matt provides the link to the curriculum. The program not only offers a master's in "Recreation and Leisure Studies" but a doctorate in "Philosophy in Health and Physical Education." Courses offerings include "Principles of Recreation," "Outdoor Recreation," "Leisure & Popular Culture" and the graduate-level "Leisure Program Evaluation Techniques."
Last Week's Challenge … was to name a first-round draft choice selected despite what should have been a bright, flashing light next to his name. TMQ did not mean a bust since you never know who will become a bust till later, but someone like Johnnie Mitchell, picked first by the Jets in the 1992 draft even though he didn't start in college.
Many readers, including Kurt Young, suggested the Colts using the fourth selection overall of the 1982 draft on QB Art Schlichter, though he was known to suffer the gambling compulsion that ruined his career and landed him in jail.
Others, including Adam Masin, suggested tackle Tony Mandarich, taken by the Packers with the second selection in 1989 overall although Mandarich had just been on the cover of Sports Illustrated (ultimate jinx), and, more to the point, the story described his absurd, out-of-control eating habits while hinting at steroid use. Mandarich denied the latter and after being cut by the Packers and spending five years out of football pulled himself together for a decent few seasons with Indianapolis. In order to select this future waiver-wire gentleman, the Pack passed on Barry Sanders, Deion Sanders, and Derrick Thomas. A reader senryuizes,
Pack picks Mandarich,
not Sanders. What? Never heard
the steroid rumors?
—"Lambeau man"
Other readers suggests Todd Marinovich, taken in the first by the Raiders even after screaming at his college coach on the sidelines on national TV and despite stories that his overcontrolling father had been training him to be a football player since infancy by, among other things, making him chew on raw liver as a toddler. Others including K.E. Hernandez suggested Dimitrius Underwood, taken in the first round by the Vikings despite sitting out his entire senior season—with a sprained ankle!—and despite the fact that Nick Saban, his college coach, warned pro scouts this player was strange. Underwood ended up released by Minnesota without even appearing in an exhibition game, fastest first-round bust in NFL history.
The stylish TMQ cap goes to Scott Ragan of Daytona Beach, Fla., one of several who suggested that Tampa Bay using the first selection of the 1986 draft on Bo Jackson was the worst flashing-light pick ever—because Jackson had announced that if drafted by Tampa he would opt to play baseball, which is exactly what he did.
This Week's Challenge … is to name the inaugural recipient of the Hal Rothman Award for devising serious-sounding reasons to leer at cheesecake. The nominee must be an actual person who has performed this vital public service; female readers may nominate women who have devised serious-sounding reasons to leer at beefcake. Submit nominees via the "Fray," and remember to include your e-mail address in the unlikely event your submission is chosen.
---